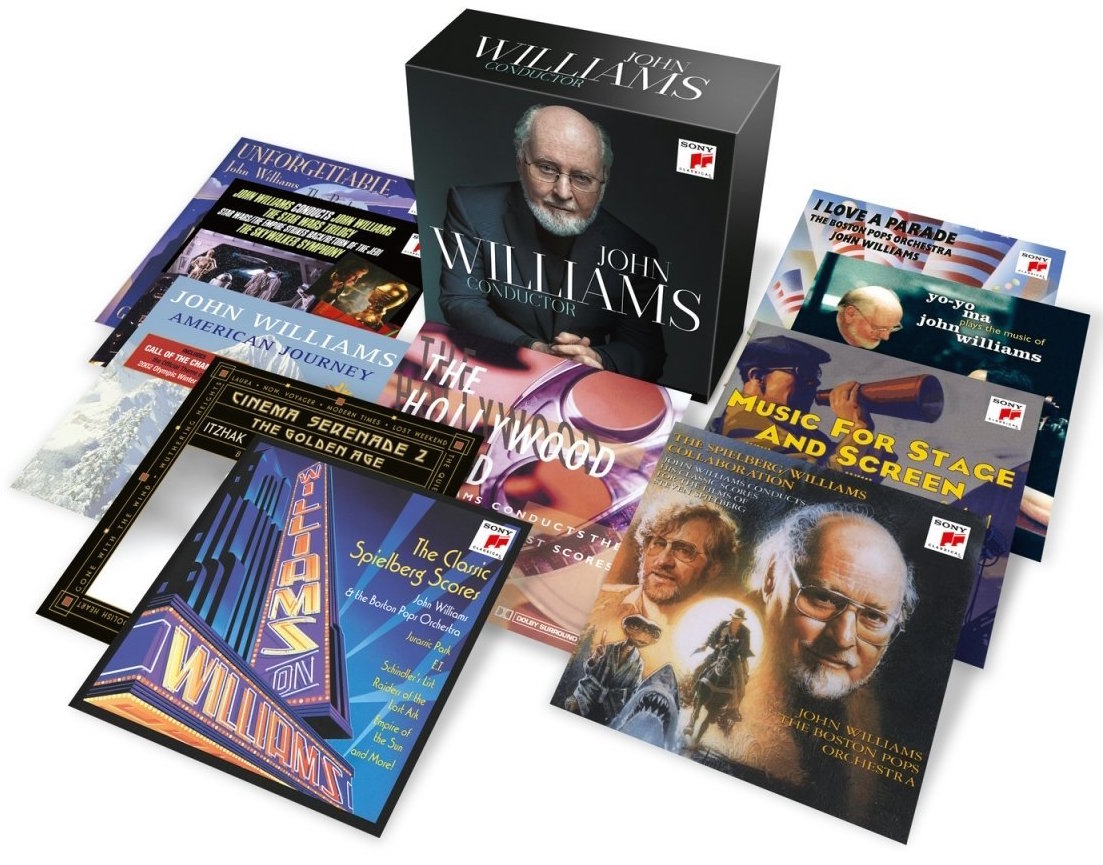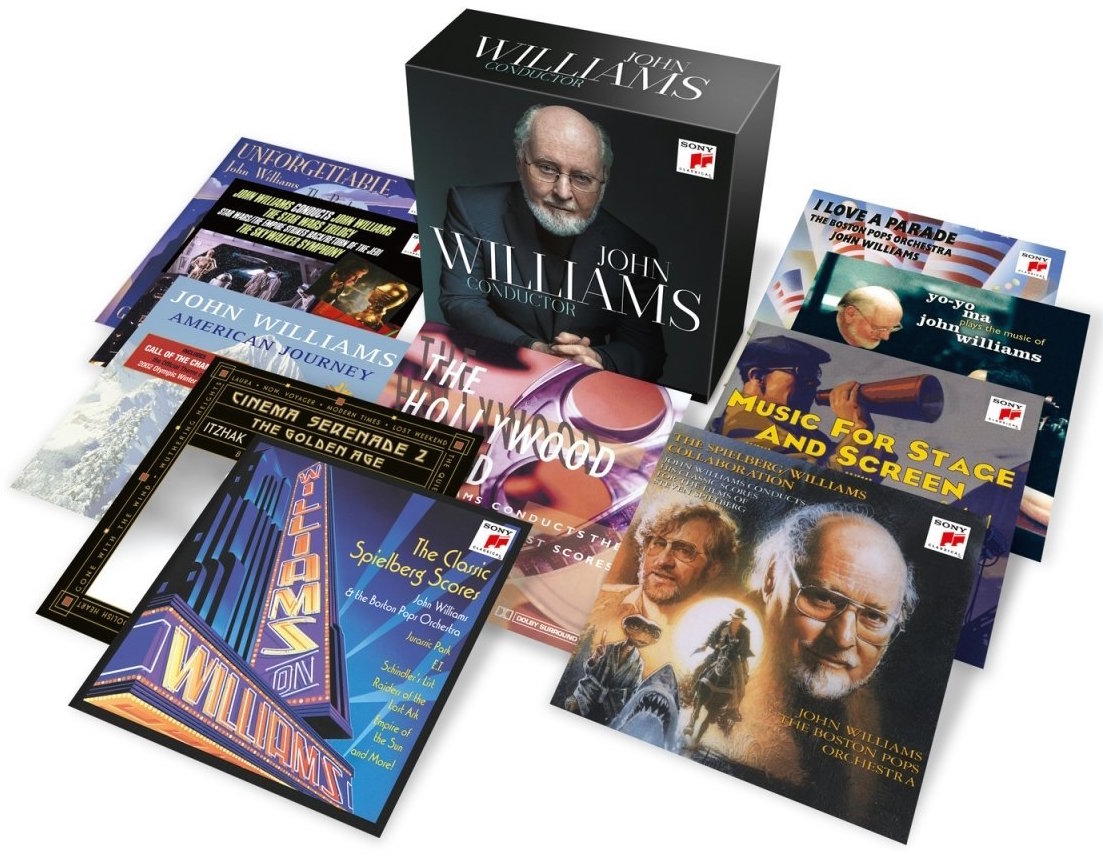 Purchase from Amazon.com (current price is $93.72)
JOHN WILLIAMS CONDUCTOR – List of contents
CD 1 – Music of the Night: Pops on Broadway (1990)
Boston Pops Orchestra conducted by John Williams
01. Everything's Coming Up Roses from Gypsy
02. No One is Alone from Into the Woods
03. Gotta Dance – A Tribute to Jerome Robbins
04. I Dreamed a Dream from Les Miserables
05. Bernstein on Broadway
06. The Music of the Night from Phantom of the Opera
07. Andrew Lloyd Webber Trilogy
08. Send in the Clowns from A Little Night Music
09. Let Me Entertain You: The Music of Jule Styne
10. Suite from Miss Saigon: Claude-Michel Schönberg
11. Love Changes Everything from Aspects of Love
12. The Trolley Song from Meet Me in St. Louis
CD 2 – John Williams Conducts John Williams: The Star Wars Trilogy (1990)
Skywalker Symphony Orchestra conducted by John Williams
01. Main Theme from Star Wars
02. Princess Leia from Star Wars
03. The Little People from Star Wars
04. The Imperial March from The Empire Strikes Back
05. Yoda's Theme from The Empire Strikes Back
06. Parade of the Ewoks from Return of the Jedi
07. The Asteroid Field from The Empire Strikes Back
08. Luke and Leia from Return of the Jedi
09. The Cantina Band from Star Wars
10. Here They Come! from Star Wars
11. Jabba the Hutt from Return of the Jedi
12. The Forest Battle from Return of the Jedi
13. Throne Room and Finale from Star Wars
CD 3 – The Spielberg/Williams Collaboration (1990)
Boston Pops Orchestra conducted by John Williams
01. Raiders March from Raiders of the Lost Ark
02. Theme from Always
03. Adventures on Earth from E.T. The Extra-Terrestrial
04. Theme from Sugarland Express
05. Title Theme from Jaws
06. Out to Sea / The Shark Cage Fugue from Jaws
07. Exsultate Justi from Empire of the Sun
08. Parade of the Slave Children from Indiana Jones and the Temple of Doom
09. Over the Moon from E.T. The Extra Terrestrial
10. March from 1941
11. Cadillac of the Skies from Empire of the Sun
12. Scherzo for Motorcycle and Orchestra from Indiana Jones and the Last Crusade
13. Excerpts from Close Encounters of the Third Kind
CD 4 – I Love a Parade (1991)
Boston Pops Orchestra conducted by John Williams
01. I Love A Parade
02. Midway March
03. Washington Post March
04. Seventy-Six Trombones
05. El Capitan
06. South Rampart Street Parade
07. Semper Fidelis
08. Liberty Bell March
09. Colonel Bogey March
10. Strike Up The Band
11. The Thunderer
12. Hands Across The Sea
13. King Cotton
14. Pops On The March
15. Under The Double Eagle
16. Stars And Stripes Forever
CD 5 – The Green Album (1992)
Boston Pops Orchestra conducted by John Williams
01. God Bless America
02. Theme for Earth Day
03. Shenandoah
04. This Land Is Your Land
05. America
06. Deep River
07. On the Trail from Grand Canyon Suite
08. Simple Gifts from Appalachian Spring
09. Make Our Garden Grow from Candide – Tanglewood Festival Chorus
10. Wind on the Water from The Last Whale
11. Green Leaves of Summer
12. The Promise of Living from The Tender Land
13. Sunrise from Grand Canyon Suite
14. Appalachian Morning
15. America the Beautiful
CD 6 – Joy to the World (1992)
Boston Pops Orchestra conducted by John Williams
01. A Christmas Festival
02. A Visit From Saint Nicholas
03. White Christmas
04. March of the Toys from Babes in Toyland
05. Somewhere In My Memory from Home Alone
06. Holiday Flight from Home Alone
07. A Christmas Bouquet
08. Parade of the Wooden Soldiers
09. Star of Bethlehem from Home Alone
10. Christmas Night Medley
11. We Wish You A Merry Christmas
12. Sleigh Ride
13. A Merry Littley Sing-Along
CD 7 – Night and Day: Celebrate Sinatra (1993)
Boston Pops Orchestra conducted by John Williams
01. You Make Me Feel So Young
02. In The Wee Small Hours of the Morning
03. Night and Day
04. Witchcraft
05. The Lady Is a Tramp
06. Strangers in the Night
07. I Have Dreamed
08. Fly Me to the Moon
09. New York, New York
10. Luck Be a Lady
11. I Get A Kick Out Of You
12. Mack the Knife (Moritat)
13. The Shadow of Your Smile (Love Theme from The Sandpiper)
14. Softly, As I Leave You
15. Chicago
16. The Summer Wind (Sommerwind)
17. One For My Baby
CD 8 – Unforgettable (1993)
Boston Pops Orchestra conducted by John Williams
01. Unforgettable
02. My Funny Valentine
03. Lover
04. The Way We Were
05. The Song is You
06. Long Ago and Far Away
07. Satin Doll
08. Sophisticated Lady
09. Begin the Beguine
10. Stella by Starlight
11. Laura
12. Moonlight Serenade
13. 'S Wonderful
14. Evergreen
15. Through the Eyes of Love
16. Smoke Gets in Your Eyes
17. Star Dust
CD 9 – Music for Stage and Screen (1994)
Boston Pops Orchestra conducted by John Williams
01. Morning on the Ranch
02. The Gift
03. 3a. Dream March
04. 3b. Circus March
05. 4. Walk to the Bunkhouse
06. 5. Grandfather's Tale
07. 6. Happy Ending
08. Suite from Born on the Fourth of July: I. Theme
09. Suite from Born on the Fourth of July: II. Cua Viet River, Vietnam 1968
10. Suite from Born on the Fourth of July: III. Massapequa…The Early Days
11. Quiet City, for Strings, Trumpet and English Horn
12. Suite from The Reivers (Burgess Meredith, narrator)
CD 10 – It Don't Mean a Thing If It Ain't Got That Swing (1994)
Boston Pops Orchestra conducted by John Williams
01. Don't Be That Way (1938)
02. Cherokee (1939)
03. I Can't Get Started (With You) – Nancy Wilson
04. One O'Clock Jump (1938)
05. Marie (1928)
06. Sing, Sing, Sing ("With a Swing") (1937)
07. Frenesi (1940)
08. Imagination – Nancy Wilson
09. Little Brown Jug (1869)
10. Back Bay Shuffle
11. Trumpet Blues and Cantabile
12. Green Eyes (1929)
13. Chattanooga Choo Choo (1941)
14. Boogie Woogie Bugle Boy (From Company B)(1941)
15. It Don't Mean A Thing (If It Ain't Got That Swing) (1932)
CD 11 – Williams on Williams: The Classic Spielberg Scores (1995)
Boston Pops Orchestra conducted by John Williams
01. Flying from E.T. The Extra-Terrestrial
02. Theme From Jurassic Park
03. Remembrances from Schindler's List
04. Flight to Neverland from Hook
05. The Battle Of Hollywood From 1941
06. Smee's Plan From Hook
07. The Barrel Chase From Jaws
08. My Friend,The Brachiosaurus from Jurassic Park
09. Jim's New Life From Empire Of The Sun
10. The Dialogue From Close Encounters Of The Third Kind
11. The Lost Boys Ballet From Hook
12. Theme from Schindler's List
13. The Basket Chase from Raiders Of The Lost Ark
14. The Face Of Pan from Hook
15. The Banquet Scene from Hook
CD 12 – Summon the Heroes (1996)
Boston Pops Orchestra conducted by John Williams
01. Summon the Heroes (For Tim Morrison)
02. O Fortuna from Carmina Burana
03. Bugler's Dream and Olympic Fanfare Medley
04. Ode to Zeus from Canto Olympico
05. Javelin
06. Olympic Hymn – Tanglewood Festival Chorus
07. Festive Overture, Op.96
08. Conquest of Paradise (Theme)
09. Parade of Charioteers from Ben Hur
10. Toward a New Life
11. Chariots of Fire (Theme)
12. The Olympic Spirit
CD 13 – Cinema Serenade (1997)
Pittsburgh Symphony Orchestra conducted by John Williams
Itzhak Perlman, violin
01. The Color Purple – Main Title
02. Scent of a Woman – Tango (Por Una Cabeza)
03. Yentl – Papa, Can You Hear Me?
04. Il Postino – Theme
05. The Age of Innocence – Theme
06. Theme from Far and Away
07. The Umbrellas of Cherbourg – I Will Wait for You
08. Four Horsemen of the Apocalypse – Theme
09. Sabrina – Theme
10. Out of Africa – Main Title
11. Black Orpheus – Manha de Carnaval
12. Theme from Schindler's List
13. Cinema Paradiso – Love Theme
CD 14 – The Five Sacred Trees (1997)
London Symphony Orchestra conducted by John Williams
01. The Five Sacred Trees (Concerto For Bassoon And Orchestra): I. Eó Mugna
02. The Five Sacred Trees (Concerto For Bassoon And Orchestra): II. Tortan
03. The Five Sacred Trees (Concerto For Bassoon And Orchestra): III. Eó Rossa
04. The Five Sacred Trees (Concerto For Bassoon And Orchestra): IV. Craeb Uisnig
05. The Five Sacred Trees (Concerto For Bassoon And Orchestra): V. Dathi
06. Tree Line
07. Andante con moto
08. Double Fugue (Moderato maestoso, allegro vivo)
09. Andante espressivo
10. Old and Lost Rivers
CD 15 – The Hollywood Sound (1997)
London Symphony Orchestra conducted by John Williams
01. Lawrence of Arabia – Overture
02. Flying Theme from E.T. The Extra-Terrestrial
03. Out of Africa – Main Title
04. Wizard of Oz – Fantasy for Orchestra medley: March of the Winkies & Witches/Bicycle Music/Cyclone/Ding Dong, the Witch is Dead/Over the Rainbow
05. Theme from Jaws
06. The Adventures of Robin Hood – Robin Hood and His Merry Men
07. Pocahontas – Theme: Colors of the Wind
08. The Last Emperor – Theme
09. A Place in the Sun – Suite
10. Spellbound – N. Williams
11. The Godfather, Part II (Main Title – The Immigrant)
12. Dances with Wolves – John Dunbar Theme
13. The Devil and Daniel Webster – Mr. Scratch
14. Theme from Beauty and the Beast
15. The Best Years of Our Lives – Theme
16. Main Title from Star Wars
CD 16 – Gershwin Fantasy (1998)
London Symphony Orchestra conducted by John Williams
Joshua Bell, violin
01. Fantasy for Violin and Orchestra on Porgy and Bess (excerpts)
02. Three Preludes: I. Allegro ben ritmato e deciso
03. Three Preludes: II. Andante – Joshua Bell
04. Three Preludes: III. Allegro ben ritmato e deciso
05. I Got Rhythm
06. Embraceable You
07. Nice Work If You Can Get It
08. Liza (All the Clouds'll Roll Away)
09. But Not For Me
10. Sweet and Low-Down
11. Love Is Here To Stay
CD 17 – Cinema Serenade 2 (1999)
Boston Pops Orchestra conducted by John Williams
Itzhak Perlman, violin
01. Theme from Laura (1944)
02. Theme from Now, Voyager (1942)
03. Smile from Modern Times (1936)
04. Love Theme from Lost Weekend (1945)
05. St. Patrick's Day from The Quiet Man (1952)
06. Marian & Robin Love Theme from The Adventures of Robin Hood (1938)
07. As Time Goes By from Casablanca (1942)
08. Touch her Soft Lips and Part from Henry V (1944)
09. Stella by Starlight from The Uninvited (1944)
10. Theme from My Foolish Heart (1949)
11. Tara's Theme from Gone with the Wind (1939) – Itzhak Perlman, violin
12. Cathy's Theme from Wuthering Heights (1939)
CD 18 – Yo-Yo Ma Plays the Music of John Williams (2002)
Recording Arts Orchestra of Los Angeles conducted by John Williams
Yo-Yo Ma, cello
01. Concerto for Cello and Orchestra: I. Theme and Cadenza
02. Concerto for Cello and Orchestra: II. Blues
03. Concerto for Cello and Orchestra: III. Scherzo
04. Concerto for Cello and Orchestra: IV. Song
05. Elegy for Cello and Orchestra
06. Three Pieces for Solo Cello: I. Rosewood
07. Three Pieces for Solo Cello: II. Pickin'
08. Three Pieces for Solo Cello: III. The Long Road North
09. Heartwood
CD 19 – American Journey (2002)
Utah Symphony, Boston Pops, Recording Arts Orchestra of L.A. conducted by John Williams
Mormon Tabernacle Choir
01. Call of the Champions (The Official Theme of the 2002 Olympic Winter Games)
02. American Journey: I. Immigration and Building
03. American Journey: II. The Country at War
04. American Journey: III. Popular Entertainment
05. American Journey: IV. Arts and Sports
06. American Journey: V. Civil Rights and the Women's Movement
07. American Journey: VI. Flight and Technology
08. Song for World Peace
09. Jubilee 350
10. The Mission Theme (Theme for NBC News)
11. For New York (Variations on Themes of Leonard Bernstein)
12. Sound the Bells!
13. Hymn to New England – Utah Symphony Orchestra
14. Celebrate Discovery
15. Summon the Heroes (For Tim Morrison)
CD 20 – Spielberg/Williams Collaboration, Part III (2017)
The Recording Arts Orchestra of Los Angeles conducted by John Williams
01. The Adventures of Mutt from Indiana Jones and The Kingdom of the Crystal Skull
02. Dry Your Tears, Afrika from Amistad
03. The BFG from The BFG
04. With Malice Toward None from Lincoln
05. The Duel from The Adventures of Tintin
06. A New Beginning from Minority Report
07. Escapades from Catch Me If You Can: I. Closing In
08. Escapades from Catch Me If You Can: II. Reflections
09. Escapades from Catch Me If You Can: III. Joy Ride
10. Marion's Theme from Raiders of the Lost Ark
11. Hymn to the Fallen from Saving Private Ryan
12. Dartmoor, 1912 from War Horse
13. Viktor's Tale from The Terminal
14. Prayer for Peace from Munich
15. Immigration and Building from The Unfinished Journey
16. With Malice Toward None from Lincoln (Alternate Version)
JOHN WILLIAMS: CONDUCTOR – A Review by Holko
So here's my first quick thoughts about every CD in the John Williams Conductor Box Set:
01 – Music of the Night – 7/10
Perfectly fine, won't be played that much. I'd have probably enjoyed it more if I knew more than 4 of the represented songs.
02 – Skywalker Symphony – 9/10 (Have heard before)
Fantastic, but Williams conducting SW was never going to be anything else. This sports my absolute favourite Imperial March, there's something about it that makes it absolutely badass. Jabba is too quick, Asteroid Field is a little slow.
03 – Spielberg I. – 9/10 (Have heard and do own already)
Pretty good album with interesting arangements like the album versions of Out to Sea and Shark Cage Fugue mashed together. See guys, this is what I meant when complaining about A Life in Music – instead of going the 100% safe, but shorter route, this one has the theme from Always and Sugarland Express, or Cadillac of the Skies. I'm sure neither of these are what general audiences think of when thinking about either Spielberg, Williams or their collaborations specifically, but they're still here to broaden their horizons.
04 – I Love a Parade – 9/10
I'm a huge sucker for marches, this is damn good. Though it got a bit too much eventually.
05 – The Green Album – 8/10 (Modified from 7/10 in hindsight)
I had no clue what to epect from this, even being bored to tears wasn't off the table, but it's actually not bad at all. It's not my style but perfectly listenable.
06 – Joy to the World – 8/10
Not the perfect time of the year to listen to it while melting in 35°C, but a fine, fun album.
07 – Night and Day – 9/10
Now that's the good stuff!
08 – Unforgettable – 6/10
It was just a bit too mellow and -dare I say – forgettable for me on this first listen.
09 – Music for Stage and Screen – 9/10
Didn't have high hopes for this, but turned out to love almost all of it! Wasn't a huge fan of Track 11, and I'm not sure Reivers needed that narration.
10 – It Don't Mean A Thing If It Ain't Got That Swing – 10/10? (Have heard before)
I could safely say this is my shit. Sing, Sing, Sing steals the show naturally, but there's so much more good here! So far, this is the one I could listen to any day and be 100% entertained by it, so I dared give it the perfect score.
11 – Williams on WIlliams – 7/10
The weakest of the Spielberg Trilogy. On teir own, every track is pretty good (though the Dialogue is very synthy, the choir is interesting), but the selection (too much Hook, 2 scores have 2 tracks each, 5 scores have already been represented on the previous disc) and the arrangement (every transition to and from the Schindler tracks is jarring) are not that great. Maybe they should've waited a few years with this disc and include Lost World and A.I which are completely left out of the trilogy. Hindsight helps of course.
12 – Summon the Heroes – 8/10
Pretty good one, the orchestral Vangelis tracks are most welcome (though I like Chariots of Fire much more, the original synth version of that is way too overplayed). Bugler's Dream/Olympic Fanfare and Theme is up there among some of my favourite compositions of all time.
13 – Cinema Serenade – 6/10
Not my style at all, but much more tolerable than I feared.
14 – The Five Sacred Trees – 9/10
The concerto and the symphony are both great, and the two other tracks are good, too.
15 – The Hollywood Sound – 7/10
A good selection, but not much personality.
16 – Gershwin Fantasy – 8/10
LOVE the Fantasy and the Preludes, but by the songs, the violin schtick got old and they were all mushing into each other.
17 – Cinema Serenade 2 – 6/10
I powered through the first one as background noise, but I was just about to take this one out until The Quiet Man started – finally, joyous, rythmic melody instead of drawn-out vibrato wailing! It reminded me after the first 4 tracks that I do very much like the violin in the right context. Then I admit I just skipped through the rest.
18 – Yo-Yo Ma Plays the Music of John WIlliams – 6/10
OK, this time it's the pieces that are being played (wonderfully) that are not my style at all.
19 – American Journey – 9/10
AJ itself is fantastic, the other tracks are damn good too.
20 – Spielberg/Williams III – 10/10 (Have heard and owned before)
Going out with a bang! Apart from many highlights, this also has a very coherent, pleasant tone. My favourite of the Spielberg albums. I've been humming Dry Your Tears, Afrika for 2 days now, looking forward to getting to it, and now it's blasting full volume for the 5th time. If all else were shit on this album, Afrika and Escapades would still push it up to a freaking 9!
So what's the results of this box?
6/10   –  4 – Either not my style or I didn't listen to them in the correct mood – right now, Unforgettable is the only one right now I could maybe see growing on me in the future.
7/10   –  3 – These may get a listen or two, but I wasn't overly enamoured by them.
8/10   –  4 – Now these I liked very much, either overall or for many good tracks, but something holds them back a little bit. Green Album got moved up here in hindsight.
9/10   –  7 – LOVED these. Coherent albums, or overwhelmingly great tracks, will listen a lot! Spielberg I. got moved up here in hindsight.
10/10 –  2 – This rating is basically used to place these two albums over the others.
So, at 2.55€ a piece, 10.2€ (20%) was "wasted" (using the term loosely here), 7.65€ (15%) is in the category where I can't complain, it was only 2.55 a piece after all, and 33.15€ (65%) was spent so well that I feel bad for underpaying so hard. 

 I feel quite comfortable with this.
But statistics and love/like/meh ratings are not the only way to evaluate big sets like this. How many surprise hits were hidden in here, showing me new music I never would've looked for? I place them on a more special spot because they broaden my tastes and horizons, and introduce me to new styles.
13 albums got 8 or above, 9 of those I didn't hear before.
I Love a Parade – I knew I'd love this one, not much of a surprise there.
The Green Album I didn't expect to like, but it showed me Americana can be exciting and interesting, bonus surprise point!
Joy to the World was another sure hit.
Night and Day – I do know quite a bit of Sinatra from my childhood, so I also expected to like this.
Music for Stage and Screen could've been anything but I adore it all. Complete surprise, bonus point.
Summon the Heroes is a classic compilation of heroic epicness, I was always going to at least like it. There were some unexpected gems in there, though, like the Vangelis arrangements. Half a surprise point.
The Five Sacred Trees never sounded like something I'd absolutely have to check out. Well that was completely and utterly wrong. This one gets the biggest surprise point, represented by 1.5.
Gershwin Fantasy – I had a feeling I may be interested this, so half a surprise point for the Fantasy's and the 3 Preludes' awesomeness.
American Journey – I didn't expect it to be THIS good, so half a surprise point.
Therefore, we have collected 5 Surprise points from 9 albums, which is damn good.
And how's the set and packaging itself? Well, I do like that the booklet told me some genuinely new information for once. I also like the outer box, and how the front covers are all replicated on the cardboard sleeves. These flimsy sleeves are not the best solution (I'd have preferred the thicker Spielberg/Williams trilogy-style sleeves), but they get the job done and don't waste space. What I like less is the plain back covers (why not replicate them, too?) and how none of them have the runtime. Even in the damn booklet, only a few random albums have the runtime listed. WHY? And why those? What the hell? Either do all or none! I don't know if the original releases had any liner notes, but there were 1 or 2 where I could have used them – Why do I have to Google what the hell a Craeb Uisnig is to get the composer's intended context for his piece on an official release? Instead of the booklet listing every track again, put the complete and individual runtimes on the bleak back covers, and replicate the notes in the booklet!
Overall, I'm really glad I bought this.