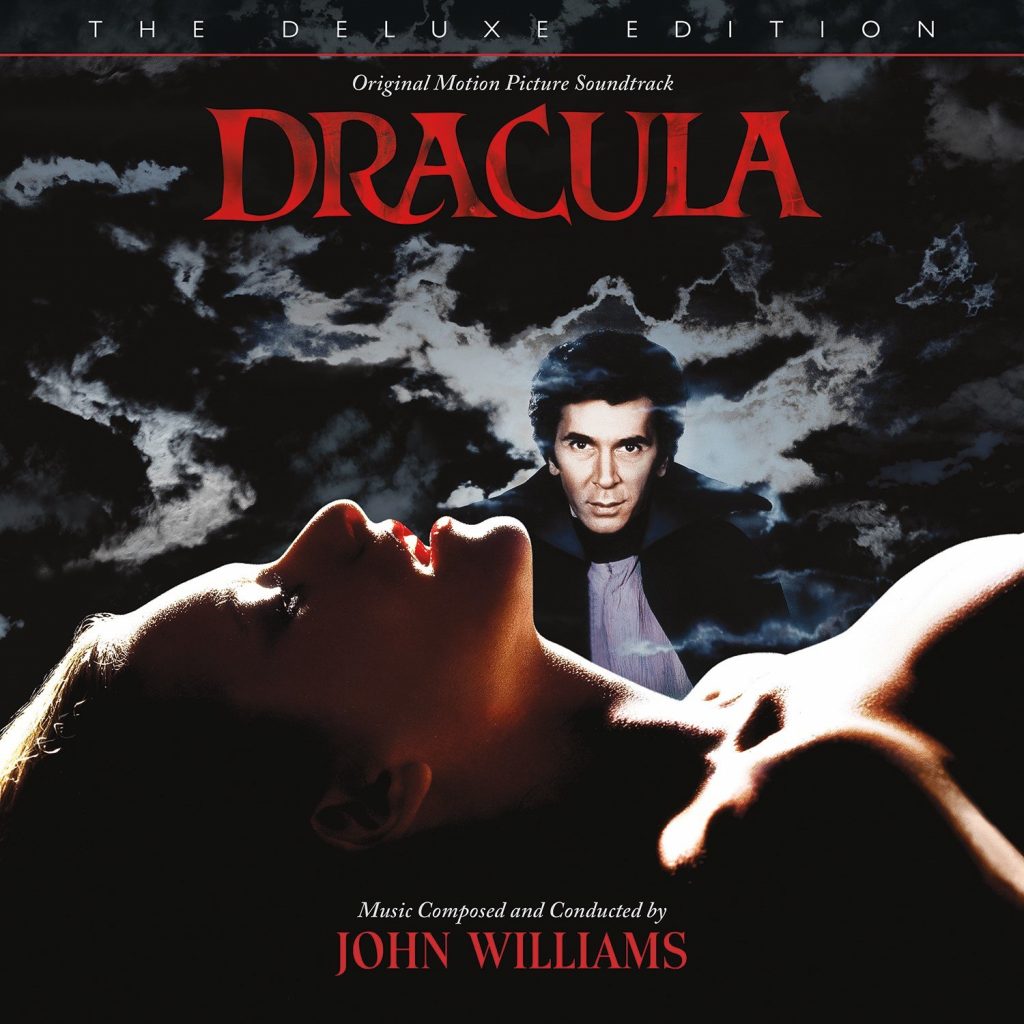 DRACULA: The Deluxe Edition
Original Motion Picture Soundtrack
Music Composed and Conducted by John Williams
UPC: 888072070073
Release Date: 10/22/2018
Limited Edition Of 5000 Copies
CDs expected to begin shipping the week of November 5
Order from www.varesesarabande.com
We thought it might be nice to celebrate our 40th Anniversary with a Deluxe Edition of our No. 1 most requested soundtrack! Here it is! Years in the making. Countless hurdles overcome. We are thrilled and ecstatic to finally offer this. Let the celebrations begin!
John Williams' Dracula kicks off this latest edition of our CD Club!
John Badham directed this 1979 telling of Dracula's tale. John Williams was absolutely on fire at this time. There were Star Wars and Close Encounters of the Third Kind in 1977. The Fury, Jaws 2 and Superman all from 1978. And then came Dracula in 1979. It was a magical time and this was another masterpiece. Dracula features one of John Williams' most brilliant and iconic themes. He admittedly has so many but he certainly captured the mythical Count in a darkly romantic and seductive way.
For this Deluxe Edition we have expanded the original 36:00 album selection to a whopping 72:00, including cues not heard in the final cut of the picture. This is a very important resurrection! Mike Matessino undertook the new 2018 mix of the score. Due to its own unique assembly, which represents John Williams' own album vision from 1979, we have included a newly-mastered-from-a-new-source presentation of the originally soundtrack album as Disc 2.
The truly deluxe packaging includes a 2-CD set, a 36-page book and a 12-page booklet all in a beautifully designed Dracula slipcase box. Here's a release we can all celebrate!
Throughout history, Dracula has filled men's hearts with fear – and women's hearts with desire. In this stylish retelling of the classic tale of horror, Frank Langella gives an electrifying performance as the bloodthirsty Count, with Sir Laurence Olivier as his legendary nemesis, Van Helsing, the renowned and relentless vampire hunter seeking to end the Dark Prince's reign of terror over the citizens of Transylvania!
DISC 1:
The Film Score 
01. Main Title & Storm Sequence (Film Version) 5:19
02. Meeting in the Cave 3:32
03. A Quick Change 1:32
04. Dracula Appears :56
05. Casting a Spell and The Visitation 4:35
06. Give Me Your Loyalty 1:23
07. Jonathan Pays a Call 3:05
08. For Mina 2:23
09 . The Dining Room 1:24
10. First Kiss 2:08
11. Dracula Meets Van Helsing 2:44
12. Grave Trampling and The Asylum 1:14
13. Night Journeys (Film Version) 5:20
14. Mina Impaled 1:47
15. Van Helsing Confronts Dracula 3:16
16. Van Helsing's Solution 3:07
17. Into the Crypt 2:20
18. The Attack 1:25
19. The Night Visitor 2:17
20. Waiting for Dracula 2:32
21. The Capture of Lucy 3:04
22. To Scarborough (Film Version) 2:48
23. Dracula's Death (Extended Version) 4:04
24. End Titles 3:32
Additional Music
25. Main Title & Storm
Sequence (Alternate) 2:01
26. The Love Scene
(Extended Version) 4:40
Total Time: 72:28
DISC 2:
The 1979 Soundtrack Album 
01. Main Title & Storm Sequence 5:11
02. The Night Visitor 2:16
03. To Scarborough 2:43
04. The Abduction of Lucy 3:37
05. Night Journeys 5:12
06. The Love Scene 2:09
07. Meeting in the Cave 3:34
08. The Bat Attack 2:52
09. For Mina 2:16
10. Dracula's Death 3:00
11. End Titles 3:31
Total Time: 36:24
Total Two-Disc Time: 1:48:52