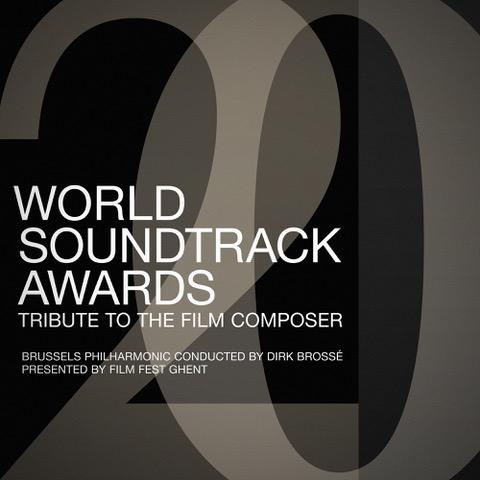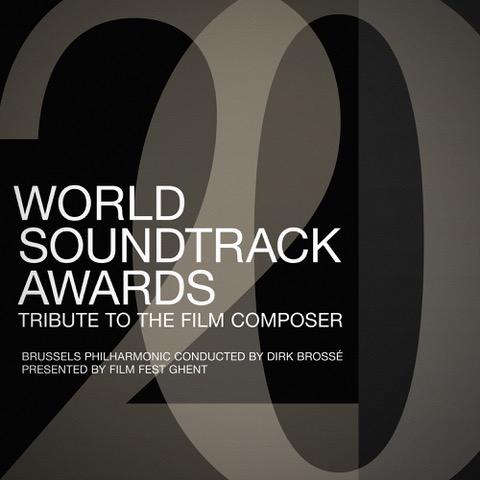 World Soundtrack Awards: Tribute to the Film Composer
Release date: October 23 – Pre-order now
An album review by Mikko Ojala
The World Soundtrack Awards given out at the Film Fest Ghent are one of if not the most prestigious awards in the world of film music today. The soundtrack awards was established in 2001, and ever since 2007 as part of the event to honor the recipient of the main award, the festival has produced a brand new recording of their music. This year to honor the 20th anniversary of the World Soundtrack Academy and Awards itself, the festival has chosen to present a compilation of music from all the past 13 winners of the World Soundtrack Film Composer of the Year Award, which includes some of the biggest names in the industry and a very wide selection of styles and pieces. And to make it even more interestingly eclectic, most of these pieces are previously unrecorded or entirely unreleased in the form they are heard on this disc.
And what would such a compilation be without a suitably grandiose opening which is provided by the late great Elmer Bernstein, a fast supporter and long time attendee the Film Fest Ghest and the Film Music Awards, who agreed to pen a fanfare for the event. This is the World Soundtrack Awards Fanfare (originally known as For Flanders) which premiered in 2002. It is a suitably heraldic piece with a Copland-esque opening brass salvo that sweeps into a very cinematic romantic melody in Bernstein's unmistakable style. It is a very fitting way to open the programme and a world premiere recording of the piece to boot.
What follows is a very varied selection from the 13 winners of the Film Composer of the Year Award. Suspense and thrillers is represented by James Newton Howard's delightful Suite from Red Sparrow (2018) with its balletic twists and turns as it cleverly follows on-screen action but retains a thoroughly melodic character while giving obvious nods to the Bernard Herrmann school of suspense and addressing the story's milieu with suitably Russian and Tchaikovskian atmosphere, all in a 6-minute piece that builds from mysterious and slightly sinister air to dance-like and finally ends in violent orchestral bursts.
The ever eclectic composer Carter Burwell is represented on this disc by music from another thriller, Fear (1996), whose score remains entirely unreleased. Here the Brussels Philharmonic performs the Main Title from the score, which is a rather heroic broad lined main theme underpinned by a constant almost tribal percussion accompaniment that gives the piece slightly off-kilter feel and informs the film's climax and perhaps at the same time functions both as a bit of musical deception and foreshadowing.
Alberto Iglesias is aprolific European film composer whose work has earned him two WSA Film Composer of the Year awards. The music heard here is Soy Marco from Pedro Almodóvar's 2002 Hable con Ella (Talk to Her), Marco's theme, which takes the guise of a lovely mournful memory waltz led by a solo violin that dances over the steady rhythm of strings with an air of regret and loss. In similar mood of reflection and quiet mourning When at Last the Wind Lulled, a previously unreleased composition from the sadly gone- too-soon composer Jóhann Jóhannsson is an atmospheric work (co-composed with Rutger Hoedemaekers) that well showcases the composer's style, its glassy textures somewhere between music and sound design, an ethereal meditation.
Nicholas Britell is a rising talent whose works include Moonlight and If Beale Street Could Talk and on this disc his work for the HBO television series Succession (2018-) is presented in a Suite from Succession. The tone of the composition is highly classical in nature and offers a short but highly effective showcase of his elegant writing for a string ensemble which flows with a very certain sense of fateful tragedy and unfolding drama. In a slightly same vein is The Homecoming from Cobb (1994) by Elliot Goldenthal that features the composer's inimitable musical voice and showcases his sensitivity, penchant and skill at writing moving elegies. This lush lengthy piece opens with broad almost Wagnerian soothing string lines, part wonder, part melancholy before more pastoral and pensive woodwind melody that seems to offer a counter idea to the lush opening, perhaps conveying a constant struggle between the public and private image of the legendary baseball player the film portays.
For the fans of John Williams the album has a small treat in the form of the revised version of The Face of Pan from 1991 film Hook. Williams wrote and recorded the original concert arrangement piece in 1995 for the Boston Pops album Williams on Williams but this revision of the same work comes from 2013, arranged for a concert of the Young Musicians Foundation. This is a Williams classic, an enchanting pastoral piece for solo flute and orchestra that conjures up a nearly religioso fairy tale atmosphere with the solo flute being perhaps a clever nod not to Peter Pan but rather to Pan of the Ancient myths and his famed piping. The new version contains very few slight tweaks to the overall shape of the piece and it mostly adds surprisingly darker orchestrational colourations that give the piece a slightly more melancholic cast than before. It also allows for a fascinating glimpse into how a composer can even after over 20 years re-evaluate and continue to refine and revise one his older compositions and find new aspects in it.
Mychael Danna is famed for his effective integration of world music and instrumentation to his music and the Suite from Monsoon Wedding (2001) testifies to that with the melding of haunting lyrical ethnic woodwind touches with a tender piano led love theme from the orchestra that is subtle yet heart melting. Suite from Imitation Game (2014) by the highly prolific and five time winner of the Film Composer of the Year award Alexandre Desplat is a somewhat enigmatic musical portrait of the famed mathematician and father of the modern computing science Alan Turing with trademark Desplat melodicism and subtlety of touch, where minimalistic figures add a sense of movement and discovery to the poignant introverted melody that constantly ticks away like the inner workings of a brilliant brain of Turing.
From Patrick Doyle who is most famed for his collaborations with the actor/director Kenneth Branagh chosen for this disc is Doyle's own instrumental arrangement of the song Never Forget from the duo's adaptation of Agatha Christie's classic murder mystery Murder on the Orient Express (2017). The lovely main melody is translated on this recording into a nostalgic duet for piano and cello, that seems to speak of love but also loss that gradually blooms into a heartfelt rendition for piano, cello and strings.
The composer Gabriel Yared has been feted numerous times at the World Soundtrack Awards, most recently this year as the recipient of the Lifetime Achievement Award. The piece from the prolific composer on this compilation is a suite from his rejected score for the Wolfgang Petersen epic Troy (2004) that gathers together several of the major musical elements of the work. It opens with a superbly lyrical love theme for Helene and Paris with no uncertain bittersweet but achingly lovely tone, then moves on to a part mournful part ominous choral fugue for the sacking of the city of Troy and culminates in the wonderfully relentless march for the advancing Greek army, which is further elevated by the dramatic chorus intoning fateful stanzas. This is a definite album highlight and offers perhaps a bit more classic grander film music moments than several other pieces on the disc. In this same bolder orchestral and choral style Star Trek Into Darkness and Beyond Suite represents Michael Giacchino's music on the disc and combines the most memorable new themes from both of the above mentioned films into a single suite. First is heard the nobly soaring and awe-filled York Town theme from Star Trek Beyond (2016) which gives way to the sinister agitated villain theme for Harrison from Star Trek Into Darkness (2013) and the suite closes with a massive rendition of Giacchino's new Star Trek main theme complete with choir and actually offers a very good summation of the style of his Star Trek scores in its 7 minute running time.
Angelo Badalamenti is a frequent collaborator of David Lynch and his music for Twin Peaks is considered to be among his most iconic compositions and on the disc the Brussels Philharmonic and Dirk Brossé have chosen to present a wonderful fully symphonic rendition of the composer's ravishing Voice of Love from the motion picture prequel to the television series, Twin Peaks Fire Walk with Me (1992), that simply soars in a fiery fashion as it builds throughout the arrangement to a rousing, ecstatic conclusion.
And just as the album began with a formal fanfare honoring the World Soundtrack Awards, it fittingly closes with a Tribute to the Film Composer, a piece John Williams arranged for the 2002 Academy Awards where it was set to a montage honoring both music in film and his many colleagues and their unforgettable music. This is its first recording and features no less than 23 different famous film themes from Korngold to Goldsmith to Williams to Morricone and everything in between. It is really a terrific little piece and a reminder of how film composers and their contributions have been such an indelible part of the experience of so many classic movies.
For me the World Soundtrack Awards: Tribute to the Film Composer is a somewhat difficult album to review. On the other hand the album programme itself, even though at first it might feel a bit stylistically scattered, is actually very well put together and thought out and the recording is wonderfully crisp and articulate and the performances by the Brussels Philharmonic and choir under the direction of conductor Dirk Brossé are nigh flawless. But on the other hand this really doesn't feel like a CD for the casual fans of film music since the selection of music is a very varied and eclectic mix and often feels somewhat esoteric as these works are not selected for their popularity but for rather for their rarity and uniqueness. As such not all the tracks on the album truly grab your attention or are meant to be showpieces at all and are anything but those classic film themes and moments that one usually associates with these "best of" compilations where you get the most iconic themes from their respective composers.
Especially the decision to record previously unreleased pieces or music from entirely unreleased scores has to be commended but it also makes the album more of a curiosity, that is obviously geared toward the true aficionados of film music, who appreciate such things and relish the idea of hearing an unreleased Main title from Fear or a new revised of the concert version of The Face of Pan. For more seasoned fans like myself this actually might be the selling point, as for once we get to hear something previously unrecorded or unreleased and not the same old programmes that the film music compilations usually offer with few or no surprises on them.
So in the end I would say that for a seasoned film score fan or a fan of less well-known scores or smaller hidden gems and collector rarities from these top tier composers the World Soundtrack Awards Tribute to the Film Composer receives a recommendation as a very interesting and entertaining compilation of music from 13 very different film composers and that celebrates and illuminates the multifaceted craft of film music very well. But to those who have a more general or passing interest in film music and these composers and who would gravitate toward more main stream selection of their most recognizable movie music, I have to say, this might not be the compilation you are looking for.
TRACKLIST
World Soundtrack Awards Fanfare (Elmer Bernstein)
Red Sparrow Overture (James Newton Howard)
Fear – Main Title (Carter Burwell)
Hable con ella – Soy Marco (Alberto Iglesias)
Cobb (Suite) – The Homecoming (Elliot Goldenthal)
Troy (Suite) (Gabriel Yared)
When at Last the Wind Lulled (Jóhann Jóhannsson & Rutger Hoedemaekers)
Hook – The Face of Pan (John Williams)
Succession (Suite) (Nicholas Britell)
Monsoon Wedding (Suite) (Mychael Danna)
The Imitation Game (Suite) (Alexandre Desplat)
Murder on the Orient Express – Never Forget (Instrumental Version) (Patrick Doyle)
Star Trek, into Darkness and Beyond (Suite) (Michael Giacchino)
Twin Peaks: Fire Walk with Me – The Voice of Love (Angelo Badalamenti)
Tribute to the Film Composer (John Williams, arr.)