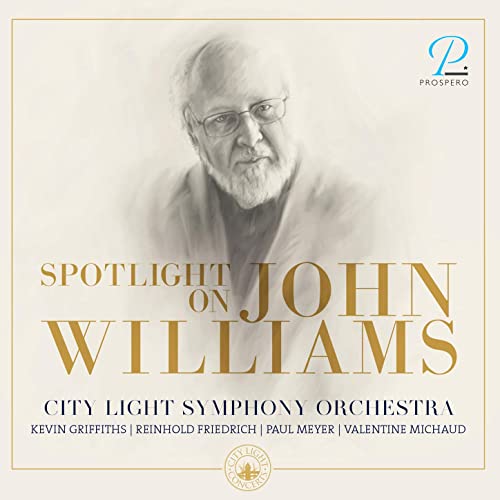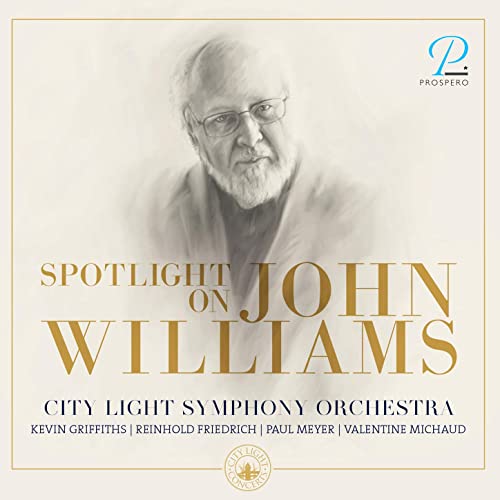 See also: JWFan Reviews 'Spotlight on John Williams' 2CD Set
Prospero Classical has released 'Spotlight on John Williams', a double album featuring new recordings of Williams' film music themes and suites, performed by the 90-member City of Light Symphony Orchestra conducted by Kevin Griffiths.
The orchestra's debut album, which includes performances of renowned soloists such as Valentine Michaud, Reinhold Friedrich, and Paul Meyer, is now available on streaming platforms and will be released on CD next month.
Listen to the album on YouTube.
Read the interview with conductor Kevin Griffiths at The Legacy of John Williams.
TRACKLIST
Disc 1
01. Overture from The Cowboys
02. End Credits from Indiana Jones and the Temple of Doom
03. Main Theme from Jurassic Park
04. The Flight to Neverland from Hook
05. The Chamber of Secrets from Harry Potter and the Chamber of Secrets
06. Fawkes the Phoenix from Harry Potter and the Chamber of Secrets
07. Witches, Wands and Wizards from Harry Potter and the Prisoner of Azkaban
08. The Duel from The Adventures of Tintin – The Secret of the Unicorn
09. March from Superman
10. Star Wars – The Force Awakens (Suite for Orchestra): I. March of the Resistance
11. Star Wars – The Force Awakens (Suite for Orchestra): II. Rey's Theme
12. Star Wars – The Force Awakens (Suite for Orchestra): III. Scherzo for X-Wings
13. Star Wars – The Force Awakens (Suite for Orchestra): IV. The Jedi Steps & Finale
Disc 2
01. Theme from JFK
02. Escapades from Catch Me If You Can For Alto Saxophone & Orchestra: I. Closing in
03. Escapades from Catch Me If You Can For Alto Saxophone & Orchestra: II. Reflections
04. Escapades from Catch Me If You Can For Alto Saxophone & Orchestra: III. Joy Ride
05. Main Theme from Born on the Fourth of July
06. Viktor's Tale from The Terminal
07. Opening Credits from The Adventures of Tintin – The Secret of the Unicorn
08. Nimbus 2000 from Harry Potter and the Sorcerer's Stone