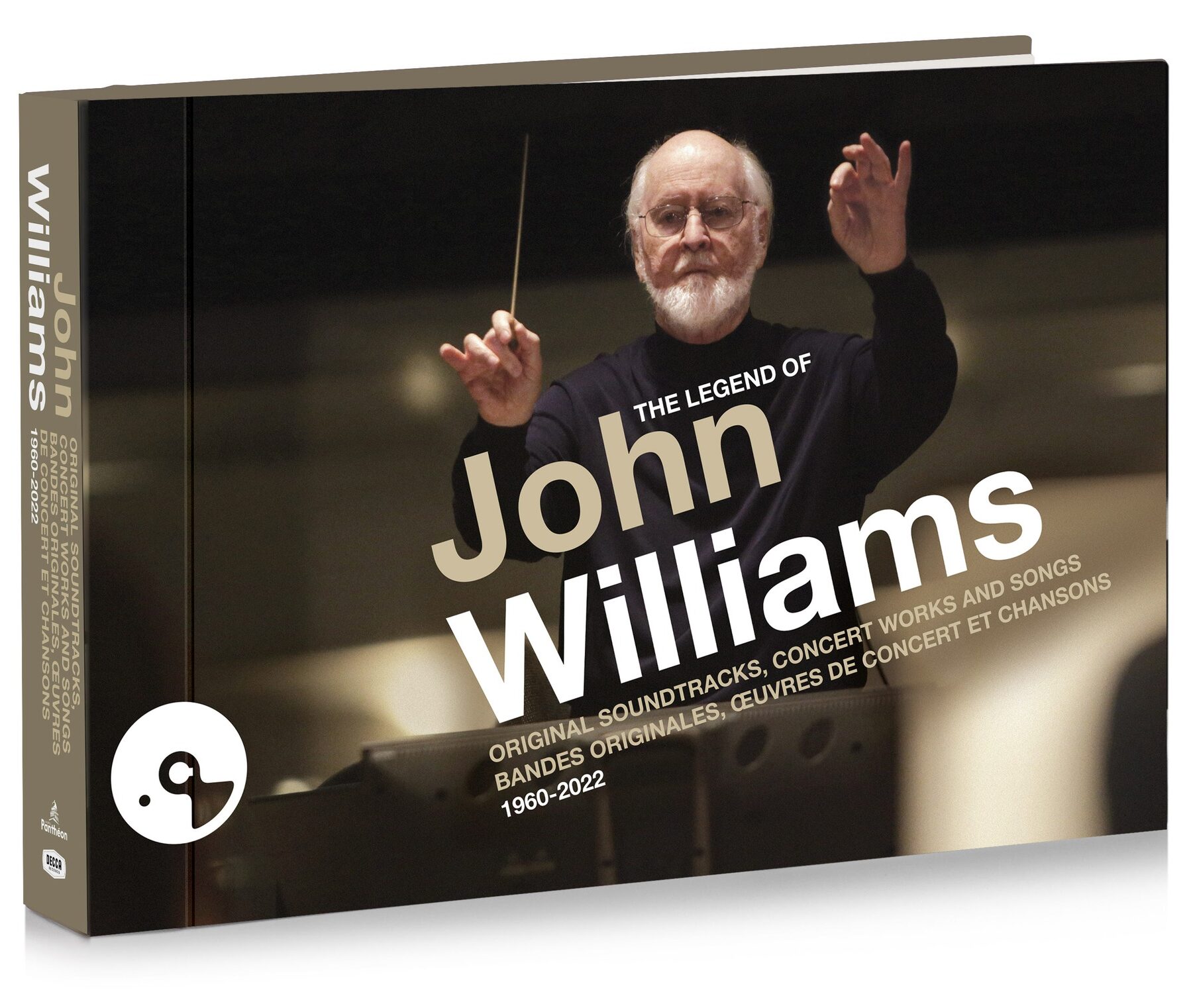 THE LEGEND OF JOHN WILLIAMS
Original Soundtracks, Concert Works and Songs
LABEL: Panthéon / Universal
Release date: November 24, 2023
Today, he's the most famous American composer in the world. The Écoutez le Cinéma! collection is proud to present the most ambitious, cross-disciplinary discography ever devoted to John Williams, the supreme incarnation of the Hollywood sound.
The program is divided into 20 thematic CDs, ranging from his cult soundtracks for Spielberg (Jaws, E.T. The Extra-Terrestrial, Raiders of the Lost Ark, Schindler's List), George Lucas (Star Wars), Alfred Hitchcock, Clint Eastwood, Brian De Palma and Oliver Stone, as well as jazz and pop scores, concert works and a complete CD of songs and covers by Sting, Barbra Streisand, Frank Sinatra and Ella Fitzgerald. The ultimate, indispensable box set: an exploration of all the territories of the Williams continent. Better yet: the quintessence of a legend in 22 hours of music.
The edition also includes a booklet with an original interview with John Williams + testimonials from Oliver Stone, Jean-Jacques Annaud and Alan Bergman.
(Translated from official announcement)
The Legend of John Williams pre-order
TRACK LIST
(Includes track availability on previous releases)
CD 1 – Boston Pops Highlights (I)
Boston Pops Orchestra conducted by John Williams
01. Main Title from Star Wars
02. Princess Leia from Star Wars
03. The Asteroid Field from The Empire Strikes Back
04. The Imperial March from The Empire Strikes Back
05. Yoda's Theme from The Empire Strikes Back
06. Jabba The Hutt from Return of the Jedi
07. Luke & Leia Theme from Return of the Jedi
08. Parade Of The Ewoks from Return of the Jedi
09. The Forest Battle from Return of the Jedi
10. Superman March
11. Love Theme from Superman
12. Suite from Close Encounters Of The Third Kind
CD 2 – Boston Pops Highlights (II)

Boston Pops Orchestra conducted by John Williams
01. Mission Theme: Theme from N.B.C. News
02. If We Were In Love from Yes, Giorgio
03. March from 1941
04. At Lowood from Jane Eyre
05. To Thornfield from Jane Eyre
06. The Return from Jane Eyre
07. Liberty Fanfare
08. America, The Dream Goes On
09. March from Midway
10. Balloon Sequence and Devil's Dance from The Witches of Eastwick
11. Olympic Fanfare And Theme
12. Somewhere in my Memory from Home Alone
13. Holiday Flight from Home Alone
14. Star of Bethlehem from Home Alone
CD 3 – Early Scores

Checkmate
Selections from the Original Soundtrack Album
01. Theme from Checkmate
02. Shy Youth
03. Cyanid Touch
How To Steal A Million
Selections from the Original Soundtrack Album
04. Main Title – How to Steal a Million
05. Simon Says
06. The Key
07. Two Lovers
Penelope
Selections from the Original Soundtrack Album
08. Girl Chase
09. Poolside
10. Penelope (Love Theme)
Now With My Wife, You Don't
Selections from the Original Soundtrack Album
11. Main Title – Not with my Wife, you Don't!
12. My Inamorata (instrumental)
13. Hey Julieta
14. Foney Poochini
15. Arrivederci Mondo (Italian Movie)
16. Big Beautiful Ball
Fitzwilly
Selections from the Original Soundtrack Album
17. Make me Rainbows (vocal)
18. Overture – Fitzwilly
19. Fitzwilly's Date
20. More Theft
21. Sampson and Delilah
Heidi
Selections from the Original Soundtrack Album
22. Main Title And Overture
23. The Alm
24. Reflections
25. The Miracle
26. Love Theme From Heidi
CD 4 – Mark Rydell
Cinderella Liberty
Original Soundtrack Album
01. Wednesday Special / Main Title Vocal
02. Nice To Be Around
03. New Shooter
04. Maggie Shoots Pool
05. Maggie And Baggs
06. Boxing Montage
07. Nice To Be Around – Vocal
08. Neptune's Bar
09. Cinderella Liberty Love Theme
10. The Ferry Ride
11. A Baby Boy Arrives
12. Wednesday Special / End Title
The River
Original Soundtrack Album
14. Growing Up
15. The Pony Ride
16. Love Theme From The River
17. The Ancestral Home
18. Rain Clouds Gather
19. From Farm To Factory
20. Back From Town
21. Tractor Scene
22. A Family Meeting
23. Young Friends Farewell
CD 5 – The Disaster Movie Trilogy
Earthquake
Original Soundtrack Album
01. Main Title – Earthquake
02. Miles On Wheels
03. City Theme
04. Something For Rosa
05. Love Scene
06. The City Sleeps
07. Love Theme
08. Cory In Jeopardy
09. Something For Remy
10. Medley
11. Finale, End Title
The Poseidon Adventure
Selections from the original film recording
12. Main Title – The Poseidon Adventure
13. Nonnie and Martin
14. Saving Robin
15. Up the Tree
16. Through the Galley
17. The Rescue and End Title
The Towering Inferno
Selections from the original film recording
18. Main Title – The Towering Inferno
19. The Rescue of Angela and the Blocked Door
20. Lisolette and Harlee
21. The Helicopter Explodes
22. The Solution
23. Finale
24. An Architect's Dream / End Cast
CD 6 – Clint Eastwood + Robert Altman
The Eiger Sanction
Original Soundtrack Album
01. The Eiger Sanction (Main Title)
02. Theme from The Eiger Sanction
03. Fifty Miles of Desert
04. The Icy Ascent
05. Friends and Enemies
06. The Top of The World
07. Theme from The Eiger Sanction
08. Training With George
09. Theme from The Eiger Sanction (Hemlock And Jemima)
10. George Sets the Pace
11. The Microfilm Killing
12. Up the Drainpipe
13. The Eiger
The Long Goodbye
Selections from the Original Soundtrack Album
14. The Long Goodbye
15. Love Theme
16. The Long Goodbye (Jazz trio version)
Images
Selections from the Original Soundtrack Album
17. In Search of Unicorns
18. The Killing of Marcel
19. Dogs, Ponies and Old Ruins
20. Blood Moon
21. The Love Montage
22. The Waterfall and Final Chapter
CD 7 – Western
The Cowboys
Boston Pops Orchestra conducted by John Williams
01. Overture
The Man Who Loved Cat Dancing
Selections from the original film recording
02. Cat Dancing
03. Moving
04. Bound Up
05. Billy's Fall / Boys will Be
06. Braiding / Just Whistle
07. Little John
08. Jay's Fall / End Title
The Missouri Breaks
Original Soundtrack Album
09. The Missouri Breaks (Main Title)
10. Arrival of the Rustlers
11. Love Theme
12. The Train Robbery
13. Bizarre Wake
14. Celebration
15. Confrontation
16. Love Theme (Reprise)
17. Crossing the Missouri
18. The Chase
19. Remembrances
20. The Horse Rustlers
21. Love Theme (End Title)
CD 8 – Jaws & Jaws 2 
Jaws
Original Soundtrack Album
01. Main Title
02. Chrissie's Death
03. Promenade (Tourists On The Menu)
04. Out To Sea
05. The Indianapolis Story
06. Sea Attack Number One
07. One Barrel Chase
08. Preparing the Cage
09. Night Search
10. The Underwater Siege
11. Hand to Hand Combat
12. End Title
Jaws 2
Original Soundtrack Album
13. Finding the Orca (Main Title)
14. The Menu
15. Ballet for Divers
16. The Water Kite Sequence
17. Brody Misunderstood
18. The Catamaran Race
19. Toward Cable Junction
20. Attack on the Helicopter
21. The Open Sea
22. Fire Aboard and Eddie's Death
23. Sean's Rescue
24. Attack on The Water Skier
25. The Big Jolt!
26. End Title, End Cast
CD 9 – Steven Spielberg: E.T. The Extra-Terrestrial + Always
E.T. The Extra-Terrestrial
Original Soundtrack Album
01. Three Million Light Years From Home
02. Abandoned and Pursued
03. E.T. and Me
04. E.T.'s Halloween
05. Flying
06. E.T. Phone Home
07. Over the Moon
08. Adventure on Earth
Always
Selections from the Original Soundtrack Album
09. Among the Clouds
10. Follow Me
11. Seeing Dorinda
12. Saying Goodbye
13. Promise to Hap
14. The Old Timer's Shack
15. Dorinda Solo Flight
Hook
16. The Flight to Neverland
(From 'Celebrating John Williams')
CD 10 – Steven Spielberg: Jurassic Park
Jurassic Park
Original Soundtrack Album
01. Opening Titles
02. Theme from Jurassic Park
03. Incident At Isla Nublar
04. Journey to the Island
05. The Raptor Attack
06. Hatching Baby Raptor
07. Welcome to Jurassic Park
08. My Friend, the Brachiosaurus
09. Dennis Steals the Embryo
10. A Tree for My Bed
11. High-Wire Stunts
12. Remembering Petticoat Lane
13. Jurassic Park Gate
14. Eye to Eye
15. T-Rex Rescue & Finale
16. End Credits
Bonus Tracks:
Minority Report
Selections from the Original Soundtrack Album
17. Sean's Theme
18. Minority Report
CD 11 – Steven Spielberg: Schindler's List
Schindler's List
Original Soundtrack Album
01. Theme from Schindler's List
02. Jewish Town (Krakow Ghetto, Winter '41)
03. Immolation (With Our Lives, We Give Life)
04. Remembrances
05. Schindler's Workforce
06. Oyf'n Pripetshok / Nacht Aktion
07. I Could Have Done More
08. Auschwitz-Birkenau
09. Stolen Memories
10. Making the List
11. Give Me Your Names
12. Yerushalaim Shel Zahav (Jerusalem of Gold)
13. Remembrances
14. Theme from Schindler's List (Reprise)
CD 12 – Steven Spielberg: The Indiana Jones Series
Raiders of the Lost Ark
Selections from the Original Soundtrack Album
01. Raiders Of The Lost Ark
02. The Map Room: Dawn
03. Marion's Theme / The Crate
04. The Basket Game
Indiana Jones and the Temple of Doom
Selections from the Original Soundtrack Album
05. Anything Goes
06. Short Round's Theme
07. Nocturnal Activities
08. End Credits
Indiana Jones and the Last Crusade
Selections from the Original Soundtrack Album
09. Indy's Very First Adventure
10. No Ticket
11. Scherzo for Motorcycle and Orchestra
12. The Keeper of the Grail
Indiana Jones and the Kingdom of the Crystal Skull
Selections from the Original Soundtrack Album
13. The Adventures of Mutt
14. Call of the Crystal
15. Irina's Theme
16. Finale
CD 13 – The Oliver Stone American Triptych
Born on the Fourth of July
Original Soundtrack Album (John Williams tracks)
01. Prologue
02. The Early Days, Massapequa, 1957
03. The Shooting Of Wilson
04. Cua Viet River, Vietnam, 1968
05. Homecoming
06 Born on The Fourth of July
JFK
Selections from the Original Soundtrack Album
07. Prologue
08. The Motorcade
09. Theme from JFK
10. The Conspirators
11. Garrison Family Theme
12. The Witnesses
13. Finale
Nixon
Selections from the Original Soundtrack Album
14. The 1960'S: The Turbulent Years
15. Main Title… The White House Gate
16. The Miami Convention, 1968
17. The Meeting With Mao
18. The Farewell Scene
CD 14 – Ron Howard
Far and Away
Original Soundtrack Album (John Williams tracks)
01. County Galway, June 1892
02. The Fighting Donellys
03. Joe Sr.'s Passing / The Duel Scene
04. Leaving Home
05. Burning The Manor House
06. Blowing Off Steam
07. Fighting for Dough
08. Am I Beautiful?
09. The Big Match
10. Inside the Mansion
11. Shannon Is Shot
12. Joseph's Dream
13. The Reunion
14. Oklahoma Territory
15. The Land Race
16. Settling With Steven / The Race to The River
17. Joseph and Shannon
18. End Credits / Far And Away / John Williams, The Chieftains
CD 15 – Sydney Pollack + Martin Ritt
Sabrina
Original Soundtrack Album
01. Theme From Sabrina
02. Moonlight
03. Linus' New Life
04. Growing Up In Paris
05. (In The) Moonlight
06. Sabrina Remembers/La Vie En Rose
07. Sabrina Comes Home
08. Nantucket Visit
09. Medley: The Party Sequence
10. Sabrina And Linus Date
11. How Can I Remember
12. Sabrina's Return to Paris
13. Theme from Sabrina (Extended Version)
Pete 'n' Tillie
Selections from the original film recording
14. Love Theme
15. Vacation
16. End Title and End Cast
Stanley & Iris
Selections from the Original Soundtrack Album
17. The Bicycle
18. Reading Lessons
19. Letters
20. End Title
CD 16 – John Badham + Brian De Palma
Dracula
Original Soundtrack Album
01. Main Title & Storm Sequence
02. The Night Visitor
03. To Scarborough
04. The Abduction Of Lucy
05. Night Journeys
06. The Love Scene
07. Meeting In The Cave
08. The Bat Attack
09. For Mina
10. Dracula's Death
11. End Titles
The Fury 
Original Soundtrack Album
12. Main Title
13. For Gillian
14. Vision on the Stairs
15. Hester's Theme and The House
16. Gillian's Escape
17. The Search for Robin
18. Gillian's Vision
19. Death on the Carousel and End Titles
20. Epilogue
CD 17 – SIngle Film Collaborations
Family Plot
Selections from the original film recording
01. End Cast
02. The Mystery Woman
03. The White Mustang
04. Maloney's Exit
05. The Search Montage
Black Sunday
Selections from the original film recording
06. Preparations
07. The Explosion
08. The End
Monsignor
Selection from the Original Soundtrack Album
09. Reunion In Italy
10. Forgotten Vows
11. The Meeting In Sicily
12. At the Forum
Sleepers
Selections from the Original Soundtrack Album
13. The Football Game
14. Reunion and Finale
Seven Years In Tibet
Selections from the Original Soundtrack Album
15. Seven Years in Tibet
16. The Invasion
17. Regaining a Son
Angela's Ashes
Selections from the Original Soundtrack Album
18. Theme from Angela's Ashes
19. Delivering Telegrams
20. Back To America
21. Plenty Of Fish And Chips In Heaven
CD 18 –  Anne-Sophie Mutter & John Williams, Across the Stars
Anne Sophie-Mutter – Across The Stars (Deluxe Edition) *
01. Rey's Theme from The Force Awakens
02. Yoda's Theme from The Empire Strikes Back
03. Hedwig's Theme from Harry Potter and the Sorcerer's Stone
04. Across the Stars (Love Theme) from Attack of the Clones
05. Donnybrook Fair from Far and Away
06. Sayuri's Theme from Memoirs of a Geisha
07. Remembrances from Schindler's List
08. Night Journeys from Dracula
09. Theme from Sabrina
10. The Duel from The Adventures of Tintin
11. Princess Leia's Theme from Star Wars
12. The Chairman's Waltz from Memoirs of a Geisha
13. Luke and Leia from Return of the Jedi
14. Nice to Be Around from Cinderella Liberty
15. Theme from Schindler's List
16. A Prayer for Peace from Munich
* Except 'Markings'
CD 19 – Concert Works
01. Prelude And Fugue
(From 'Stan Kenton Conducts the Los Angeles Neophonic Orchestra')
Sinfonietta for Wind Ensemble
(From 'Eastman Wind Ensemble/Donald Hunsberger')
02. Lento assai
03. Lento
04. Molto allegro
Violin Concerto No. 2
(From 'Violin Concerto No. 2 and Selected Film Themes')
05. I. Prologue
06. II. Rounds
07. III. Dactyls
08. IV. Epilogue
09. Elegy for Cello and Orchestra
(From 'John Williams: The Berlin Concert')
CD 20 – Songs, Covers and New Readings
01. A Million Bucks from Checkmate
Performed by André Previn
(From 'André Previn Plays Music of the Young Hollywood Composers')
02. Make Me Rainbows from Fitzwilly
Performed by Ella Fitzgerald & The Count Basie Orchestra
(From 'Ella & Basie: A Perfect Match')
03. Theme from Catch Me If You Can
Performed by Jean-Michel Bernard
(From 'Piano Cinema')
04. Dream Away from The Man Who Loved Cat Dancing
Performed by Frank Sinatra
(From 'Ol' Blue Eyes Is Back')
05. Fascinating Rhythm
Performed by John Williams
(From 'Rhythm in Motion')
06. The Same Hello, the Same Goodbye
Performed by Barbra Streisand
(From 'What Matters Most: Barbra Streisand Sings the Lyrics of Marilyn & Alan Bergman')
07. A Big Beautiful Ball from Not With My Wife, You Don't
Performed by Jackie & Roy
(From 'Lovesick')
08. A Place On My Own (Heidi's Theme) from Heidi
Performed by Carrie Chase
(From the Original Soundtrack Album)
09. Daddy's Gone A-Hunting from Daddy's Gone A-Hunting
Performed by Lyn Roman
(From the Original Soundtrack Recording)
10. Come Tuesday
Performed by Alan Bergman
(Previously unreleased)
11. Theme from The Eiger Sanction
Performed by Kyle Eastwood
(From 'Cinematic')
12. Remembering Carolyn from Presumed Innocent
Performed by Simone Pedroni
(From 'John Williams: Themes and Transcriptions for Piano')
13. Nice To Be Around from Cinderella Liberty
Performed by Maureen McGovern
(From 'Nice to Be Around')
14. A Powdered Wig
Performed by Henry Mancini
(From 'Combo!')
15. Love's The Only Game In Town from Pete 'N' Tillie
Performed by Suzanne Stevens
(From 'Love's the Only Game in Town')
16. The Long Goodbye from The Long Goodbye
Performed by Lou Donaldson
(From 'Sophisticated Lou')
17. Theme from E.T. The Extra-Terrestrial
Performed by David Helbock
(From 'Playing John Williams (Piano Works XIV)')
18. Make Me Rainbows from Fitzwilly
Performed by Vic Damone
(From 'The Damone Type of Thing')
19. If We Were In Love from Yes, Giorgio
Performed by Luciano Pavarotti
(From the Original Soundtrack Album)
Box set designed and produced by Stéphane Lerouge
Booklet with original interview with John Williams + testimonials by Oliver Stone, Jean-Jacques Annaud and Alan Bergman