On February 28, Sony Classical will release  the compilation album John Williams: A Celebration! An 80th Birthday Tribute (not to be confused with Decca's compilation to be released on the same month), which includes the premiere release of Variations on Happy Birthday. The album can be pre-ordered on Amazon.com).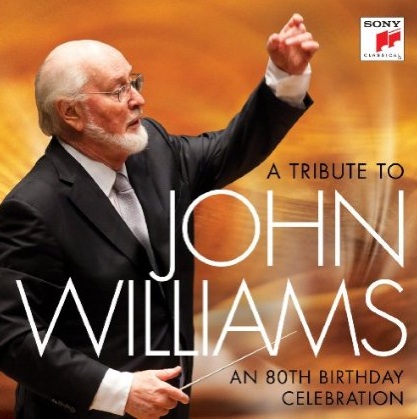 In honor of the 80th Birthday of one of America's most distinctive and beloved musical voices, Sony Classical is proud to announce the release of John Williams A Celebration! An 80th Birthday Tribute. With instantly recognizable themes from some of the biggest movie blockbusters in recent memory, the album is a celebration of John Williams' stellar career. The collection is hand-picked by Williams and contains his personal favorites from film and television music, concert works and festive occasion pieces. Of special note is the previously unreleased recording of Williams' joyous "Happy Birthday Variations."
In a career spanning almost six decades, John Williams has composed some of the most popular film scores in the history of motion pictures; the Star Wars series, Jaws, the Indiana Jones films, E.T. The Extra-Terrestrial, Schindler's List, the first three Harry Potter films and many more. Winner of twenty-one Grammy® Awards, four Golden Globe awards and five Academy Awards®, Williams is easily the most successful composer working in film today. Starting with the theme from Jaws through his latest score for the critically acclaimed War Horse, John Williams A Celebration! An 80th Birthday Tribute is a collection of brilliant music from one of America's most brilliant composers.
"John has transformed and uplifted every movie that we've made together."
Steven Spielberg
"Every fan of Star Wars and of great music is in his debt." George Lucas
TRACK LIST
01. Sound the Bells! (2:50)
02. Out to Sea / The Shark Cage Fugue from Jaws (4:23)
03. Theme from Sabrina – Itzhak Perlman, violin (4:58)
04. March from 1941 (4:14)
05. Adventures on Earth from E.T. The Extra-Terrestrial (9:47)
06. Dartmoor, 1912 from War Horse (Original Soundtrack) (3:35)
07. The Adventures of Mutt from Indiana Jones and the Kingdom of the Crystal Skull (Original Soundtrack) (3:12)
08. Harry's Wondrous World from Harry Potter and the Sorcerer's Stone (Original Soundtrack) (5:21)
09. Elegy for Cello and Orchestra – Yo-Yo Ma, cello (6:22)
10. Going To School from Memoirs of a Geisha – Yo-Yo Ma, cello (Original Soundtrack) (2:42)
11. The Mission (Theme for NBC News) (3:30)
12. Theme from Schindler's List – Itzhak Perlman, violin (3:33)
13. The Adventure Continues from The Adventures of Tintin: The Secret of the Unicorn  (Original Soundtrack) (2:58)
14. Throne Room and Finale from Star Wars (7:57)
15. Happy Birthday Variations* (Previously Unreleased) (5:10)
TOTAL TIME: 1:10:32
*John Williams / Recording Arts Orchestra of Los Angeles
Sony Pictures Studios, Culver City, California, Dec, 1999