Making Hook Happen: An Interview with Didier C. Deutsch
by Jason LeBlanc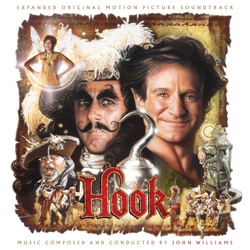 Didier C. Deutsch has been in the record business for 4 decades, and his current position at Sony has led to his involvement in the production of many expanded score re-issues for La-La Land Records including Independence Day, The Edge, Alien Resurrection, First Knight, Star Trek V, Home Alone, A Certain Smile, Sleeping With The Enemy, 1941, 55 Days at Peking, and The Fall Of the Roman Empire.  I was recently given the chance to interview Mr. Deutsch on the eve of the latest Sony/La-La Land production – a new expanded 2CD release of John Williams majestic score to the 1991 Steven Spielberg epic, Hook!
Hello Didier, thank you for agreeing to be interviewed! For those that may not know who you are, tell us about yourself and how you got started in this industry?
Briefly, I was born in France, several years ago, came to this country in 1962, and began to work in the industry in 1973, first as a Publicity Director until I discovered I could be a producer, which was more lucrative and certainly more interesting. Almost simultaneously, in 1990, I produced a 4-CD box set celebrating the Modern Jazz Quartet, and another 4-CD set about Tony Bennett's tenure at Columbia Records. I've been a full-time producer ever since.
But from the time when I went to the movies as a kid, one thing that always caught my attention (or my ear) was the music. Instead of the (French) crooners of the day, I grew up listening to Tiomkin, Korngold, Steiner, Victor Young, and so many others, whose melodies I kept in the back of my mind, and transcribed on a piece of paper using the simplest A-B-C formula, since I never had any formal musical training.
For how long have you been a fan of John Williams? Do you remember the first Williams score you really took notice of?
I knew John Williams from his early comedy scores, since after I arrived in this country I continued collecting soundtrack albums, a collection I had started years before in France. But I really began to take notice, surprisingly, after I saw the first Star Wars in 1977. When I produced the reissue of The Reivers for Legacy, I discovered him again, and suddenly couldn't hear enough of his music. I like his talent, I like his sense of melody, but above all I like his unpredictability. He may have a signature sound, but his scores are genuinely inventive and different – something of an oddity nowadays.
Your position at Sony has allowed you to get a large amount of great scores out to their fans. How long have you been wanting to release an expanded version of Hook?
Strangely enough, Hook wasn't at first one of my favorite John Williams scores. Yes, it was challenging and intriguing in parts, but I was expecting something a bit more vibrant, perhaps… But the idea of doing an expanded edition became a tantalizing proposition when I found out that we had a set of the original session tapes in the Sony vaults.
I convinced the people in charge of the Archives to transfer the tapes to digital, in order to preserve them, under my supervision, which gave me an opportunity to hear the cues as they were being recorded, with false starts, outtakes and alternate versions, along with the approved takes. And John Williams totally in command, yet courteous and encouraging to his players, attentive to the slightest detail, a fascinating audio performance if I can term it this way.
When Michael Gerhard, at La-La Land, and I began talking about projects we wanted to do, Hook soon became a focus, and the deal was sealed, so to speak.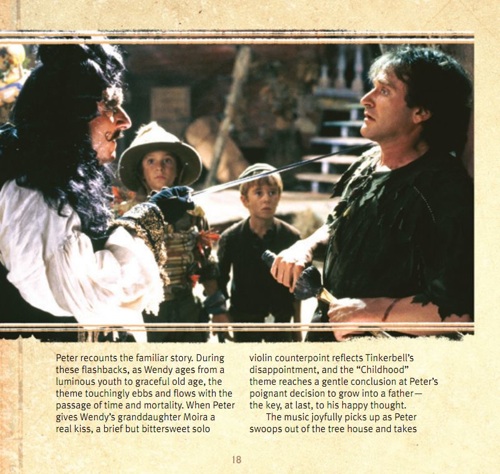 How did this release finally go from dream to reality?
It took roughly three years – 1102 days according to Michael, but I think it's more – for the project to materialize. We hit several snags, but because we wanted to live up to the criteria of quality and completeness on which La-La Land had established its reputation, we waited for the right opportunity to pursue our goal at each turn, and I think succeeded beyond our wildest dreams, if I am to judge by the total endorsement we got from John Williams himself.
This is the third Williams release you've worked on with La-La Land Records after Home Alone and 1941. How did this one compare to those two?
On both Home Alone and 1941, the workload was split between Hollywood and New York, so my involvement was only half of the total equation. But we are talking about films that demand scores that are completely different in nature. The rambunctious style of 1941 or the comedic overtones of Home Alone are already miles apart from the forlorn feeling that often pervades Hook. So trying to compare them would not be adequate.
As far as the work involved, on the other hand, Hook was by far the most complex and time-consuming of the three. Trying to identify all the cues, some of which had been recorded as independent fragments, and assemble them in the way they had been assembled in the film, sometimes seemed a daunting task.
I spent a summer vacation with one of my nephews, Michael Geyre, a musician and composer in his own right, deciphering the cues, identifying them, and compiling them into a sequencing that attempted to closely match the film itself – which we were watching over and over again.
One difference between this release and the previous La-La Land/Sony/Williams releases is that Mike Matessino was the producer/editor of those releases. Was he unavailable to work on Hook?
As I have explained above, sometimes the workload is split between Hollywood and New York, unless the project is done entirely on one coast or the other. The previous releases on which Mike has been involved took place on the West Coast. He is responsible for the work being done there.
Hook was entirely produced in New York, since the tapes were here.
What were your responsibilities as producer of the new release?
Very simple – first identify the cues, organize them in the order in which they were heard in the film, put them together in a digital format working with my engineer, Mark Wilder, a multi-Grammy winner with whom I have teamed since I became a producer. Then came the various processes by which we corrected the sound quality, and brought it to a more vibrant resonance than ever before (I use the term knowingly, as some cues feature an amazing array of percussive instruments, with low, resonant booms in the fabric of the music itself which sounded wonderful in the studio).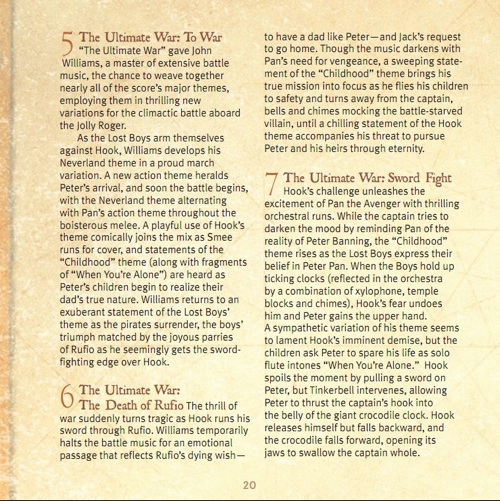 How involved was John Williams in this release?
His representative, Jamie Richardson, was in frequent touch with Michael Gerhard, guiding us in the final presentation and sequencing of the two CDs, and relaying to us the comments made by the composer. I should also mention that we received tremendous support from Jaime Cyr, director of music licensing at Sony Pictures, without whose help getting this release out might have been uncertain.
Where there any source elements you would have like to have used that could not be located?
Yes and no. One could be greedy and ask for some cues that may be too repetitive. But overall, I think that the final product is one that should place Hook, a much neglected score until now, high among the great ones composed by John Williams.
It sounds like your admiration for the Hook score rose considerable once you began really working on the project. Where do you rank it now among Williams's entire output?
Yes, I really discovered it when I began to assemble it. But I wouldn't want to rank it in any specific slot in John Williams' output. Let's say that I would place it among the top ten scores, because of its scope, its length, its diversity. And the dynamics in that recording sold me!
What's your favorite piece of previously unreleased music now available on the new set?
Again, difficult to say… But the one track that I like over all is "Banning Back Home," perhaps because it is so incongruous in an otherwise tightly knit score.
Do you know if the album version of "Banning Back Home" was specifically written for the album, or if it was composed for an earlier cut of the movie?
The paperwork in our possession doesn't provide any information, where everything else is documented. Which might suggest that it was perhaps recorded after the main score, as a possible addition, but that's pure speculation on my part.
Wrapping up, is there anything else you would like to say about Hook – the film, its score, or this new 2CD set?
As a romantic score that speaks of lost childhood and days of swashbuckling (real or imaginary), adulthood and responsibilites, the score matches the moods of the film, but when heard on its own merits without the support of the visual action it emerges as a work of great beauty. Even after having heard it many times over he past 2-3 years, I still discover many gems that I hadn't noticed. That's the beauty of John Williams.
Can you tease us about any upcoming projects you may be working on now?
Unfortunately, nothing relating to soundtracks. La-La Land have several projects on the table, but we have not yet agreed on which one(s) to start with.
Thanks again for agreeing to be interviewed Didier, it has been a pleasure!
Please visit underscores.fr for another interview with Mr. Deutsch conducted by Olivier Soude.
Jason LeBlanc can be reached in our forums.
La-La Land's 2CD release of Hook will be available to purchase at 1pm PST on Tuesday, March 27th at www.lalalandrecords.com