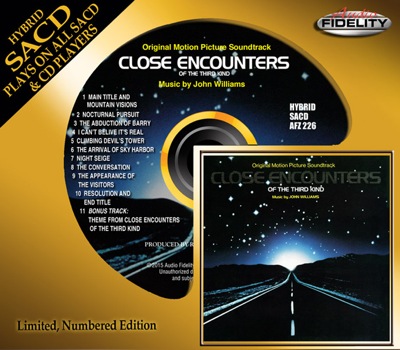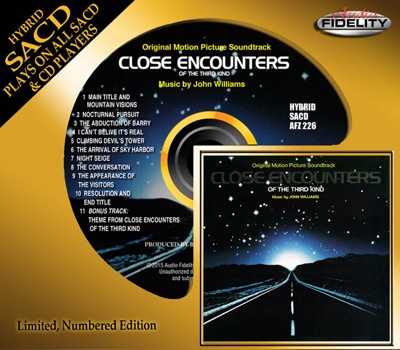 On November 27, Audio Fidelity will release the original soundtrack album of Close Encounters of the Third Kind on Hybrid Super Audio CD, an HD audio format compatible with most CD players.
This limited, numbered edition of the original album of John Williams' 1977 masterpiece has been remastered by Steve Hoffman, improving on the DVD-Audio edition released in 2004.
Close Encounters of the Third Kind – Limited Edition Hybrid Stereo SACD can now be pre-ordered on Amazon.com.
FULL DETAILS:
Numbered, Limited Edition
Close Encounters Of The Third Kind is Steven Spielberg's now classic exhilarating 1977 science fiction film. The masterful score was composed, conducted and produced by John Williams. The soundtrack is a mixture of eerie suspense and tremendous emotive bombast, complete with hair-raising moments and the great big playful musical conversation between the mothership and the humans. Williams' "five-tone" motif for Close Encounters has become ingrained in pop culture.
The album was a critical and commercial success, peaking at #17 on the US Billboard album chart and reaching #40 in the UK. John Williams won two Grammy Awards for his score (Best Original Film Score and Best Instrumental Composition). A disco version of the five-note motif, though not part of the original score, is included on the disc as a bonus track making this CD an essential acquisition for collectors and movie and music fans.
Features:
• Super Audio CD
• SACD Stereo SACD Layer
• This Hybrid SACD contains a 'Red Book' Stereo CD Layer which is playable on most conventional CD Players
• Numbered, Limited Edition
Selections:
1. Main Title and Mountain Visions
2. Nocturnal Pursuit
3. The Abduction of Barry
4. I Can't Believe It's Real
5. Climbing Devil's tower
6. The Arrival of Sky Harbor
7. Night Siege
8. The Conversation
9. The Appearance of the Visitors
10. Resolution and End Title
Bonus Track:
11. Theme From Close Encounters of The Third Kind