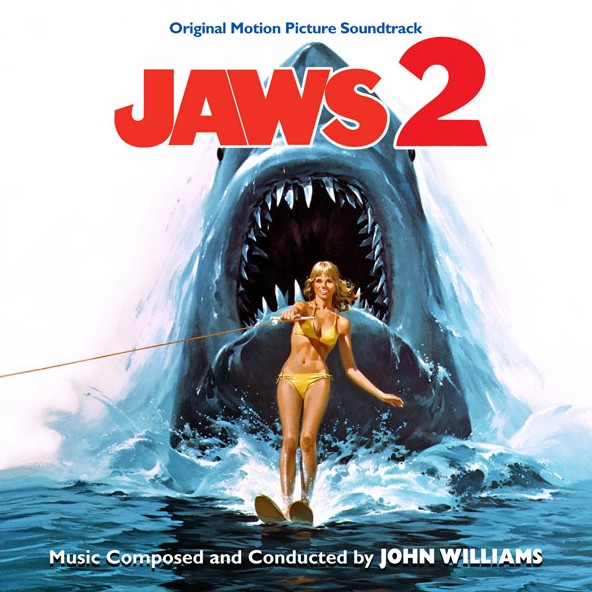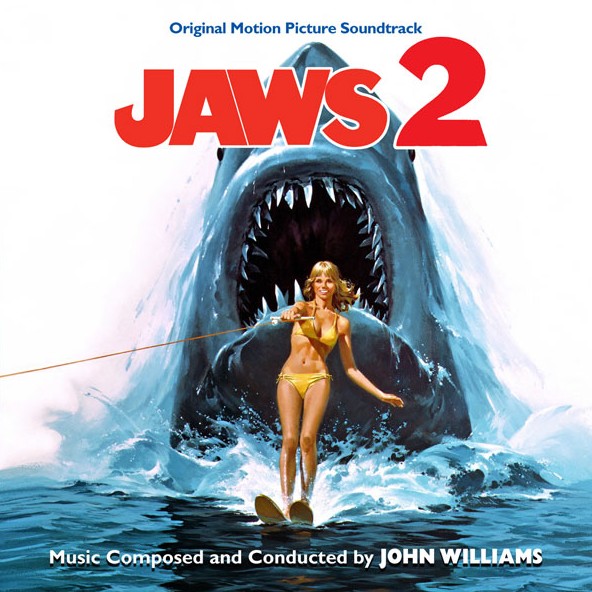 JAWS 2 (2CD)
Composed and Conducted by JOHN WILLIAMS
Label: Intrada Special Collection Volume ISC 331
Date: 1978
Time: 101:48
Tracks: 43
Excitement for John Williams fans! Long-awaited 2-CD expanded release of popular Jaws 2 soundtrack gets premiere release! Williams created what might be cinema's most iconic theme of all time with two-note "shark" motif for Spielberg's 1975 masterpiece Jaws. The "Best Score" Academy Award was a result. For 1978's sequel under director Jeannot Szwarc and returning star Roy Scheider, John Williams anchors with famed motif for low strings, but from there creates all-new material that widens scope of both sea-worthy adventure and terrifying action. Rousing material for sailing sequences balance with ferocious shark attack sequences on water skiers, helicopter, various boaters. For finish to score, Williams fashions incredibly exciting finale with stunning fortissimo coda, one of his most dazzling!

Intrada 2-CD set first offers entire score in picture sequence with several previously unreleased cues, follows with alternates including different version of rousing finish. Disc 2 presents remastered presentation of complete original 1978 MCA Records album. Williams prepared the MCA album from both used, unused takes of his score, re-sequencing and re-editing many for listening purposes in 1978. Intrada release allows listeners opportunity to enjoy both Williams' edited cues and their unedited counterparts, including three different version of opening "Main Title" sequence. All selections presented in stereo from original scoring session elements courtesy Universal Pictures and UMG.
CD production by Douglass Fake and audio restoration & assembly by Mike Matessino, all under supervision of John Williams. Original MCA album notes by John Fadden plus all-new notes by Scott Bettencourt inside booklet. Flipper cover design by Joe Sikoryak features movie artwork campaign on front plus MCA album cover on flip side. John Williams conducts. Intrada Special Collection 2-CD set available while quantities and interest remain!
TRACK LIST
CD1
01. Jaws 2 Main Title (4:04)
02. The Shark Prowls (0:32)
03. Sailing (1:08)
04. The Water Kite (1:58)
05. The Water Skier/Fire On Board (2:30)
06. Catching The Cable (2:24)
07. Brody's Thoughts/The Charred Body (1:45)
08. The Menu (Film Version) (1:56)
09. Brody Misunderstood (Film Version) (1:33)
10. The Photo (0:44)
11. More Boating (1:25)
12. Ballet For Divers (3:08)
13. Boats In Danger (0:51)
14. Eddies Death (2:17)
15. The Open Sea (Film Version) (2:18)
16. Rescue Party (1:35)
17. Sinking The Catamaran (1:18)
18. The Big Bite (1:14)
19. Disabled Party (1:08)
20. Munching The Helicopter (2:28)
21. Sean's Rescue (3:03)
22. Toward Cable Junction/More Teeth (1:55)
23. The Big Jolt! (Extended Version) (6:38)
24. End Title/End Credits (3:32)
THE EXTRAS
25. Jaws 2 Main Title (Alternate Take) (4:05)
26. The Menu (Alternate Take) (1:57)
27. Boats In Danger (Alternate Edit) (0:50)
28. The Big Bite (Alternate Edit) (1:15)
29. End Credits (Alternate) (0:40)
CD1 Time: 60:13
CD2 – Original 1978 MCA Soundtrack Album
01. Finding The Orca (Main Title) (3:18)
02. The Menu (1:54)
03. Ballet For Divers (3:00)
04. The Water Kite Sequence (2:56)
05. Brody Misunderstood (2:52)
06. The Catamaran Race (2:12)
07. Toward Cable Junction (3:46)
08. Attack On The Helicopter (2:02)
09. The Open Sea (2:08)
10. Fire Aboard And Eddies Death (3:28)
11. Seans Rescue (2:57)
12. Attack On The Water Skier (2:45)
13. The Big Jolt! (4:44)
14. End Title/End Cast (3:31)
CD2 Time: 41:35
ADDITIONAL INFORMATION
Retail Price: $29.99
SHIPS WEEK OF 11/3
Sound samples
When John Williams composed the original score to Jaws, he created one of the most famous and instantly recognizable motifs ever composed for the cinema, winning for Williams both an Oscar and a Grammy. Jaws was the first "blockbuster" film, and followed over the next couple of years with Star Wars (another Oscar) and Close Encounters also composed by Williams. By the time 1978 came around, thanks to the success of Star Wars inaugurating the renaissance of the symphonic score, the gritty, lean '70s mode of film scoring gave way to large scale, epic scores. While Williams could hardly compose a new Jaws score without incorporating his classic shark motif, he composed an all new score, larger in scale than the first. Aside from a brief quote of the Orca theme during the main title sequence, the wealth of new material for the score is dominated by two new principal themes.
The original MCA album released at the time of the film was assembled from various shorter cues for reasons of musicality rather than exact chronology. resulting in an exciting, creatively thought out album. In preparing this set with the cues appearing in their original film order, Intrada noted that those 1978 album assemblies deleted bars of music to accommodate joining two or three otherwise unrelated cues together to form the longer album tracks. This new score presentation was assembled and mastered by Mike Matessino from the original 3-track session master, stored in great condition at Universal, and approved by the composer. Williams' original MCA Records album program, long out-of-print on CD, is included on a second disc.
In this sequel, two scuba divers go missing and two tourists are killed in a freak boat explosion, and Martin Brody is convinced that yet another shark is feeding in the waters off Amity. Brodys growing obsession leads to an embarrassing outbursthe fires his gun at a school of fish in front of a beach crowded with familiesbut when a group of sailing teenagers are stalked by the shark, Brodys children Michael and Sean are among the potential victims. Brody sets off in a police boat to do battle with the new menace, eventually luring it to its death as it bites into a massive electrical cable and explodes in a shower of sparks.