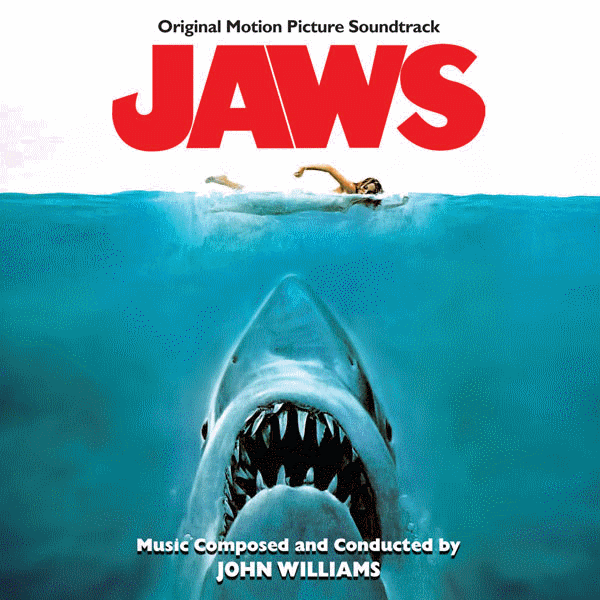 JAWS
Composed and Conducted by JOHN WILLIAMS
INTRADA INT 7145
Retail Price: $29.99
SHIPPING NOW
For track listing and sound samples, please visit:
http://store.intrada…it.A/id.9909/.f
One of cinema's most famous soundtracks finally gets the deluxe 2-CD treatment it deserves! John Williams won a well-deserved Academy Award for his 1975 scoring masterpiece Jaws, directed by Steven Spielberg, featuring Roy Scheider, Richard Dreyfuss, Robert Shaw… and the most terrifying shark in movie history. Peter Benchley's No. 1 best-selling book became a sensational hit under Spielberg, who himself claimed the John Williams music was responsible for at least half of the picture's success.
And what music! Basses, cellos and arguably the two most famous "theme" notes in history. Williams offers a score that is equal parts powerfully ferocious terror, rousing nautical adventure. Almost the entire soundtrack as it appears in the film was presented for the first time in its actual soundtrack form for the movie's 25th anniversary in 2000 for the Decca label. The three-channel scoring masters were then newly-mixed into 5.1 sound for the film, with numerous sonic compromises made to create two-track stereo album masters, including significant reduction of the stereo imaging as well as liberal added reverb and noise reduction.
For this new 2-CD release on Intrada, we have returned to the original session tapes, courtesy Universal Pictures, and created brand new mixes with state-of-the-art technology, affording genuine stereo imaging with clarity of detail and dynamic range never-before available – all under the supervision of John Williams.
Included are all of the actual soundtrack sequences plus several brief but previously unreleased cues and several alternate selections, all being heard for the first time ever! Enjoy an alternate version of the "Main Title" made early in the scoring sessions but never used, two versions of the previously unreleased "Shark Tows Orca", two versions of the lengthy and incredible "Man Against Beast" cue, an extended version of "The Empty Raft", an alternate version of "Quint Meets His End", and more!
CD 2 features a remastered presentation of the famed 1975 re-recorded 35-minute MCA album. Finally, six selections from the Amity Town Band parade and beach sequences, arranged by Stu Phillips and Hal Mooney and recorded by Williams early in the sessions, bring this important set to a close. Mike Matessino restores and masters the audio, Scott Bettencourt authors the informative liner notes, Joe Sikoryak provides the colorful "flipper" cover artwork and booklet design. A soundtrack library essential! John Williams conducts. Intrada INT series 2-CD set.
Audio samples and order link at Intrada.com
TRACK LIST
CD1
01. Jaws – Main Title (0:59)
02. The First Victim (1:45)
03. Remains On The Beach (0:59)
04. The Empty Raft (Extended Version) (1:45)
05. The Pier Incident (2:30)
06. Father And Son (Film Version) (1:59)
07. The Alimentary Canal (1:58)
08. Ben Gardner's Boat (3:33)
09. Montage (1:35)
10. Into The Estuary (2:53)
11. Out To Sea (Film Version) (1:01)
12. Tug On The Line (2:39)
13. Man Against Beast (Film Version) (5:34)
14. Quint's Tale (2:48)
15. Brody Panics (1:16)
16. Barrel Off Starboard (1:41)
17. Great Chase (3:02)
18. Shark Tows Orca (0:41)
19. Three Barrels Under (2:17)
20. From Bad To Worse (1:07)
21. Quint Thinks It Over (1:14)
22. The Shark Cage Fugue (2:02)
23. The Shark Approaches (Film Version) (0:53)
24. The Shark Hits The Cage (2:03)
25. Quint Meets His End (1:27)
26. Blown To Bits (3:17)
27. Jaws – End Title (1:57)
Total Score Time: 54:55
The Extras
28. Jaws – Main Title (Alternate) (1:12)
29. The Typewriter (0:21)
30. Man Against Beast (Alternate) (5:38)
31. Barrel Off Starboard (Alternate Segment) (0:54)
32. Great Chase (Alternate) (3:03)
33. Shark Tows Orca (Alternate) (0:42)
34. The Shark Approaches (Alternate) (0:55)
35. Quint Meets His End (Alternate) (1:32)
36. Wild Shark Theme (1:10)
Total Extras Time: 15:15
Total CD1 Time: 70:20
CD2
Original 1975 MCA Soundtrack Album
01. Main Title (Theme From Jaws) (2:24)
02. Chrissie's Death (1:42)
03. Promenade (Tourists On The Menu) (2:48)
04. Out To Sea (2:30)
05. The Indianapolis Story (2:27)
06. Sea Attack Number One (5:25)
07. One Barrel Chase (3:10)
08. Preparing The Cage (3:26)
09. Night Search (3:34)
10. The Underwater Siege (2:34)
11. Hand To Hand Combat (2:34)
12. End Title (Theme From Jaws) (2:21)
Total Album Time: 34:52
The Extras – Music From Amity Town Beach
13. Joplin Rag (Original Rag) (Scott Joplin) (2:07)
14. Winter Stories Waltz (Alphons Czibulka) (1:46)
15. In The Good Old Summertime (George Evans & Ren Shields) (1:29)
16. Thousand And One Nights Waltz (Johann Strauss Jr.) (1:49)
17. Marching Band No. 1 (1:09)
18. Marching Band No. 2 (2:05)
Total Source Music Time: 10:30
Total CD2 Time: 45:29
ADDITIONAL DETAILS
The theme from Jaws is one of the most iconic in all of film music. It not only communicates the mortal threat of a living killing machine, it performs double duty and fills in for the screen absence of the shark itself. The theme is the shark. It is the menace. And it is forever engrained in our minds. Now, forty years after the 1975 release of the film, Intrada presents a special, 2-disc presentation of the iconic, Oscar-winning score. One disc features a reissue of the original MCA recording released in '75 — a rerecorded, reworking of the score for commercial audiences that won Williams his first Grammy. The other disc features the original film tracks, sourced from the unmixed 1/2″ elements, completely restored using state-of-the-art technology. These master tapes featured a nontraditional mix, allowing for the low strings — the force behind the shark — to be a dominant presence amongst the orchestra. While these tracks were previously released in 2000 featuring a stereo mix derived from the 5.1 DVD spread, its mixdown and added reverb took much of the punch out of the score. Going back to the original recording, engineer Mike Matessino was able to create a thrilling new experience and achieve a stunning sound, the likes of which have not been heard from this score before.
Most of the original score was presented on the 2000 Decca release, but in addition to the remastered quality the music is now presented in narrative sequence, with a few previously truncated phrases and one short unused cue added to the program. The original elements also yielded a healthy collection of "Extras" that include an alternate version of the "Main Title." Rounding out the disc with the 1975 album is a selection of source cues from the film, also previously unreleased. John Williams reviewed and approved this entire presentation.
This landmark release is the ultimate presentation of the music from Jaws and concludes Intrada's journey to restoring the music from all the four Jaws films.