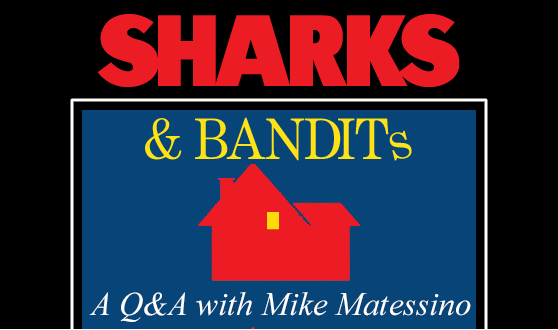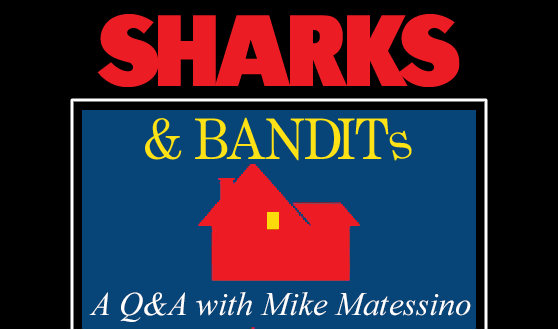 by Jason LeBlanc
2015 has been a great year to be a John Williams fan. For the 40th anniversary of Jaws, Geffen Records reissued the original LP program on vinyl and digital. For the 25th anniversary of Home Alone, Sony reissued the original soundtrack on CD and digital. Geffen also reissued the LP programs of Jaws 2 and E.T. The Extra-Terrestrial digitally, and Audio Fidelity reissued the Close Encounters of the Third Kind LP program on SACD on November 27th. Sony also announced a new box set of all six original Star Wars scores, and Disney Records will release the original soundtrack to The Force Awakens on December 18th.
Fans were spoiled by the specialty labels as well, with La-La Land Records reissuing the out-of-print 1941 Expanded Original Motion Picture Score 2CD set in February, the brand new A.I.: Artificial Intelligence: Expanded Archival Collection 3CD set in June, and the Lost In Space: 50th Anniversary Soundtrack Collection 12CD set in October. Quartet Records also chimed in with a reissue of the The Long Goodbye in June.
But the specialty labels weren't done, and the final months of the year have brought forth a trio of new 2CD sets all containing a wealth of previously unreleased music, and all sounding better than ever before. Intrada Records released Jaws 2 on November 3rd and Jaws on November 17th, while La-La Land is releasing Home Alone on December 1st.
All three releases were restored, mixed, edited, and mastered by Mike Matessino, with him taking producing duties on the new Home Alone as well. Mike was kind enough to answer a round of questions on all three releases exclusively for The John Williams Fan Network.

Mike, you seem to have become the go-to guy for Williams releases over the years! How has your working relationship with John Williams evolved over this time?
The music business has evolved to the point where boutique label soundtrack reissues, which were not even blips on the radar years ago, are now big blips. After doing 1941 for La-La Land Records there were a series of conversations which ultimately led to new lines of communications opening and methodologies being put in place when we started Empire of the Sun and A.I. Artificial Intelligence. Working on adjusting the music and sound mix for Mr. Spielberg's extended version of 1941 last year (and hosting the big screening event we did of it last March) helped solidify things. So a natural synergy just fell into place where I have been assigned to take care of all of the restorations and reissues and deal with all of the Williams & Spielberg approvals. The Back to the Future trilogy got added to the mix at the same time, as Bob Gale was spearheading that and as Alan Silvestri is represented by the same people as John Williams. So it's become a process of working as part of a team where my job is to preserve the music and present it as definitely as possible and with the approval of the artists.
Congratulations on being assigned to take care of all future Williams/Spielberg restorations – You have definitely earned it!
These new 2CD sets we are discussing today are instant gems in anyone's CD collection! Congratulations are also in order for a job well done on all three, and I must thank you for being willing to answer some questions about each.
My pleasure. Without people who love these releases they wouldn't get done.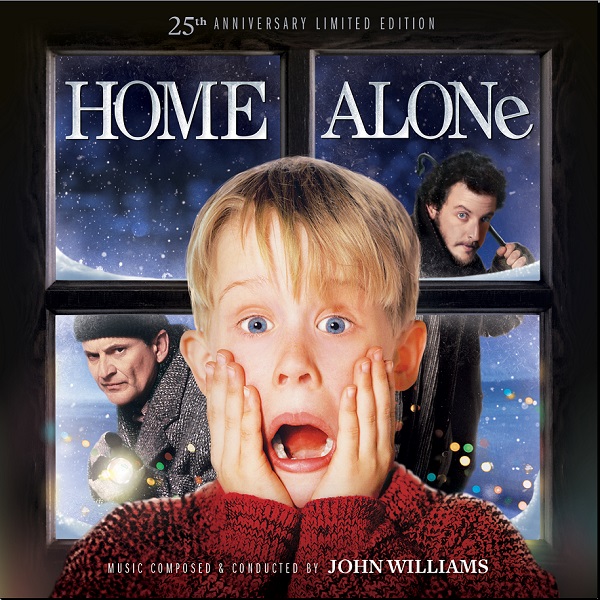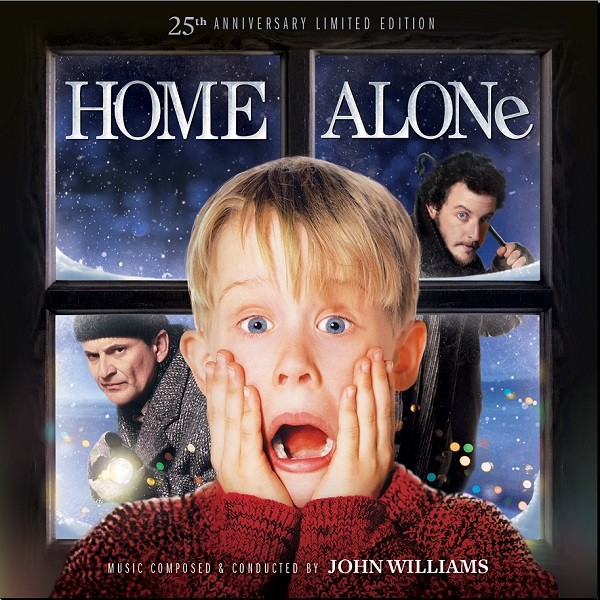 Let's start with Home Alone. How did this new edition come to be?
La-La Land's release from 2010 was a sellout and they planned to reissue it this year for the 25th anniversary. But then over a year ago Nick Redman informed me that Ron Fuglsby, who handles all the elements at Fox, had found the original 2-inch first generation scoring masters for Home Alone. So I immediately said that we should use those when the title came around again. It's just a shame that they hadn't been discovered sooner but it's not the first time this has happened. We encountered a similar situation with Superman.
What kind of circumstances lead to original master tapes not being found sometimes?
Archiving is an ongoing process, even at Fox where Nick and Ron have been doing this for more than 20 years. The studio's own restoration and larger asset management program is also ongoing, with elements constantly being updated and catalogued. In 2010 we only had 1/4" tapes of the Home Alone album master and a dub of "score selections" to work with, so the first expanded edition was cobbled together from those. At the time it really seemed that this was all that there was to work with. But then something turns up like sunken treasure. It's just part of this crazy little corner of the business.
Did you make any interesting discoveries when digging into the master tapes that you could not have known before?
We had pretty good information on Home Alone, documentation as well as the recollections of people like Tarquin Gotch and Leslie Bricusse (as opposed to Empire of the Sun, where the trails ran very cold!). But a few new things came to light, such as the fact that John Lyon was brought in to record "Please Come Home For Christmas" as well as a little "Rock And Roll Riff" that ended up in the movie. He also did a version of "Have Yourself A Merry Little Christmas" that was, in the end, replaced by Mel Tormé's version. Tormé's film version was something we didn't have prior to that, so it was great to find and at last be able to include. We also found that "Silent Night" and "God Rest You Merry, Gentlemen" were recorded for the church sequence before John called Leslie and asked if he could write lyrics for the secondary melody, which became "Star of Bethlehem." We were able to include all of these on the new release.
Can you discuss the difference we will hear in the sound quality on the new release? Any specific cues where the difference is most notable?
The entire presentation offers drastically improved sound quality. The 2" masters were transferred in hi-resolution at 96k 24bit and I kept it in that format all the way through to the final master. The scoring engineer was Armin Steiner and this was the last recording he did for Williams and the last score Williams did at Fox until The Book Thief. On these 2" 24-track rolls were the live three-track mixes that were used for the film and to create the original album, and for "Somewhere In My Memory" and "We Wish You A Merry Christmas" we also had the choir separate. So going back to these elements, rather than using the dubbed stereo mixes that were done in 1990, gave us a huge leap in quality that makes it now sound as good as Home Alone 2. I did brand new mixes of Lyon's material as well as the two versions of the Tormé song and even got hi-resolution masters of the licensed songs from Universal Music Group and Warner Music Group so that every track would be in the best quality ever.
On Disc 2, you have presented the entire original album program, but with the score material re-built from scratch using the original recording session elements – as you have done before on such releases as 1941, Alien, Outland, Poltergeist and King Kong. Is rebuilding the original programs from the earliest possible elements rather than using the album master something personally important to you, something the labels request, or perhaps both?
I don't know if that's has been done by anyone other than me, but I feel that it's a good thing to do if it's possible and if it's warranted, so that you have consistent quality. It's not possible to do it in every case; I wasn't able to re-create Jaws 2, for example, because there were certain takes used for the album that we didn't have on the source element. Going forward I see that hi-resolution audio is going to be very important and there is just so much you can do if you are restricted to original album masters. In the case of Home Alone, the original album master will always be widely available, so like 1941 this was an opportunity to offer that program in higher quality, making the release more special.
When did you learn Sony was reissuing the original 1990 soundtrack CD, and did that affect anything about the La-La Land set?
When I found that it was possible to re-create the original Home Alone album I decided that this title could be used as a template to demonstrate what we could do going forward on other releases, meaning offer both the original album as well as expanded score presentations in consistent high end quality. Sony Masterworks is a different division from Sony Legacy, and the album reissue was prepared autonomously with no knowledge of the La-La Land project. And vice-versa. Would La-La Land have gone for a second disc if they'd known about it? Perhaps not. But we were already done by that point. At the end of the day what this illuminated is a need for more synergy on these projects. On Back to the Future Part II and Part III we ended up with masters that are all identical on CD, vinyl and digital download, and all composer, producer and studio approved. That's an example of how things should and could be done.
Was this new version approved by John Williams?
Yes. He liked the 2010 version but wished it could have sounded better. So he was very pleased to learn that Fox located the first generation elements, as was Armin Steiner. In a way this release was done as if the earlier one didn't exist, but we used it as a starting point for the assembly to make things easier on the licensing end. Williams did ask that the two album presentations of the themes be moved to the bonus section so that the disc presents the score as it's heard in the movie first, followed by a collection of Christmas music. The live-to-picture concerts are going on right now, with 18 or 19 orchestras doing it this season, so he had refamiliarized himself with the score recently in preparation for those.
The previous release featured an insert for "Clothesline Trapeze" as a separate track; In the new program the Insert is properly edited into the cue in the main program, with the cue presented in its original form as part of the original album presentation on Disc 2. Were there any other cues in the score that had Inserts written?
I edited the "Trapeze" insert into the main score presentation because we also have the album version separately this time. Last time there wasn't room for both as it was a single CD and we only had the album master to work, which is why we presented the insert separately. There weren't any other inserts, per se, but I did find a lot of instances where the performances heard in the film are different from the original album. So this is the first time where the film performances are completely accurate all the way through.
Can you explain how the "Film Version"s of "Follow That Kid!", "Scammed by a Kindergartner", "Walking Home", "O Holy Night", "Star of Bethlehem", and "End Title" are any different from what has been released before?
Part of the methodology in place now is that if a title already exists in a record company's database, we can't use it again unless the content is precisely the same. As you know, sometimes different takes are used for an album than for a film, sometimes there are different edit points, and sometimes a track consisting of several cues is named after just one of the cues contained within it. If any of those are the case, then we will add "Film Version" to the track title so that it can have a unique name in the database. If it says that, then it means either that it is the performance heard in the movie (as opposed to one from a previous release), or that it is the standalone cue with that title rather than a collection of cues assigned that name for the original album ("Scammed By A Kindergartner" being an example). "Walking Home" partially uses a different take of the chorus, "O Holy Night," and "End Title" have different edit points, "Follow That Kid!" keeps more of the pauses between musical phrases and has some different edit points, and "Star Of Bethlehem" has instrumental overlays that are not on the album version. It's really just all administrative so that the licensing, publishing, and reuse can be calculated accurately and we can get these projects cleared and released. We now live in a world where buyers can rename them however they wish in their own digital libraries, which is fine, but this is what's necessary in working with the big record labels and to keep all of the administration straight.
In the film, "Carol of the Bells" and "Setting The Trap" are overlapped, with "Setting The Trap" almost interrupting the carol as Kevin realizes the time. Did you consider overlapping them for the new set, especially since they would still be presented separately on Disc 2?
I didn't consider that because you'd have to cut off quite a bit of "Carol Of The Bells" in order to match the film. There are certain times when overlapping works and times when it doesn't, and the thinking on the subject has evolved over time. It's addressed on a case-by-case basis with consideration of previous releases, licensing issues, what people are expecting, and sometimes what a composer will and won't be inclined to approve.
It was a revelation to me that "Silent Night" and "God Rest You Merry, Gentlemen" were recorded for the church sequence before being replaced by "Star Of Bethlehem"! Was their existence not known until the recording session master tape was found?
I knew that something was originally there but not what specifically until we got the original masters. I had a suspicion it would be two carols because "Star Of Bethlehem" was denoted as Reel 8, Parts 3 and 4.
The inclusion of the additional Christmas songs from the film on the second disc are another great bonus this edition offers, and surely not an inexpensive one to have made happen. Was it easy to convince La-La Land to license these?
They were actually fairly easy licenses with Universal Music Group as those songs appear on many compilations. Listeners should be very glad that La-La Land went for the idea because it's the only way we could get Johnny Lyon's "Rock And Roll Riff" on the release. People have asked me about that track over the years and it was great to finally find it, but I was told that it could not be included on the disc with the score, so a second disc was the only way we could offer it and the added songs helped it fit in with the overall presentation. The end result is that we truly have the definitive Home Alone release.
Any last words on Home Alone that may not have been covered yet?
I would just like to say that this continues to be one of my favorite John Williams scores and it's very satisfying to finally have it sound as good and be as complete as possible. I know there may be a tendency on the part of collectors to feel like it's an unnecessary double dip, particularly in light of the other wallet-thinning big releases we've had these past few months, but this really is an incredible quality leap for what is a very important and beloved Williams score. La-La Land is also offering it at a lower price, so I hope people will snap it up. This edition is not only definitive but it's an example of what I hope future releases can be like.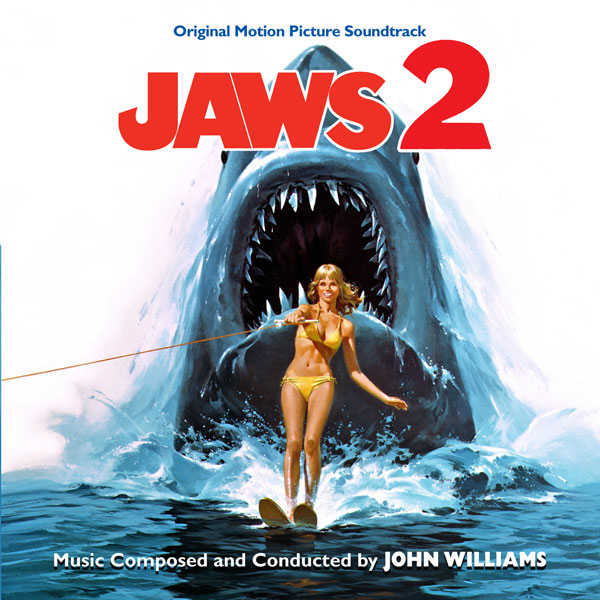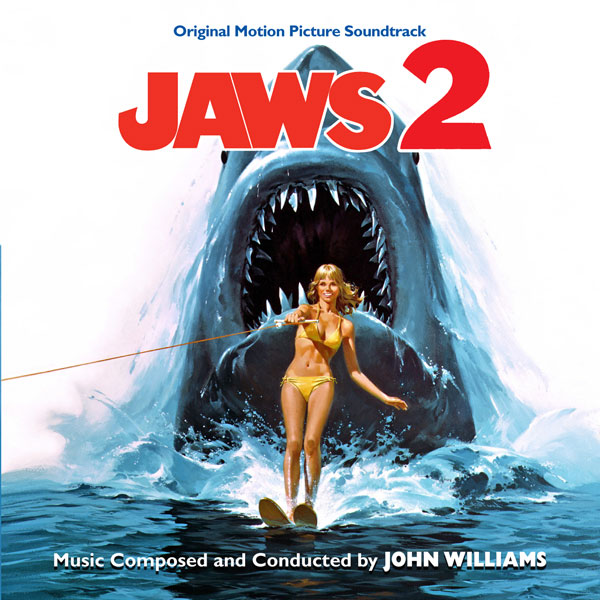 Let's move on to Jaws 2. The liner notes don't mention much about the specifics of the elements used for this release, or their condition when found. Can you elaborate?
Intrada transferred the 3-track 1/2" tapes at Universal. They were in a left-center-right configuration and were in good shape. The main issues to deal with were hiss and lack of low end "oomph," but since we had a great sounding album master to compare it to I knew what direction to take with it.
Like Sony with Home Alone, Geffen recently re-issued the original Jaws 2 LP program this summer digitally. Did this reissue affect the Intrada set at all? Did Geffen use the same elements for their reissue that you did?
Once again, no one saw this coming. We'd inquired about a tape master but were told there wasn't one. Then a different division of UME released the digital download from a tape master that they apparently located independently. Intrada might not have gone for a second disc if they'd known this was happening, but, to use appropriately nautical metaphors, the ship had already sailed and we decided to stay the course. UME would not have had access to the Universal Studios elements that we used for the full score assembly.
How would you describe the difference between the Geffen remaster and the new Intrada remaster of the original album?
The Intrada remaster remains true to the original album. The digital download version, while done in hi-resolution, applied a great deal of brick wall compression, which compromises the intent of the composer and engineer. Again, what this indicates is a need for greater synergy between the efforts of the soundtrack labels and the companies who have the album rights, because it doesn't make sense for a drastically remastered album to be released digitally while a composer-approved version is being prepared for CD at the same time. This whole issue is something we're actively working on.
Charlie Brigden's FSM Online article about the new releases in the November issue mentions that the LP program on Disc 2 was not rebuilt from scratch, because some of the alternate takes chosen for the album were not found in the 3-track studio element. Can you identify where these alternate takes can be found in the album program?
On the album, "The Open Sea," "End Title" and a portion of "Eddie's Death" use takes that we didn't have on the original elements.
The FSM Online article also mentions that the "Amity High School Band" material was likewise not found on the 3-track. What about the beach rock music – is that lost as well, or preserved but simply not included in the new release?
The high school band material was probably done as pre-records by someone other than John Williams. We did have the beach music that he composed, but he didn't want to include it on the release. I did try!
Can you confirm that even though some of the alternate, album takes were not found on the new element, all the correct film takes were? In other words, that everything on Disc 1 is the correct film take throughout?
Yes, Disc 1 presents the performances heard in the film all the way through.
Any last words on Jaws 2 that may not have been covered yet?
Just that it was great to finally get the few minutes of previously unreleased music after so many years. I was pleasantly surprised to find that there were sections of the "Main Title" and "The Big Jolt!" that we didn't know about until now. Williams was in the midst of a highly prolific period when he did Jaws 2 and one can't imagine that it could possibly have a better score than it has.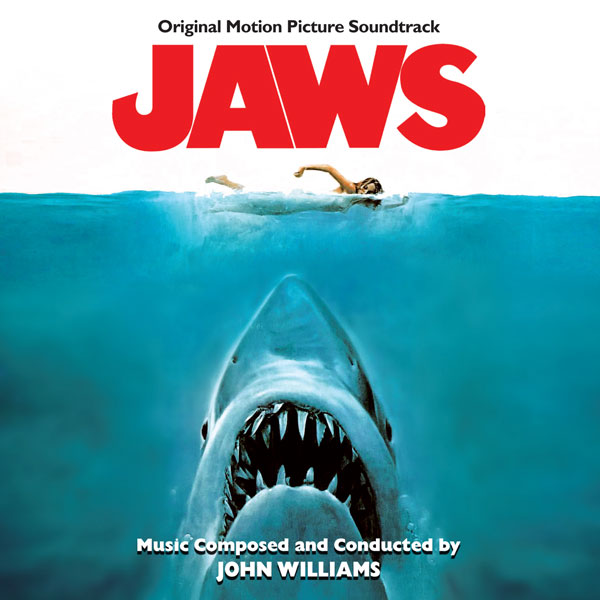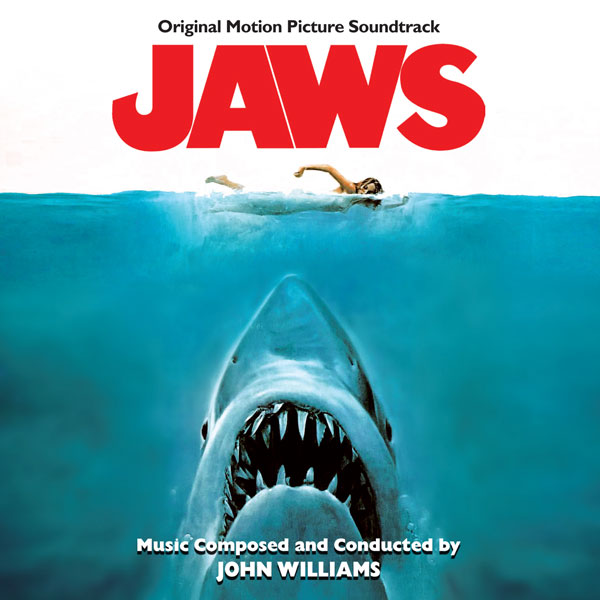 Finally, let's talk about the long-awaited complete overhaul of the original Jaws. I got emotional when you discuss in the booklet what it was like for you to work with the audio from the 40-year old masters to this milestone of a score. Can you discuss what went through your head as you learned you'd get to work on Jaws, through the long process of it all, and if you approached the project differently than you would any other score?
I don't know if I can put those things into words very well. One side of your brain approaches it as you do any project, which is to assess what you've got and make it as good as it can be. But on this one there were thoughts of, "my God, this is Jaws, it's monumentally important and it has to be great!" And then on top of that you think, "John Williams and Steven Spielberg have to like and approve whatever I do with it." Then there's the other side of the brain where you have intense memories associated with the music and the movie and everything the composer has done since, and those come in to play. In a funny way I now almost don't remember everything I did in working on it because it just took over my entire being for a while and I worked on it for probably a few weeks to the exclusion of all else. I was on the inside looking out on this project, if that makes any sense at all. There was the technical process of doing it on the surface but I feel like there was a subconscious component as well. I felt like there was a higher calling at work. Looking back I almost feel like it was someone else who worked on it, or that I dreamed it.
What was the specific recording technology and medium used for recording Jaws? What would cause the hiss and crackle that is present in the original tape?
It was 1/2" 3M stock containing three-track mix downs. They are not first-generation masters but were made at Universal from the recording elements done at Fox, which no longer exist. Hiss is something common on 1/2" and it seems to become more prominent as the tape itself starts deteriorating. I have no idea what would have caused the crackle. It could have been exposed to a magnetized tape head or there may have been a bad run of stock.
You mention that Jaws was the most challenging audio work you've ever done in the liner notes. I assume this was due to both the condition of the tapes as well as the odd 3-channel separation of the audio, but was their anything else that made working on Jaws so difficult and time-consuming?
It's all the things I mentioned earlier, really, just knowing it had to be right and that it had to be approved by the composer and director. The process itself was very time consuming because of all the repair work that was necessary. I went through each of the three tracks separately start to finish to accomplish this before I even began mixing and then the mix process itself took several passes until we got it just right.
Can you discuss the specific software and technology you used for the restoration process?
Pro Tools, of course, is the main software used for editing and mixing. I used iZotope declicker and decrackler plugins for some of the restoration, although I hand painted out thousands of clicks, pops and crackles. I also looked at each of the three tracks of every cue on a spectral analyzer, which is amazing because it literally shows you an anomalous sound graphically and allows you to get rid of it. I used MDWEQ5 Parametric EQ, Ozone 6 for compression, No-Noise for hiss removal, Soundblade for final mastering and making DDP files for delivery to the manufacturer. These are all applications and plugins created by true geniuses. I know how to use them, but the idea that someone actually designs computer programs and virtual interfaces that manipulate digital audio is mind blowing.
How much of this technology simply did not exist when the first digital restoration was done in 2000?
There was good technology in 2000, but it constantly evolves, and engineers with it. Your approach is as important as knowing what the technology can do. It's easy to use it to hide problems, but it takes much more time and effort to figure what can be done to make things better. That's where it really becomes more artistic than technical and where a really good ear is necessary. As the years have gone by, engineers have gotten more comfortable with the technology and more courageous.
If the elements had never been pulled in 2000 for the 5.1 mix and Decca CD, would they have been in better or worse condition when transferred for this new 40th Anniversary Edition?
I don't think the condition of the original elements would have been much different. Between 2000 and now, at least, they were stored under optimal conditions, so perhaps the condition was helped by that effort than if the rolls had never been touched since 1975.
Once the audio was restored, next came the mixing. You tell a great story in the booklet about how you came to choose the method you did for mixing the 3-track audio into stereo for this release, ultimately deciding to put the channel with the bass and cellos in the center. Is there anything more you can elaborate on how important this decision was for the new mix, and how different it sounds from the Decca CD?
The basses and cellos are the voice of the shark. Not only was there no way to separate them from each other but they were only present on one of the three tracks and not the other two at all. So, think about it: if you steered them to the right channel, what do you get if they're the only instruments playing? A right channel of music and a left channel of hiss. It's not very scary because it doesn't "hit you in the face." Then if you roll off the hiss and add reverb to try to get something more balanced it loses even more impact. And that's not what we want Jaws to sound like. So it was a combination of the way this three-track was made and the character of the music itself that led me to keep the bass line in the center like a pop recording, as if it was the lead vocal or the bass guitar. Then I gave that track some spatiality and worked with the other two channels on their own. Overall they balanced pretty well with each other and when combined with the center and it became very clear that this was the direction to go. I was getting the clarity as well as the balance but every moment of the score was worked on and automated until it was as perfect as I could get it. Then I dealt with the hiss very, very carefully. It was really great to hear it all finally coming together. I would finish some mixes on one day and then listen the next morning to see if they were as good as I thought, and it was always amazing to find that they were really were. I would burn CDs and play them in the car, go to a friend's house, put them on my iPod and listen on earbuds, play them over small computer speakers, etc. I would make little tweaks and adjustments and then there were also some notes after John Williams heard them. It was a very intense but ultimately satisfying process.
Let's talk about specific differences between the Decca CD and the Intrada. While the biggest difference is the night-and-day overhaul of the sound, there are a few program differences too.
"The Empty Raft" now features a new coda at the end that was not present on the Decca CD, but heard in the McNeely re-recording. Was that recorded separately, or part of the same recording as the rest of the cue?
It's part of the original recording. In addition to the fact that it wasn't used in the movie, I believe that it was deleted from the Decca album because of the hiss on the tape, which would obviously be very prominently heard over the low basses and cellos that precede that phrase.
"A Tug On The Line" likewise features an extra repetition of the opening and closing chords that were not released before. Were those trimmed for listening experience on the Decca CD? On the McNeely, the extra closing chord is there, but an additional opening chord was also trimmed!
Also, "Barrel Off Starboard" and "Blown To Bits" both have longer endings; Were the Decca versions just faded out early?
I can't speak for the re-recording, but I have a strong feeling that those deletions and early fade-outs were made on the Decca release because of the hiss.
You explain in the booklet how the version of "Man Against Beast" used in the 2000 5.1 mix and Decca CD was a different take than what was used in the 1975 mono mix, due to the degradation of the source tape for that take. Can you elaborate on the particular difficulties of restoring this track and what techniques had to be used to fix it?
On the take used on the Decca release and in the 5.1 mix of the film, the woodwinds miss their entrance and throw off the French horn players. There was no other good take to use so they went with that one, but it sabotages an extremely important moment in the movie, when Quint actually sees the shark for the first time. I was determined to restore the correct performance, but all I'll say is that I'd bet any audio engineer would look at the problem and say that it couldn't be fixed. It was the ultimate challenge but I'm going to keep the tricks up my magician's sleeve on it.
Your determination to restore the correct take to listenable quality is commendable! Were there any other cues that used the wrong takes in the 2000 film mix / Decca CD?
I don't think so. Remember the first thing done in 2000 was match the music to the mono stem from 1975. So only when they came to "Man Against Beast" would they have had a need to use something different. Any other problems encountered could have been reasonably handled and/or masked by dialogue and sound effects.
Many listeners might not have realized that the Decca version of "The Great Chase" (there titled "The Great Shark Chase") actually contained a revised opening for the cue, followed by the full original cue in the same track – likely because the film, LP re-recording, and McNeely re-recording all featured the revised opening segueing into the rest of the cue. On the new set, you have presented the cue with the revised opening properly edited into it in the main program, and the original version of the cue, with the original opening, in the bonus track area. Is there any other difference between the two versions of this cue?
No, the rest of the cue is exactly the same. In fact, I think that after the edit it's exactly the same final mastered file.
"Shark Tows Orca" is an unused cue that did not premiere on the Decca CD like the similarly unused "Quint Meets His End" did. What was your reaction when you first heard this cue? Did you know of its existence before listening to the tape transfer?
Way back in 1995 when I was given the supplemental materials produced for Laserdisc, I noticed a snippet of music on one of the chapter headings that wasn't in the movie. Subsequently, it wasn't on the Decca album. So I did expect to find it, but Doug Fake at Intrada already knew about it before I heard it.
For both unused cues, how do you decide which take goes in the main program, and which take is the "Alternate"?
If you have a scoring log, you see which takes are circled, and those are the ones that are used for the final version (although we have encountered odd exceptions!). More often than not they are the later takes because once the conductor, engineer and editor feel they have what they need, they move on. When you listen to sessions you often find that after they lay down the first take the composer, if he's conducting, will go into the booth to listen. Everyone will look at it against the picture and they'll discuss making some adjustments. Therefore if there are differences in orchestration you usually find them on the earlier takes. The later takes are generally refined.
Was the take of "Quint Meets His End" chosen for the Decca CD the same take used for the Intrada?
Yes, it's the same. I probably could have gotten away with using the alternate in the main program, which I like better, but I went with the one that would have been heard if the cue had been used and the one listeners are used to.
Is there any information about "Wild Shark Theme"? Was it recorded just for potential use in tracking into any spot in the film that might need it?
It was slated for reel 12, so it seems to have been done as an extension to "Barrel Off Starboard," which is where a small part of it was used. They ultimately also tracked part of it into "The Pier Incident." It's at the end of the program because it was only a single mono track of basses and cellos and it felt like a good way to end the disc.
In the track that contains this cue, after it ends there is 10 seconds of silence followed by a dramatic chord. What is this?
It's another "Wild Shark" cue, a little surprise to remind listeners that the shark is still out there, but if you run this question and answer it won't be much of a surprise!
"Main Title (Alternate)" is surprisingly different from the film version, not to mention longer, with the string ostinato and tuba Shark Theme playing at different times. Was the footage re-edited after initial scoring, causing a revision to be recorded at a later date?
The footage wouldn't have been different. It's take 3 as opposed to the film version, which is take 4, recorded one right after the other on the same day. There may not have been credits on the screen at that point, however, and the movie doesn't actually use all of the opening phrases.
The "Film Version" monikers on "Father and Son", "Out To Sea", and "The Shark Approaches" are for legal reasons and not an indication of containing different music, correct?
Yes, it's purely to distinguish them from previously released tracks that used the same titles. On the Decca release, all three of those tracks combined multiple cues.
The liner notes mention that it was decided to record a soundtrack LP after test screenings of the film positively mentioned the score. A new program was freshly recorded, in a different sound stage, by a different engineer, though many of the musicians were the same. What was the recording process and medium used for these sessions, and how was it different from the film tracks recording?
Unfortunately we don't know much about the process because no master tapes could be found. Because there was a Quadrophonic release we know that it wasn't a live stereo mix, so there would have been multi-track tapes at some point. I was really hoping those might be found, but it was not to be. In fact, there is no tape element of any kind in the UMG inventory. The oldest element is the 1630 CD master made in 1992. That was used for the Geffen LP earlier this year as well as the new CD, but I did go in and fix up a few things to make it sound as good as possible.
When Intrada recently re-issued Jerry Goldsmith's re-recording of Rio Conchos, a few additional tracks that were recorded at the time but not released were restored for the new CD. Is it known if anything else was recorded at the LP re-recording sessions for Jaws that did not make the final cut of the LP program?
Nothing else was recorded. We know that much from the musician session reports, which list all the tracks recorded and they are exactly the program that ended up on the album.
After the LP presentation on Disc 2 of the new Intrada set, "Music From Amity Town Beach" presents some of the source music recorded for the film. Were those found on the same master tapes, in the same condition, as the main score tracks?
That material was recorded at Universal and was on separate 1/2" rolls. They were completely split three-track mono so I applied my usual methods to mixing those.
Was there any other source music found that is not included on the new release?
There were two pieces of source music that John Williams wrote which he did not want included. There were various other things as well that were recorded but not considered for the release: instrumental backing for "I Honestly Love You" and "Having My Baby," plus mono bits of Beethoven, Mozart and Hoffstetter, all used for the first town beach scene. There was also the kids' band in the street rehearsing "Semper Fidelis," lifeguard whistles, and things like that. But it was great to find two Williams-composed marches that we were able to include.
Before I let you go, let's end with some general questions.
2015 was such a banner year for John Williams releases. Can we expect a similar year in 2016, at least from the specialty labels?
There are a number of good things on my slate for the coming year. When they get released depends on the approval process, of course.
Have better elements been found for any other scores – by any composer – that you would like to revisit someday, similarly to how you have revisited Home Alone?
Sometimes it's not a matter of better elements being found, but bringing the right attention and technology to the ones we know about, such as Jaws. I can't really answer without potentially giving away releases that we'll hopefully be seeing, but there are a number of titles that I'm looking forward to working on.
You seem to have a good thing going with the Williams/Spielberg/Universal catalog. Is there any reason that The Sugarland Express, E.T. The Extra-Terrestrial, Always, Jurassic Park, Schindler's List, or The Lost World can't follow in the footsteps of Jaws, Jaws 2, and 1941?
They're not impossible, but they would have to start with John Williams and have the support of Steven Spielberg, and there is no interest in pursuing some of the titles you mentioned at the moment. It should also be noted, in case it isn't clear, that Universal Studios and Universal Music Enterprises are two completely different companies which are not related in any way. So if an original album was on the MCA Records label, then UME has the record album rights and they have the album master material. Unreleased material is owned by the film studio but they can't release it on their own. But they have the scoring elements in their vaults. That's why the soundtrack labels have been able to do these releases, by licensing the unreleased material from the studio and then sub-licensing the album rights from the Music Group. It's the same situation with Warner Bros. Pictures and Warner Music Group; they are not the same companies. So there are politics and finances to work through as well as approvals and they can get very complex. For the record, Sony Music has the 1941 album rights.
Lastly, do you have any idea when Sony's license to release the original Star Wars scores expires? I think I speak for many John Williams fans when I say that I hope you can revisit the original trilogy – and visit the prequel trilogy for the first time – at some point in the future!
I would love to work on Star Wars again, of course, but Imperial decree prevents me from saying anything about it right now. Nor will I tell you the location of the hidden rebel base.
On behalf of John Williams fans around the world, let me thank you for your tireless efforts to present his scores in the most comprehensive way time and time again. It is fantastic that under his supervision you have been able to produce great releases that please the composer as well as the consumer. After the year you have had working on these three releases and others, I hope you were able to treat yourself to a much-deserved vacation…. one without sharks in the water!
There are plenty of land sharks in Hollywood.

Take care Mike, and hopefully the next Q&A is not too far off!
Thanks, Jason. Always a pleasure. I appreciate the support of loyal listeners and collectors without whom these releases wouldn't happen!
Mike Matessino is a prominent mixer / editor, soundtrack producer and film music preservationist. Visit his website for a complete list of projects he has worked on: www.mikematessino.com
Jason LeBlanc can be reached on the JWFan forums.
Special Thanks to JWFan member thx99 for the artwork.