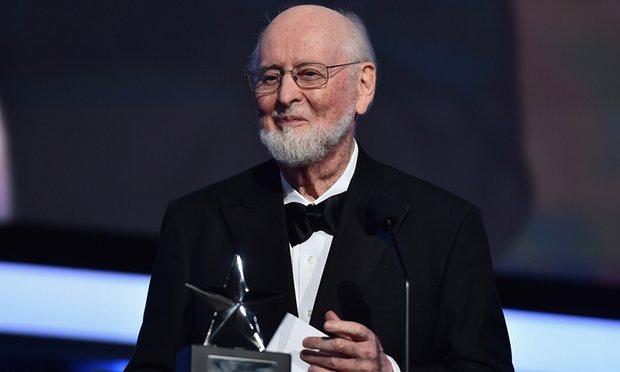 On June 9, Steven Spielberg presented the 44th AFI Life Achievement Award to his longtime collaborator, composer John Williams. This was the first time in the history of the American Film Institute that the award went to a composer.
Williams' career was celebrated at a private Gala Tribute at the Dolby Theatre in Hollywood, CA. The televised special, AFI LIFE ACHIEVEMENT AWARD: A TRIBUTE TO JOHN WILLIAMS, will air on TNT on June 15 at 10:00 p.m. (ET/ PT)
Here's a collection of articles, tweets, photos and videos of the June 9 event:

VIDEOS
Composer John Williams feted by Hollywood elite at AFI ceremony. Rough cut (no reporter narration).
ARTICLES & REPORTS
PHOTOS, VIDEOS & TWEETS
https://www.instagram.com/p/BGdQueCl1FA/
https://www.instagram.com/p/BGdRZ_Vl1Gl/
https://www.instagram.com/p/BGdRkeBl1HH/
https://www.instagram.com/p/BGdVjeGF1Pt/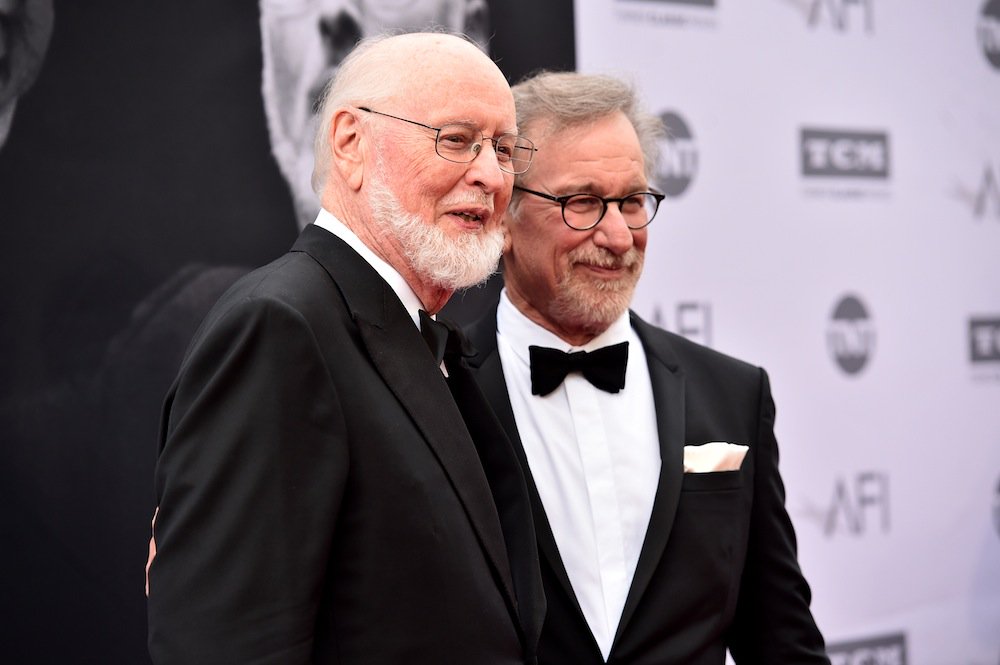 John Williams entrance #AFILife pic.twitter.com/gfkVLfdfAw

— Chris Gardner (@chrissgardner) June 10, 2016
John Williams entering to a standing ovation and hugs from Lucas and Spielberg at #AFILife pic.twitter.com/hL8jEL7IrB

— Mia Galuppo (@miagaluppo) June 10, 2016
"His modesty is no affect, no performance … He's the sweetest superhero." J.J. Abrams on John Williams. #AFILife pic.twitter.com/UDSfpSbZlF

— Chris Gardner (@chrissgardner) June 10, 2016
John Williams score for Indiana Jones follows Harrison Ford everywhere — even into colonoscopy appt. #AFILife pic.twitter.com/2O44IyAeYz

— Chris Gardner (@chrissgardner) June 10, 2016
RT chrissgardner: Spielberg: 1st time John Williams played iconic music 4 "big white shark" he thought was joking.… pic.twitter.com/g5DS5zVeQZ

— Simply Random (@simplyrandom11) June 10, 2016
Really beautiful speech by Steven Spielberg to "lifelong friend" John Williams who breathes life into films #AFILife pic.twitter.com/C0Fvgn5SQi

— Chris Gardner (@chrissgardner) June 10, 2016
Steven Spielberg and John Williams hug it out on stage as the filmmaker presents the composer his award. pic.twitter.com/zJLuNLhCJx

— Borys Kit (@Borys_Kit) June 10, 2016
Thunderous applause and standing ovation for the genius that is #JohnWilliams #AFIlife pic.twitter.com/GfQ6iwvNqd

— Dolby Theatre (@DolbyTheatre) June 10, 2016

https://twitter.com/HamillHimself/status/741174545181212672
John Williams: I've never had privilege of working with Jeffrey Katzenberg. But Jeffrey…it's not too late #AFILife pic.twitter.com/nBG039wi9B

— Chris Gardner (@chrissgardner) June 10, 2016
Watch AFI LIFE ACHIEVEMENT AWARD: A TRIBUTE TO JOHN WILLIAMS on @tntdrama June 15th at 10:00 p.m. ET/PT! pic.twitter.com/LtGUMQc9Dv

— AFI (@AmericanFilm) June 10, 2016
Read AFI's tribute essay to John Williams in our special commemorative book right here → https://t.co/lXtuFwlUo4 pic.twitter.com/CQ6iczAHb4

— AFI (@AmericanFilm) June 10, 2016
Check out the @DolbyTheatre's setup for @AmericanFilm's lifetime achievement ceremony for John Williams tonight! pic.twitter.com/Xr2ktov9kM

— Hollywood & Highland (@HandHCenter) June 9, 2016
Can't wait for tonight! #JohnWilliams #AFILife pic.twitter.com/E7CuNp2sNg

— AFI (@AmericanFilm) June 9, 2016