Trombonist Jim Nova has performed and recorded with John Williams in countless concerts, including the BSO, and recently released an album of Star Wars music for trombone choir.

An Interview With Trombonist/Arranger Jim Nova

by Karim Elmahmoudi
Please meet James Nova, who is the Pittsburgh Symphony Orchestra's second trombonist.  He has also performed with the Utah Symphony Orchestra, Boston Symphony Orchestra, and the Boston Pops which included many engagements with The Maestro himself.  Jim studied at the prestigious Curtis Institute of Music under Philadelphia Orchestra's principal trombonist Glenn Dodson and received his Masters Degree on full scholarship in trombone performance at the New England Conservatory of Music under Boston Symphony Orchestra trombonist, Norman Bolter.  This has been a very exciting year for Jim whose recent recording with the Pittsburgh Symphony Orchestra of the Shostakovich Symphony No. 5 and Barber Adagio for Strings has just won the Grammy Award for best orchestral recording of the year.  In addition, he has released a recording of exceptional arrangements from the music of the Star Wars series for trombone choir all performed by Jim utilizing the full range of the trombone family (soprano, alto, tenor, bass, contrabass).  I wanted to talk with Jim and hear of his experiences as a professional trombonist and life long fan of John Williams.
KE: How and when did you first come to love the trombone and what was it about your instrument that captivated you?
JN: I started playing trombone when I was nine. I don't think I actually really started loving playing it until I was a teenager. I found its range of power, expression and technique fascinating. I grew up in a musical family. My father is an accordion player and my brother played trumpet until college. My father studied in Germany at a music school in Trossingen. He actually met Paul Hindemith [Prominent German composer, 1895-1963]! He came to do a guest artist visit at his conservatory.
KE: What qualities do you look for when evaluating an instrument? For example, do you look for a big bold tone, something that's solid, gives you flexibility in tone color, free blowing, etc.
JN: For me the most important part is how the instrument basically sounds. Does it have a great sound and have a flexibility of colors. Then a close second is how easy is it to play but that is always second.
KE: Who was most influential to your performance technique and why?
JN: It's tough to say only one person for this. I was very lucky to have great teachers. Two of the most influential on me were Glenn Dodson and Norman Bolter.
Glenn Dodson was really a hero to me. And he's also the one who influenced me to love fast German cars! He was an incredibly gracious and warm teacher. He didn't have any children of his own, so I think he treated his students like his kids. There was this one time when I was having a particularly rough go of it, and I set my instrument down on a table to go walk out of the practice room to go to the bathroom. Just as I got to the door I heard the screw joint connecting the Bell section to the slide give way. When I look back the bell was against the slide and I dented all the way through both slides. The slide wouldn't budge. Keep in mind I was already having a pretty rough week. I called Dodson and told him what it happened. He said, "come over to the house and I'll get it moving until you can get it repaired professionally." So I walked over to his house and he did a pretty damn good repair I must say, and then we sat and played duets for hours. He pulled out old recordings that he had from when he was in the Chicago Symphony and an old Philadelphia Orchestra recording that I've never heard before. We hung out and chatted for a long time. Then he asked me what was going on with me and why I was so down. I told him I just felt like I wasn't getting better fast enough and that I was never going to be competitive in this field. He looked at me and said, "that's nonsense. Just remember everybody develops at a different speed and I think you're developing incredibly well. I have no doubt you're going to be successful." Then he said that he couldn't expect me to walk home at that late hour as it was well past midnight, so he backed his old Porsche 914 out of the garage and took me on a ride I'll never forget. He flew through the city streets of Philly and I had this huge smile on my face. When I got out of the car at my apartment, I look back as he sped away and I thought to myself, "someday, I'm gonna have a great orchestra job and drive a fast as hell car just like him."
As for Norman, he was extremely influential on me as well. He actually steered me away from the cliff not too long before I moved to Boston. I really went through a rough time at the end of my undergraduate studies doubting whether I'd be successful. Norman really helped me reconnect to the reasons and sentiments that I got into music for in the first place. He's the one who told me that idea of starting with what you CAN do and build from there. He also taught me to always keep in mind, not WHO wrote the music, but WHAT wrote the music. Ideas I still treasure today and teach my students. One of my favorite Norman stories though is when I first met him. This was back in the day before smart phones, etc.… I'd heard of him and heard his recordings, and thought how incredible he was but I had no idea what he looked like. I showed up at Symphony Hall in Boston and when he met me at the stage door it must've been written all over my face. He smiled a little and looked at me and said, "you thought I'd be bigger, didn't you?" He is after all, the Yoda of the trombone!
KE: How did you come to decide to be a professional musician?
JN: After my mom died when I was only 15, I realized music wasn't just something I did, but was something that I AM. The experience of being a professional musician has had its ups and downs for sure. Going through the audition process can really crush your soul. But I wouldn't trade it for anything. Being an active participant in this amazing art form is incredible.
KE: What did you wish you knew then that you know now?
JN: Patience… I was so hard on myself when I was young. Some would say that's good, but I think I went a bit overboard. There are numerous times I almost hung it up.
KE: What would you say was your first big break?
JN: My real first break was when Glenn Dodson accepted me into his studio at the Curtis institute of music. They typically only take one trombone player a year, if any. Keep in mind Glenn Dodson was Joe Alessi's teacher. Joe Alessi is the legendary principal trombone in the New York Philharmonic and one of the most influential players of the instrument in the world. He's had countless pieces written for him and has many former students in major positions all over the globe. I feel fortunate to have worked with him on numerous occasions, and it continues to be my honor to call him my friend. That school is an amazing place and very special. I consider myself incredibly fortunate that I was a student there.
KE: What was the audition experience like to land your current job with the Pittsburgh Symphony orchestra?
JN: Very rigorous! I believe my semi-final round at the Pittsburgh symphony audition was almost an hour long. I played everything on the list multiple times in multiple ways. Then in the finals we played numerous times with the section and just about everything in that round wasn't on the original audition list! I think it's one of the great things about the Pittsburgh Symphony. They are extraordinarily thorough with their audition processes.
Auditions can be so difficult because you literally work for months if not years towards playing well and showing people in just a few minutes what you are capable of. And when it doesn't go well, or in some cases even worse, when it does go well, and you still don't get the results you want it can really tear at you. I once heard somebody say that you lose a year of your life with every audition. If that's the case I'm well into my 80's at this point!
KE: I was very intrigued by a video posted by the Swedish trombone virtuoso, conductor, and composer Christian Lindberg where he basically did a video blog about his very unique daily routine of maintaining his performance proficiency, exercise, health, stamina, score study, and composition. What is your daily practice/performance routine?
JN: I remember seeing that video. Christian Lindberg is incredible. As for my own daily routine, just ask my students! It's incredibly rigorous and challenging spanning a huge range (pedal Cs to double high B flat). It's designed to give me all the tools I need to play anything put in front of me. I treat it kind of like a workout program. But it also serves as a diagnostic of where my playing is every day. If I really take my time and do it slowly and carefully, which I try to every day, it takes a little over an hour. I don't necessarily have to do it all in one sitting but I find that I play the best if I do it first thing in the day.
KE: What is a work in the common literature that you find fiendishly difficult/unnerving and what it is about that work that makes it this way?
JN: I guess I really don't think of it that way. I assume you've heard my album? That is part of why I enjoy doing those kinds of recordings so much. They push me to a place that is so much further beyond anything I do in the orchestra. If I had to pick one particular standard repertoire passage in audition excerpts…I'd say the broad passages of Strauss' tone poems Ein Heldenleben and Also Sprach Zarathustra.
KE: As a professional performer, there are some works that get played frequently. I'm curious how you keep the music fresh and not get bored?
JN: Join the Pittsburgh symphony? Haha! This orchestra really "swings for the fences", so to speak. They really goe for everything. But because everyone is doing that, there really is no shame felt by anybody if something doesn't go perfectly. In fact this orchestra often sacrifices perfection for excitement, which is something I love. I think that's why we just won the Grammy for best orchestral performance this year. Don't get me wrong, the PSO is incredibly accurate, but that's not its primary focus. Technical accuracy is a tool. I remember after being here for a few weeks, our tuba player Craig Knox, said to me, "There are no regular season games at the PSO. Every game is the playoffs." But to answer your question more generally, I always remember what my old teacher Glenn Dodson used to say. He always strives to make every performance of a piece that he played often better than the last time he played it.
KE: Are there pieces you'd like to play but haven't had a chance to yet?
JN: The PSO is playing the full score to Star Wars: A New Hope this summer (July 12th & 13th). I'm really looking forward to playing that. I hope we continue on with Empire Strikes Back, etc.…
KE: Oh wow! I will have to do a follow up interview with you after that concert performance! When did you first become a fan of John Williams?
JN: When I was six, my dad took my brother and I to see the Empire Strikes Back. I was hooked.
KE: As a fan of John Williams, what work of his do you consider as a favorite to perform but might not be well enough known by audience?
JN: I think his score to JFK is absolutely incredible. Especially the Arlington cemetery scene with the huge horn solo in the beginning. If you drop the needle in the middle of that score, most people would never dream that it's John Williams.
KE: What was it about his music that resonated with you?
JN: I've always loved how incredibly colorful and vivid the storytelling is through music. He really is a modern day Wagner. Everything you need to know about the story is in his music. When I was free lancing in Boston I also had the honor of playing some of his concert works which are also incredibly colorful and vivid.
KE: You mention having the honor of playing John Williams's concert music in Boston. Any favorites? How does the concert music contrast with the more popular works be is best known for?
JN: Boy that's a tough one… I don't remember the specific titles. There were concertos, and other small pieces. They don't contrast that much in terms of his compositional style, in my opinion. The big difference is that when he's writing film music, he so quickly captures a musical description of a scene or character with such clarity, that it's unmistakable. Whereas in his concert music, his gestures are more subtle and nuanced. Does that make sense?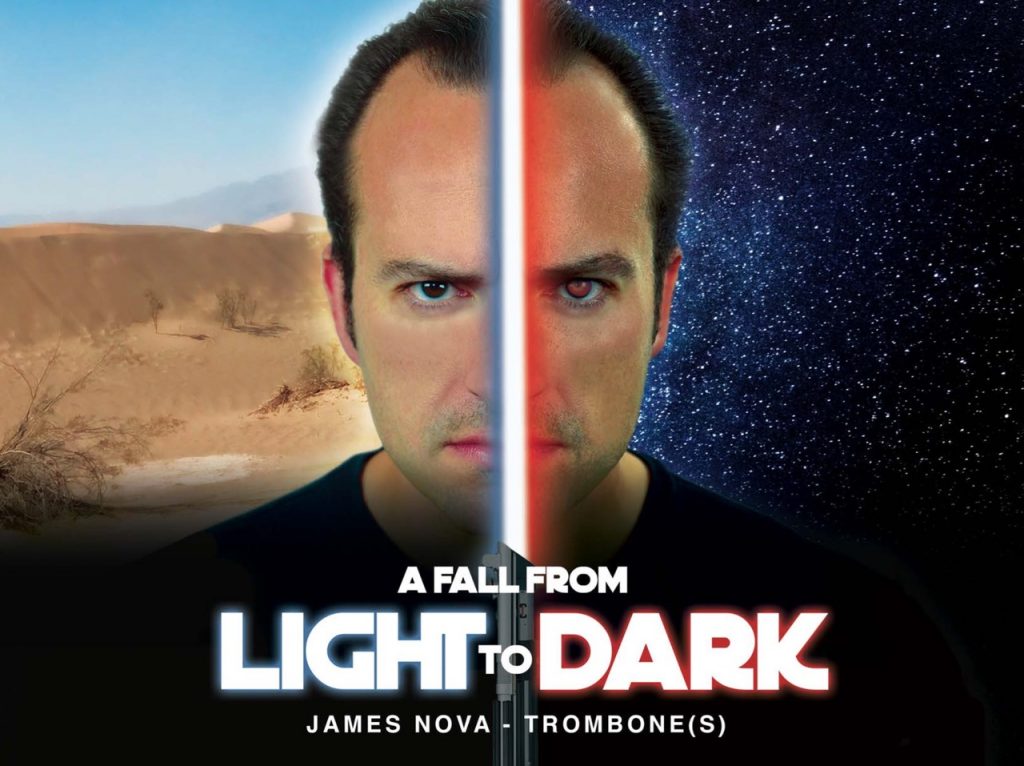 KE: What lead you to arrange the Star Wars music for low brass ensemble?
JN: When I was a student at Curtis, Glenn Dodson would get his studio together with the Philadelphia Orchestra trombone section and we would play arrangements and transcriptions of various pieces in these little get-togethers we would call "Bone bashes." The rule was you either had to do an arrangement for these get-togethers or bring one that you knew about. It was shortly thereafter I started doing transcriptions of John Williams music. Then fast forward to five and a half years ago…I was looking for a fun way to get in shape for the PSO season and I thought it would be cool to record some of my arrangements where I would play all the parts. I think the big thing is the arrangements. I really don't care about making money on them, I just love how incredibly powerful they are from an education point of view. Everywhere I go to do my "Trombone at the Movies" concert, the kids say the same thing, "This was the hardest but the most fun concert ever!" I remember one college professor said to me, "I could never get my kids to practice multiple tonguing but then I put your imperial march in front of them. Now they won't stop!" I had a student who struggled with his high range. Then he played your movie concert. No struggle now!
KE: How much direct interaction did you have with John Williams and what was that like for you?
JN: I've performed and recorded with him in various settings. Countless concerts at the Boston Symphony and Boston Pops. And also the performing and recording for the Salt Lake City winter Olympics with the Utah Symphony and concerts here in Pittsburgh. In fact, I talked to him about this project backstage at a concert lights. And when I told him I was recording transcriptions I've done for trombone ensemble, he said, "oh how many parts? 5, 6?" Then I responded, "Actually…between 12-19 parts." His eyes got wide and he smiled and said, "I would really like to hear that."
KE: How did the music of Star Wars impact you?
JN: It's the soundtrack to my childhood!
KE: What story can you tell us about your interaction with John Williams?
JN: He's always been incredibly kind and gracious to me. When he saw me backstage here in Pittsburgh, he looked at me puzzled and said, "Wait Jim…you're here now?" I laughed and said, "It's part of the Trombone Witness Protection Program; they move us from orchestra to orchestra." He laughed and replied, "Well this is an incredible orchestra. Congratulations on joining its ranks."
One of my favorite stories about working with John was this one year the Boston Red Sox had made some kind of major playoff game in the late 1990's. I can't remember exactly what it was, but they asked the Boston Symphony brass section to play the national anthem at the game and John was going to conduct. I got asked to do it. We showed up for the rehearsal and we had the basic straightforward B-flat major version of the National Anthem on our stands. We played it through once and then John took a few seconds, closed his eyes and then note by note started changing things right from the stand. "Third trumpet make that a G flat here… First trumpet play two 8th notes here A to G… Tuba go to a C flat here instead, etc.…" he completely changed the harmony in the drama of the piece. Then he said, "OK let's try it." We played it down all the way through, I literally was choking back laughter in some spots because of how clever everything was. Then we finished, and he simply said, "ok ladies and gentlemen. Sounds wonderful. See you at the game." What I wouldn't give to get my hands on that version…
KE: I am sure we at JWFAN would love to hear that Boston Red Sox arrangement of the National Anthem! What advice do you have for someone wanting to follow in your path?
JN: I would say, currently it is so easy to hear so many different styles playing. It's as easy as opening YouTube. That said, I encourage young players to listen to live music as often as possible. You learn so much that way. But in terms of young musicians developing and practicing, etc.… I always try to follow two simple rules: always start with what you CAN do…then make the impossible POSSIBLE. Norman Bolter gave me the first, and my dad gave me the second!
KE: What is next for you? Will there be a follow up album to your Star Wars arrangement project?
JN: I'm already planning another album and it'll definitely have more Star Wars music but also other film music by other composers in addition to John Williams.
KE: Have you heard any feedback from John Williams on your arrangements of his music? How has the reception been?
JN: Not long after when I first told him about it backstage at a concert, I know it would be a while before this album released, so I wanted to share SOMETHING with him. I sent this:
Then he sent me this lovely hand written letter!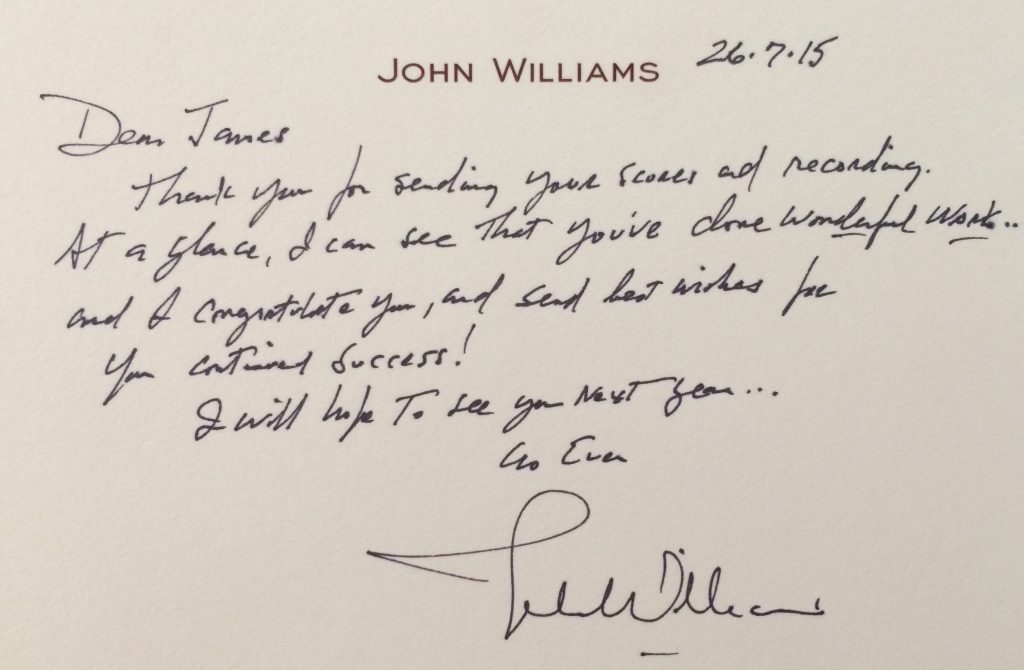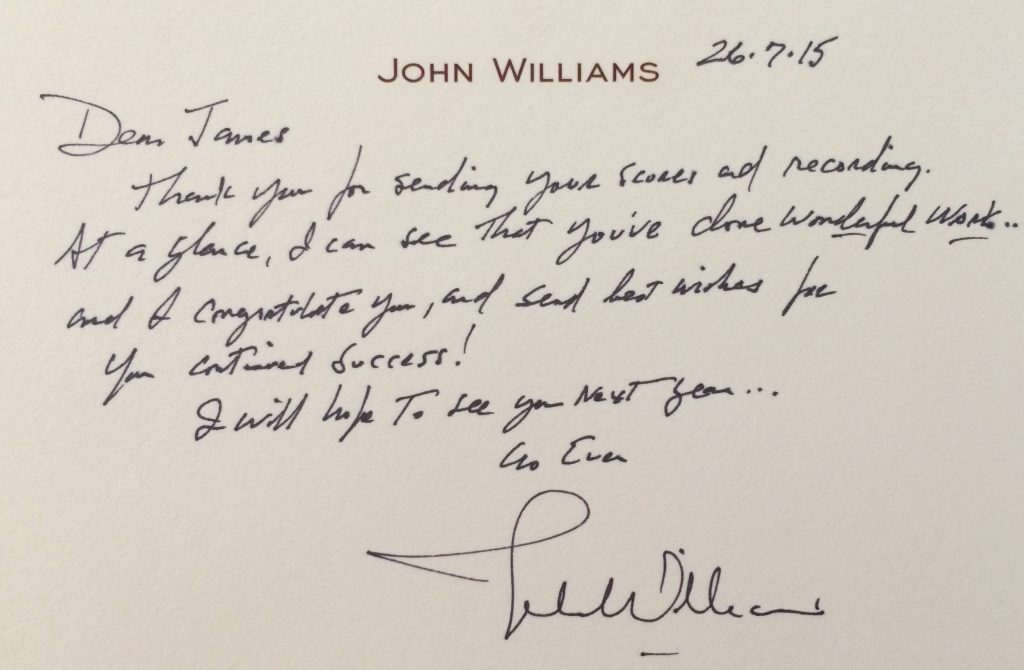 I'm cleaning up the scores and will send him the album soon. Can't wait to see what he thinks. I'm hoping he can help me get over the hurdle of publishing the arrangements. Hal Leonard has said no.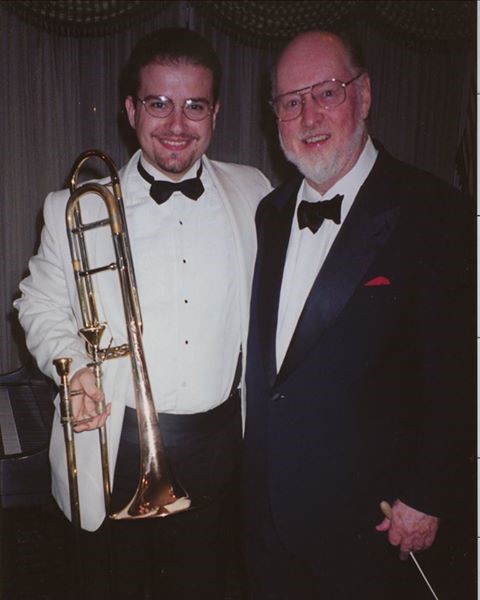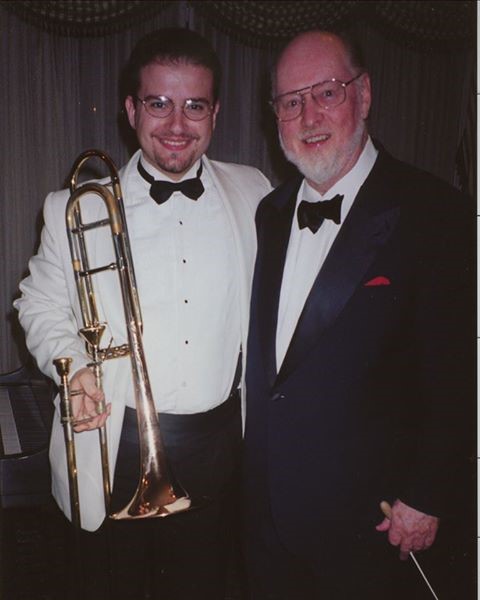 This was back in 1999. Backstage at the Boston Pops concert premiere of SW Ep.1 music. He was so gracious. When I walked in the room he said, "I am so happy we can do this." Meaning taking the picture. I told him "I'm the one who's happy."
KE: What, if any, critique do you have of John Williams' works?
JN: He hasn't written a trombone concerto!
Jim Nova's new "Star Wars" arrangement CD can be purchased on iTunes, or can be heard on Spotify or purchased directly from Mr. Nova's website as a Darth Vader shaped thumb drive.