See also:
The Bernstein Centennial Celebration at Tanglewood
Video – Report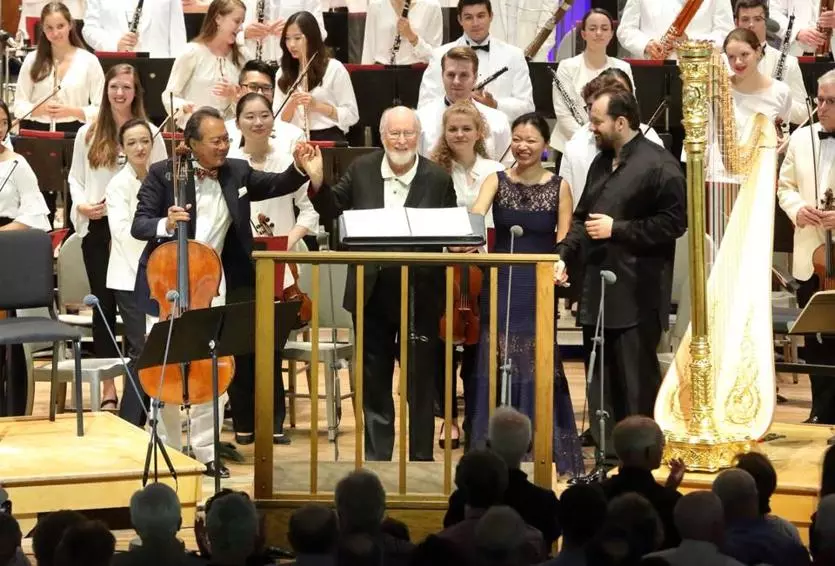 On August 19, the Tanglewood Music Center Orchestra conducted by Andris Nelsons performed the World Premiere of Highwood's Ghost, An Encounter for Cello, Harp and Orchestra, featuring Jessica Zhou on harp and Yo-Yo Ma on cello. The performance took place as part of Tanglewood's annual Leonard Bernstein Memorial Concert.
The program celebrated the completion of sculptures that John Williams commissioned for the Tanglewood grounds of three of the Festival's seminal figures, who are also personal heroes of the composer: Aaron Copland, Serge Koussevitzky, and Leonard Bernstein. The new piece by Williams was specially written for this occasion.
LISTEN ON YOUTUBE
INTERVIEWS
PROGRAM NOTES (excerpt):
The Tanglewood feature at the center of Williams's new piece is Highwood Manor House, which the BSO acquired in 1986 from its then owner Mason Harding, a New York City attorney who'd owned it since 1960. BSO staff and catering offices are housed there now, along with a supper club downstairs, and it all seems fairly innocuous. With a house of 150+ years' vintage, though, there are bound to be stories. One such was the prevailing theory of Highwood's being haunted—some poltergeist causing the mysteriously running faucets, odd noises, lights going on by themselves, and doors opening and shutting of their own volition. These were recounted afresh in the press after the BSO annexed the Bernstein campus (the part of the Tanglewood grounds on which Highwood, Ozawa Hall, and the forthcoming Tanglewood Learning Institute now stand). It ultimately went far enough that Lois Sharp Wade, the daughter of longstanding Highwood groundskeeper Randall Sharp, felt it necessary to write a rebuttal in a letter to the editor of the Berkshire Eagle in August 1992, in which she stated flatly, "I know for a fact that Highwood is not haunted." But there are more things in heaven and earth than are dreamt of in our philosophies; there are ghosts and there are ghosts. For those of us who work at Highwood, at Tanglewood, and at Symphony Hall, the idea that spirits waft through and around us is not at all far-fetched.
Highwood's Ghost is about all these facets of the Tanglewood "spirit," but derives directly from John Williams's memories of Leonard Bernstein, who remains present here—or as Williams puts it in his comments on the piece (see below), "The music, as you may notice, is a little haunted by Lenny." The piece begins in slow, lyrical mode, the solo harp taking the lead at first before the entrance of the cello. The two soloists work as an accompanied duo thereafter, with relatively sparse orchestral coloring. After this long rhapsodic section, an energetic and rhythmically tricky passage subsides into a sustained, suspended, quiet conclusion. – ROBERT KIRZINGER (Composer/annotator Robert Kirzinger is the BSO's Associate Director of Program Publications).
JOHN WILLIAMS ON 'HIGHWOOD'S GHOST'
Highwood is one of the grand old houses of the Tanglewood campus, which stands today with dignity and grace as it has since 1846.
I well remember one night, as Lenny was making his way up the first stairwell, exclaiming "this place is haunted!" Coincidentally, I'm told that a number of people who worked at the house over the years have also felt Highwood to be haunted. In any case, it may be expected that Lenny, genius that he was, might have had a special ability to receive transmission from the sphere of spirits and signs.
I thought a little piece about this history might be fun, and provide the unusual combination of harp and cello an opportunity to set the stage for an ectoplasmic visit.
The music, as you may notice, is a little haunted by Lenny, but it is not suggested that he is the ghost. You're invited to listen and make your own guess as to the identity of this seemingly ry pleasant spirit… I have my own ideas. – JOHN WILLIAMS
ARTICLES & REVIEWS
The Berkshire Edge – These days, John Williams achieves his dramatic aims — establishing various moods and transitioning between them — with a subtlety and sophistication that you might not hear in his earliest work. His music has always evinced profound erudition, but he learns something new every day. He continues to perfect his craft. There are plenty of suspenseful moments in "Highwood's Ghost," but the prevailing mood of the piece is lighthearted, probably because Williams regards the famous apparition as a "seemingly very pleasant spirit." – Full article
The Berkshire Edge – The program's centerpiece, the world premiere of "Highwood's Ghost" composed by John Williams for Bernstein's centennial, followed. Highwood Manor House, one of the grand old residences (built in 1846) on the Tanglewood campus inspired Williams, who recalls that Bernstein once exclaimed as he made his way up up a stairwell, "This place is haunted." Indeed, the 15-minute works pays tribute to both Bernstein and Tanglewood. Williams' contrast of cello and harp, performed by the world's virtuosos, illuminated a shifting series of lights and darks punctuated with quirky dissonance. Most impressive was how Nelsons held the orchestra still long after it had ceased playing for what the audience perceived as an odd, even uncomfortable, period — silence is a sound, too. – Full review
Boston Globe – On Sunday afternoon the Tanglewood lawn was packed, whether thanks to the postcard-perfect weather, the presence of Yo-Yo Ma, or most likely some combination of both. Onstage was the Tanglewood Music Center Orchestra, giving its penultimate performance of the summer, again under Nelsons's baton. The occasion also marked the unveiling of "Highwood's Ghost," a freshly commissioned Bernstein tribute work by John Williams, written for the orchestra with Ma and principal harpist Jessica Zhou as soloists. Williams's title alludes playfully to long-circulating rumors about paranormal activity at Highwood, a manor house that presides over a picturesque hilltop somewhere between the Koussevitzky Music Shed and Ozawa Hall. The piece itself blends a screen veteran's cinematically vivid sense of atmosphere with the kind of careful craftsmanship Williams has long displayed in his less well-known but prodigious writing for the concert hall. Zhou's gracefully dispatched early entrances arrived as if carried in on the wind. And as the piece progressed, the two soloists engaged in a kind of agitated dialogue, with Ma taking up the role of an increasingly emphatic interlocutor while the orchestra played a smaller supporting role. Presumably some kind of accord with spirits past is ultimately found, as the work ends calmly, with the music disappearing into a poised silence that Nelsons drew out at great length. – Full review
Mass Live – Williams is best known for his big, brassy musical scores to blockbuster movies like "Star Wars" and "Raiders of the Lost Ark." This haunting, ethereal work illustrated Williams' more mysterious side. The music in "Highwood's Ghost" also builds in intensity throughout the piece. And yet, perhaps the most memorable part of this mesmerizing piece came at the very end. Right after Ma and Zhou performed Williams' composition with a light, sensitive tough, Ma held his bow in the air for nearly 30 seconds. The silence in The Shed was magical and it was fascinating to watch the crowd wait for Ma's cue that it was alright to start clapping. – Full article
TWEETS
Sunday's Premier Performance Of Composer John Williams' Tribute To Leonard Bernstein "Highwood's Ghost" With The Boston Symphony Orchestra, Cellist Yo-Yo Ma And Harpist Jessica Zhou…Andris Nilsens Conducting… pic.twitter.com/Rs4LdHWkqH

— Steve Van Anglen (@stevevan52) August 22, 2018