"CELEBRATING JOHN WILLIAMS"
January 24-27, 2019
Walt Disney Concert Hall, Los Angeles, CA
Los Angeles Philharmonic Orchestra conducted by Gustavo Dudamel
Simone Porter, violin
JOHN WILLIAMS, Special Guest
The concerts are being recorded live for release "in a month or two" on the Deutsche Grammophon label, according to the LA Times review of the concert. This will be the first official release of 'Adagio for Strings from The Force Awakens', a new concert arrangement premiered last year by John Williams.
CONCERT PROGRAM
Olympic Fanfare and Theme
Excerpts from Close Encounters of the Third Kind
Shark Cage Fugue/Out to Sea from Jaws
Three selections from Harry Potter
(Hedwig's Theme, Fawkes the Phoenix, Harry's Wondrous World)
Schindler's List theme
Adventures on Earth from E.T. The Extra-Terrestrial
INTERMISSION
Flight to Neverland from Hook
Theme from Jurassic Park
Three selections from Indiana Jones
(Scherzo for Motorcycle and Orchestra, Marion's Theme, The Raiders March)
Sayuri's Theme from Memoirs of a Geisha
Three selections from Star Wars
(The Imperial March, Yoda's Theme, The Throne Room and Finale)
ENCORES
Adagio for Strings from The Force Awakens
March from Superman
REVIEWS
EXTERNAL REVIEWS
Los Angeles Times – Dudamel made Williams' love music especially rhapsodic, as love in the time of war tends to be, and as Sayuri's Theme from "Memoirs of a Geisha" was in particular, thanks to principal cellist Robert deMaine's solo. Meanwhile, in the most serious selection of the evening, the young violinist Simone Porter brought a soulful dark richness to the main theme from "Schindler's List."But what made this the most memorable and meaningful of Williams' tributes was Dudamel's message of responsibility. He paid attention to detail, such as in the inner sonic and surprising harmonic experiments in "Close Encounters" and the equally surprising Bartók-ian counterpoint in, of all things, the "Shark Cage" fugue from "Jaws." –  Full review
LA Music Blog – And so this 3-show series is smart; it utilizes the visuals only when it wants to. This allowed us, the audience, to engage in different ways and that act affects the audience on multiple levels. It revealed Williams' contrasts, his variations, and penchant for exploring and pushing the limits of film music but most importantly, presented him as the King of the Theme. – Full review
JWFAN REVIEWS
Review by 'karelm' (original post)
This concert was absolutely wonderful.  Flawless performance.  LA Phil recorded it for commercial release I believe.  The announcer said "silence the phones and don't applaud till music is finished because it is being recorded for a future release".  I would expect if it was for the radio they would have said for future broadcast.   Regardless, the was so good – the concert hall has excellent acoustics for this type of detailed music.  It was a little distracting watching Johnny listen to his own music but the whole sold out audience seemed to envelop him with love and admiration.  Dudamel would frequently bow to him during the performance and everyone enjoyed watching the nonverbal exchange of joy, passion, and musicianship. The sororities were so refined and richly detailed, bombastic and intense when needing to be.
Program:
Olympic Fanfare and Theme (with the mighty organ)
Close Encounters suite (excellent half diminished flat 5 to tonic, with glorious harp gliss'…)
Shark Cage Fugue/Out to Sea from Jaws
Harry Potter Suite (Hedwig's Theme, Fawkes the Phoenix, Harry's Wondrous World)
Schindler's List theme
Adventures on Earth from E.T.
-Intermission-
Flight to Neverland from Hook
Jurassic Park theme (sounded amazing with five unison trumpets and a very emphatic ending)
Indiana Jones (Motorcycle Scherzo, Marion's Theme, Raiders March)
Suyuri's Theme from Geisha
Star Wars (Imperial March (imagine hearing it with 8 horns, 5 trombones, 5 trumpets, 8 percussionists at Disney Hall…never heard it sound so good), Yoda's Theme, Throne Room and Finale from Star Wars)
Encore:
Williams's Adagio from The Force Awakens (<– gorgeous this!)
Superman March
It was a long concert – ending around 10:30pm with several video clips.  I especially enjoyed during the Throne Room, they played scenes from the 8 star wars films including scoring session photos from all of them.
John Williams looked great, happy, energetic, and deeply moved by the performance and audience enthusiasm.
PHOTOS & VIDEOS
John Williams conducts his 'Happy Birthday Variations' at the Jan. 26 concert (Dudamel's birthday):
Williams and Dudamel on January 24: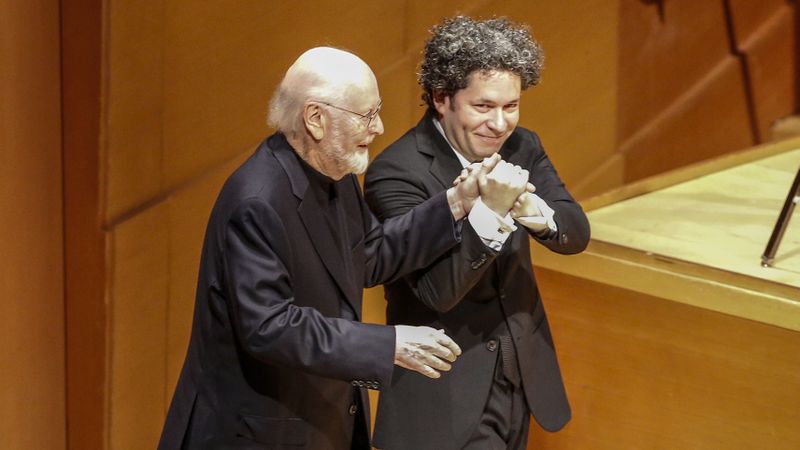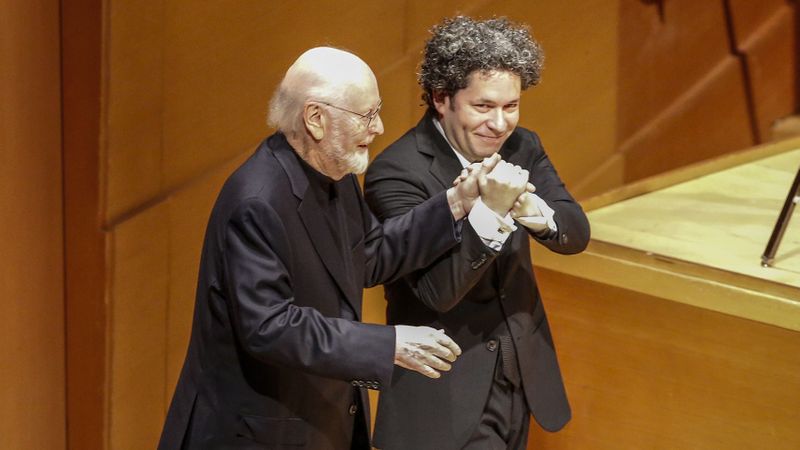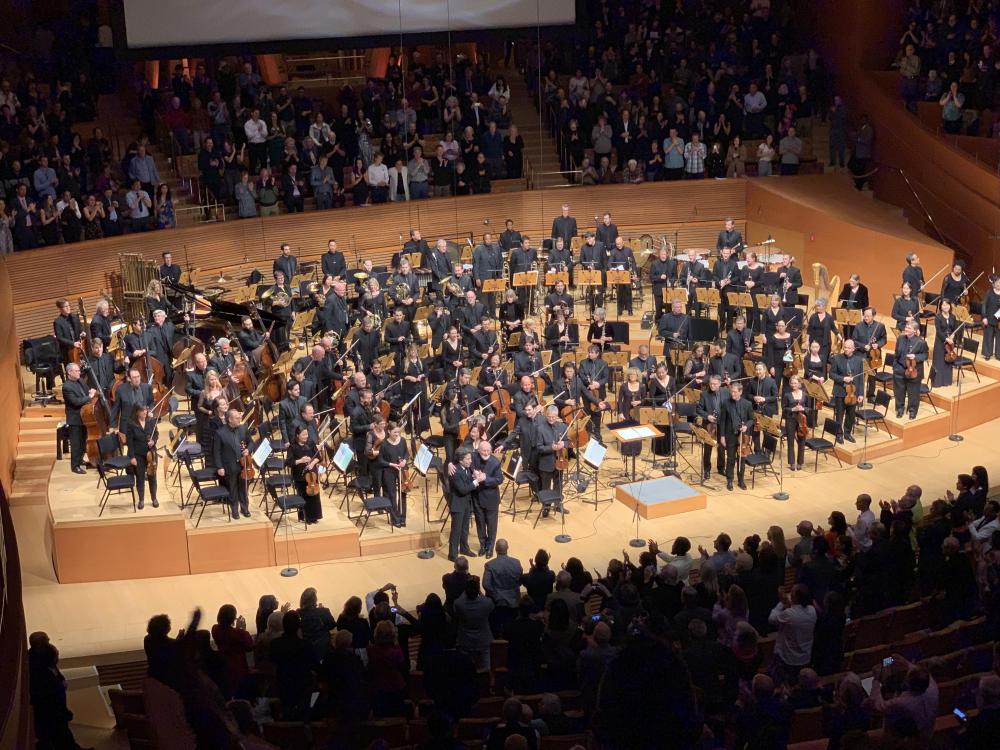 https://www.instagram.com/p/BtEEqhyhqkF/
https://www.instagram.com/p/BtJjSPOHLA-/
https://www.instagram.com/p/BtG7oEGn-WJ/