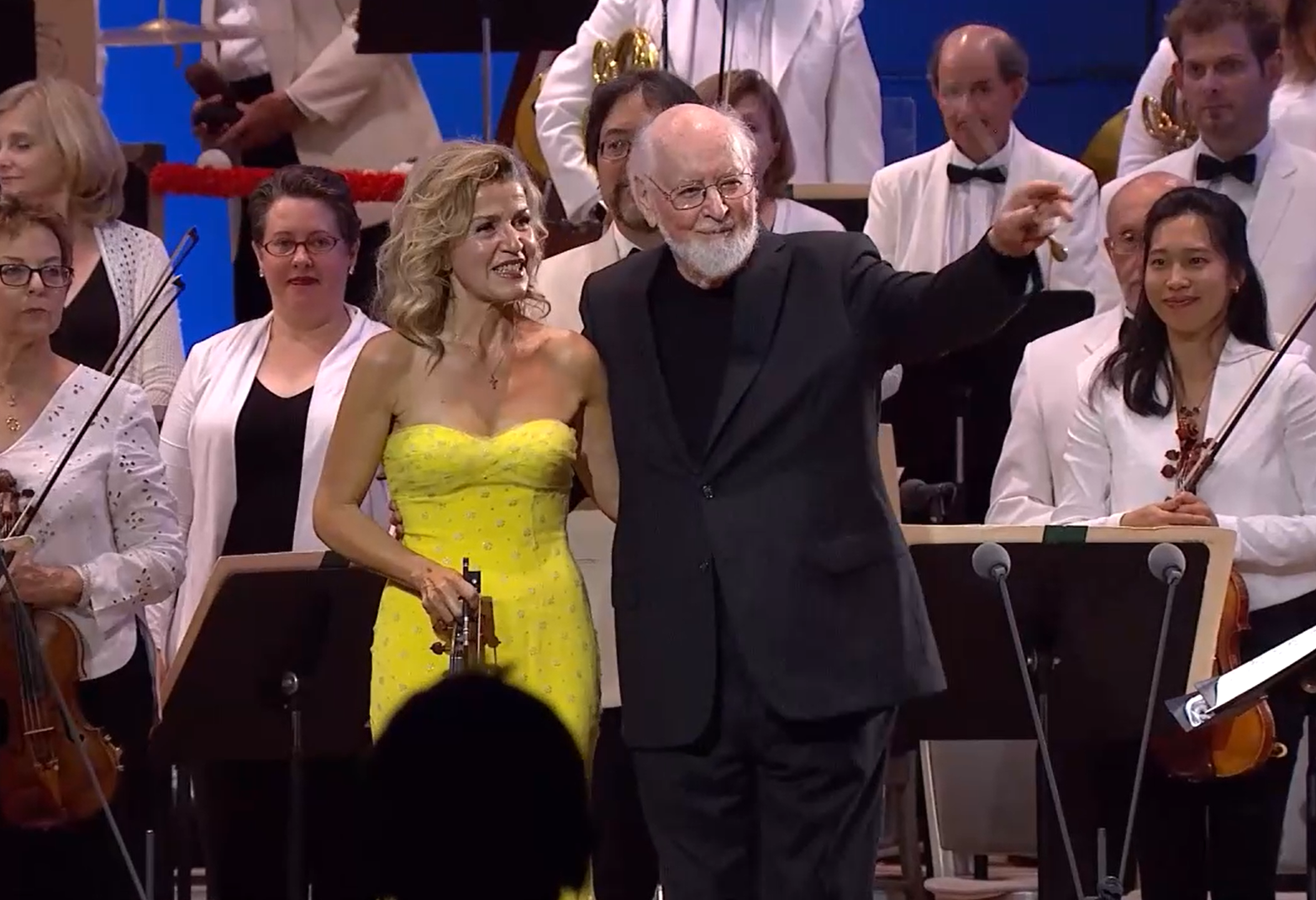 'ANDRIS NELSONS AND JOHN WILLIAMS CONDUCT MONTGOMERY, WILLIAMS, COPLAND, AND STRAVINSKY'
July 24, 2021, Koussevitzky Music Shed, Lenox, MA
Boston Symphony Orchestra conducted by JOHN WILLIAMS and Andris Nelsons
Anne-Sophie Mutter, violin. Robert Sheena, English horn. Thomas Rolfs, trumpet
AUDIO & VIDEO
Audio: Classical WCRB (Full concert, worldwide)
Audio: YouTube (Violin Concerto No. 2, worldwide)
Video: ARTE – (Full concert, Europe only) – Free until October 23, 2021
CONCERT PROGRAM
Andris Nelsons conducting
Starbust, for string orchestra (Jessie Montgomery)
John Williams conducting
Violin Concerto No. 2 (John Williams, world premiere) – Program Notes
I. Prologue
II. Rounds
III. Dactyls
IV. Epilogue
Across the Stars from Attack of the Clones – 2021 version (John Williams)
Andris Nelsons conducting
Quiet City for trumpet, English horn, and strings (Aaron Copland)

Suite from The Firebird – 1919 version (Igor Stravinsky)
JWFAN REVIEWS
Review by Jason LeBlanc (original post)
When it comes to orchestral music concerts, I have only really attended Film Night type concerts (and Live To Projection movie concerts) so am more used the conductors taking to the mic and telling stories in between pieces.  As this was the first entirely classic music concert I've ever attended, I was a bit surprised that that didn't happen; Shortly after 8:00 the orchestra tuned and settled down, the lights went off, and after a bit of a wait Andris Nelsons finally came out and jumped right into the first piece – Starburst, for string orchestra (2012) by Jessie Montgomery.  This was a fun little piece that was surprisingly short!
After that was over, he left the stage without saying anything, and then there was a lot of re-shuffling on stage to move various people to different spots, including bringing out the harp to the forefront.  After another bit of a wait, Anne Sophie Mutter and John Williams came out together to a tremendous applause, and he began the next piece right away – Violin Concerto No. 2 (2021) by John Williams
This was an incredibly long work – is it the longest of his concertos now? – full of so many different ideas, I can't possibly even begin to attempt to describe it.  At times it felt like a duo for violin and harp, and had many other interesting solo passages for other instruments too.  I'll have to re-listen to this a few times before forming a solid opinion.  After it was over, the audience erupted into a long applause until Anne Sophie and John Williams walked off the stage… and then I was surprised to see them come back out, like what would happen for an encore… which turned out to kind of be what happened, an encore in the middle of a concert instead of at the end – never seen anything like that before!  His introduction to the encore was hilarious:
"Here is Anne Sophie playing "Across the Stars", which is a theme from one of the Star Wars films – I haven't the vaguest memory of which one. One of the nine"
Across The Stars (2002 – Revised 2021 arrangement) by John Williams was probably the highlight of the concert for me; The theme itself has always been a really good one, and the fact that he's returned to re-arrange it so many times is pretty interesting.  While this wasn't near one of my favorite tracks on the Mutter album, I am curious now to compare this revision to that version to see what he changed.
When this piece was over, the audience erupted into an even bigger and longer applause, that continued strong as they left the stage, and then came back again to even more applause – I was half-expecting another encore! – but they eventually left again, and the stage was again re-configured.
Andris Nelsons then returned to conduct two more pieces – Quiet City, for trumpet, English horn, and strings (1941) by Aaron Copland & Suite from The Firebird (1919 version) by Igor Stravinsky – without saying a word.  I was unfamiliar with these pieces, but recognized that Williams must have been inspired by The Firebird for his Tinkerbell music in Hook.
After a long round of applause with just Nelsons on stage, Mutter and Williams came out as well, and Mutter had her violin, so I was expecting another encore, though I guess it was just for show.  The standing ovation continued for a very long time, perhaps longer than any concert I can remember, until eventually all left the stage, and the lights came on, and the concert was over!
I am used to Film Night concerts being closer to 3 hours long, so I was surprised this one was around 90 minutes.  I don't know if this is standard for a night of classical music, or if Tanglewood is cutting concert lengths in half and not having intermissions because of covid, but the decision was fine for me.  I had a great time.
EXTERNAL REVIEWS
JWFAN REVIEWS – 'VIOLIN CONCERTO NO. 2'
Review by 'The Illustrious Jerry' (original post)
Although I haven't visited the forum in a little while, I have very much been anticipating the premiere of this piece. While it has always been a dream of mine to see Williams conduct live and in-person, listening along on WCRB tonight was still a very special experience of its own.
I find that the most meaningful encounters I've had with Williams' music are the ones that are beyond my ability to articulate in words. While these pieces never fail to exude the greatest sense of wonder, inspiration, and passion, I am ultimately left speechless. For the better part of my life I have continuously developed a deep and intimate connection to the maestro's music, but as anyone who regularly immerses themselves in a great artist's work will know, it is easy to become numb to greatness when one is so intensely familiar with it. There has never been any doubt in my mind about my love for John Williams and his music, but I feel it is required to occasionally step back and regain the feeling of discovery that started the journey so many years ago in order to truly grasp it all. This can often be achieved by approaching something old as if for the first time, or by hearing an entirely new piece, one with the opportunity to confidently reaffirm the admiration, appreciation, and immense gratitude that has always been there. For me, hearing the violin concerto tonight has done precisely that.
On first listen, the premiere piece ranges from quiet and subtle displays of emotion to vibrant but grounded flashes of the abstract. While I am not particularly familiar with much of Williams' concert repertoire, there are so many touches here that are instantly recognizable as the work of the maestro. Structure is not always of the greatest prevalence, but the more free-flowing nature of the piece allows for a number of particularly ear-catching passages to flower. The slow movement is undoubtedly the highlight, with some of the more yearning angular violin passages, in tandem with the great crescendos and brass swells that emerge thereafter, bearing some strong similarities to A.I. (at least to my ears).
It goes without saying that Mutter has an astounding command over the violin, and her talents could not be more perfect in this central role. The energy in the performance is palpable, even on the radio broadcast; a consistently powerful piece played to the fullest extent. Harp and flute play significant secondary roles, with pockets of brass and timpani further establishing the atmosphere. There's a lot to explore and unpack from the very beginning, and while there are stretches that may take some warming up to, it becomes easy to share in Williams' description of "healing and renewal" as the conclusion provides a reflective final touch to what I'm sure will prove to be a very rewarding piece in the coming years.
I will never really be able to explain the deeply spiritual effect that Williams' music inherently possesses, nor will I ever be able to comment on how that has then translated into my own life. However, I think I ultimately want to express my admiration for him as not only a composer and an artist, but as an active source of life and joy for me and so many others. On that note, I would also like to further thank the JW Fan community for sharing in this very exciting moment!
It means a lot.
Cheers!
Review by 'karelm' (original post)
It's crazy to think that at 89, he is creating new works as rich and demanding as this.  I found it to be a virtuosic work worthy of the soloist and her formidable talents.  One of my favorite aspects of John Williams is his sense of long form.  I loved this from the earliest film scores how they develop their themes over time but in concert music, it is especially apparent.  He has an innate sense of drama.  How to tell a story or how to reveal ideas over time.  This is gorgeous music.  Something he clearly put much care in to and I look forward to revisiting and studying.
JW is a melodic genius but his harmonic and structural brilliance are just as substantial.  This concerto is a wonderful companion to his Violin Concerto No. 1 which I felt had a bold climactic flourish, but here we have an equally substantial work that is more nocturnal.  That doesn't mean comforted, there is an inner turmoil but it is more reflective and introspective.  It's a deep and meditative work.  I loved it and look forward to revisiting it.   My favorite movements were the darker, longer outer movements but I also enjoyed the inner movements with their whirlwind effects.  The ending felt like a beautiful lament.  It's hard not to think there is some other, deeper meaning to music.
Review by 'SteveMc' (original post)
Listened to the piece again this morning, with the video of the concert now.
Firstly, it is beyond impressive that JW, 89 years of age, took on the task of writing and conducting a piece of this magnitude, looking absolutely fabulous while doing it.
Prologue is still a bit of a tough nut for me to crack, and I suspect the orchestra might have found it so as well.  I get the impression of almost competing dramatic threads and climaxes, though the heart of the movement seems to be the cadenza, where Mutter is brilliant.
Rounds has a bit more of a fulfilling structural and musical intent, with some really sparkling moments of orchestration.
Dactyls stood out this time to me, and I think it might be my favorite movement.  I think it is actually quite visual, drawing a sense of tension and drama not only from the sound of the orchestra/soloist interplay, but from the sight of the forces playing off each other. This is a movement meant to be performed.   I must say, I was impressed.
Epilogue has some lovely writing in it, but I still need to listen to it further I think.
Overall, the concerto is very demanding, not only for soloist but for the orchestra as well.  From my perspective as listener, I feel as if the work is lacking a little bit in structure, where the passages sometimes do not point to a definite direction either within movements or within the piece as a whole, instead giving the impression of a stroll through sonic moods and experimentation.  I found this to be a bit of a let down compared to recent works like Markings and Highwood's Ghost which struck me as exhibiting a remarkable growth in Williams's approach to structural purpose.  I could not help but compare the piece to John's first Violin Concerto as well.  While the new work certainly exhibits a more advanced grasp of compositional technique, the first concerto has an emotional core that gives it a definite sense of internal musical vision, at least to my sensibilities.
But, something else struck me about the new Violin Concerto No. 2, and that is that the overall structure for the piece perhaps is designed to come not entirely from inside the work, but from outside, that part of the challenge Williams baked into the work is for the soloist and, especially, the orchestra to have to find and convey their own direction and purpose as they interpret the music.  If that is truly the case, then I look forward with great interest to future performances and the possible upcoming recording, where Mutter will have more familiarity with the work and JW will have more time to fully convey his vision for it.
PHOTOS
Dress Rehearsal, July 22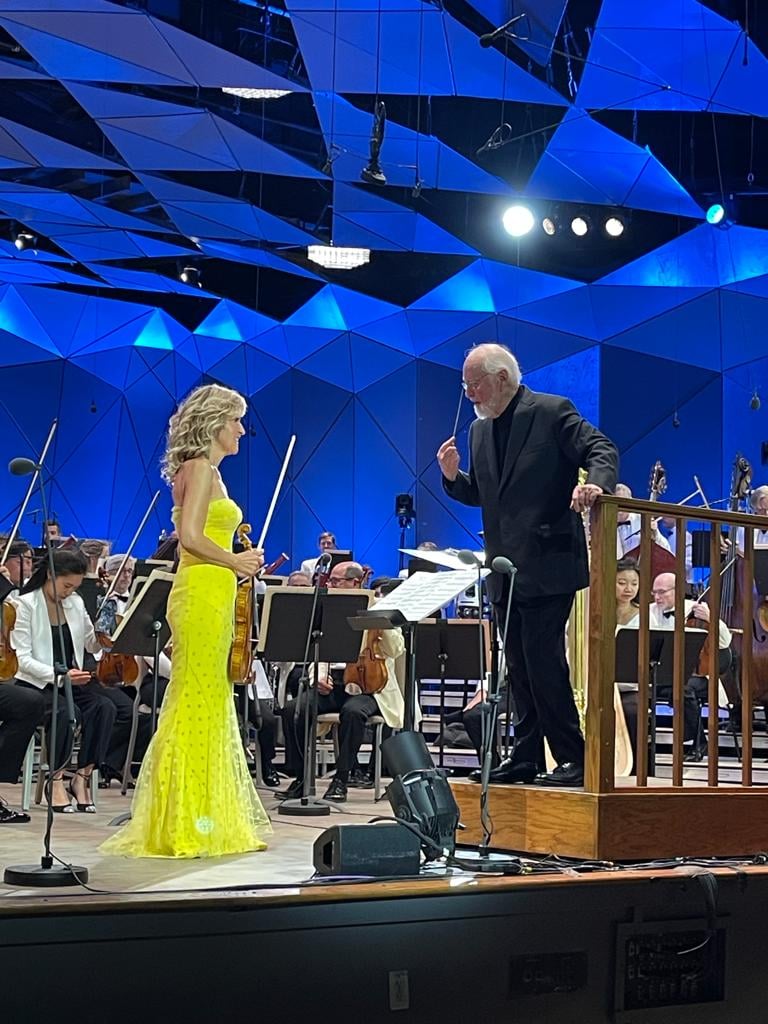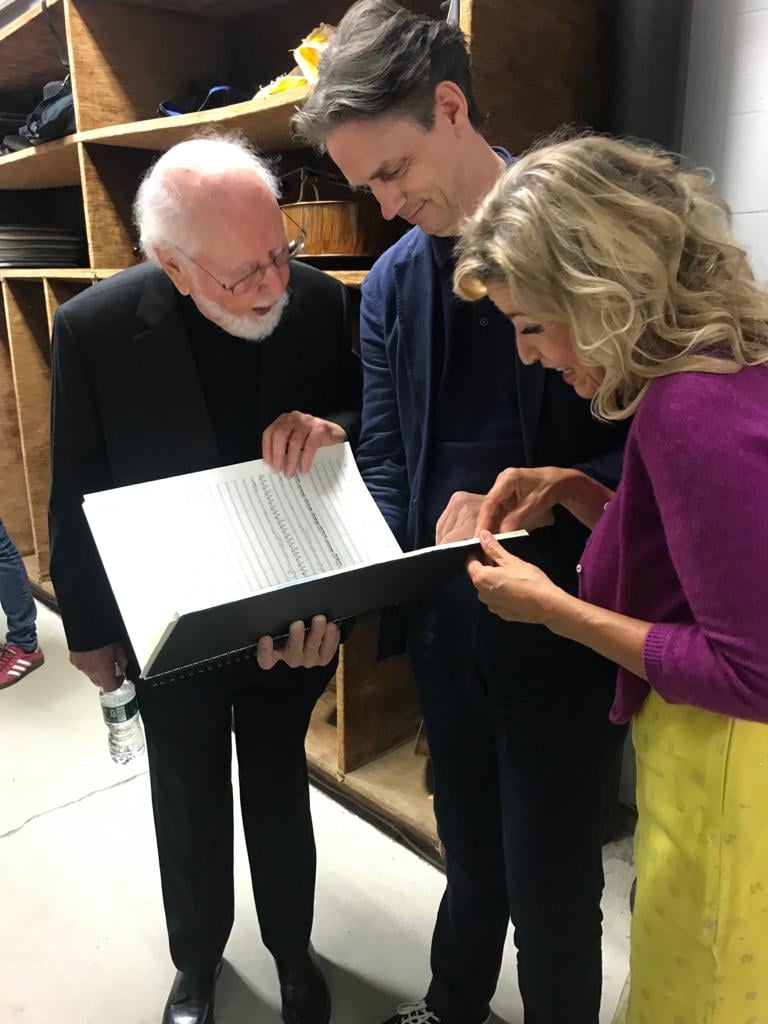 World Premiere, July 24