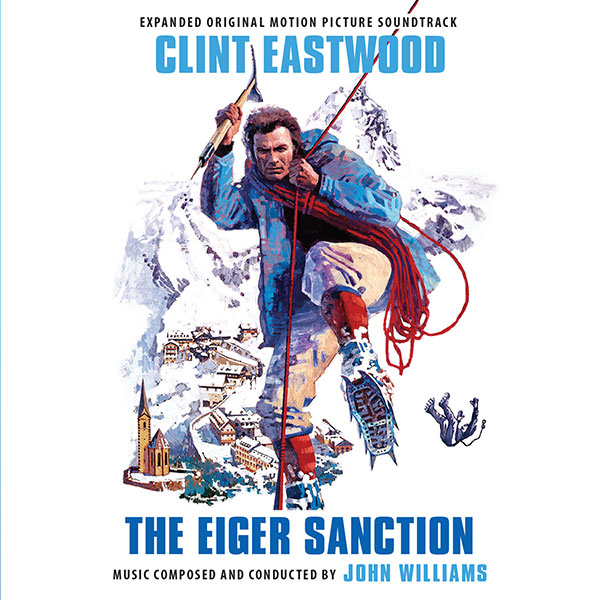 THE EIGER SANCTION (2CD)
Music Composed and Conducted by John Williams
Intrada Special Collection Volume ISC 465
Greatly expanded 2-CD premiere of John Williams original soundtrack! 1975 espionage adventure/thriller with director Clint Eastwood as star also features George Kennedy, Vonetta McGee, Jack Cassidy. Based on the best-selling novel by Trevanian, from executive producers Richard D. Zanuck, David Brown, presented by Universal Pictures. Eastwood is Jonathan Hemlock, once assassin and current professor and rare art collector. Called out of retirement to perform one more "sanction" (killing), Hemlock gets more than he bargained for in a thriller that eventually climaxes atop the icy Eiger peaks with spectacular mountain climbing stunts largely performed by Eastwood himself. Wow!
John Williams scores with his now-trademark seventies style that offers a symphonic orchestra using both highly tonal and atonal elements as well as smaller ensembles showcasing his early love of jazz. Some sequences for orchestra literally soar: "Top Of The World", "The Eiger". Some sequences quicken the pulse: "The Car Chase", "Hemlock's Bonus", "George Reveals Herself". Still others display aggressive action: "The Microfilm Killing", "Falling And Swinging", "Hanging By A Thread". Williams also displays his melodic and rhythmic gifts with his classically-limbed "Main Title" and "Montage-Running With George". And wearing his softer garb, Williams uses flugelhorn horn (mellower trumpet) to bring love into the air.
The original 1975 MCA re-recorded album presented 36 minutes of highlights across all of the myriad styles using arrangements designed for album listening back in the day. The actual film soundtrack, never-before-released, contains more than twice that amount of music! And Williams also recorded another seven minutes of original source music as well. All of it appears in this new 2-CD expanded Intrada presentation, expertly mixed by Mike Matessino from the Universal three-channel split mono elements into crisp and vibrant stereo and heard in chronological sequence, including music not used in the finished film.
And in a terrific discovery, Universal Music Group located the actual 2" masters for the album re-recording sessions held four months after the film recordings took place. In beautiful condition, these multi-track elements allowed Matessino to remix the entire MCA album in stunning audio as well – including three previously unreleased tracks Williams recorded for that album but were subsequently dropped prior to the album's release. And all of this appears here in this 2-CD set as well. Over two hours of music in all! It's a dynamite listening experience! Jon Burlingame provides literate notes for the booklet, Kay Marshall designs the dramatic package. John Williams composes, conducts. Intrada Special Collection 2-CD set available while quantities and interest remain!
CD 1 • FILM SCORE RECORDING (PREMIERE RELEASE)
1. Main Title (From The Motion Picture The Eiger Sanction) • 3:23
2. The Microfilm Killing (Film Version) • 1:47
3. To The Dragon • 1:30
4. Felicity • 3:03
5. Up The Drainpipe (Film Version) • 3:38
6. Love Scene • 4:05
7. Art Masterpieces • 1:38
8. Hemlock And Jemima • 3:18
9. The Unlocked Safe • 2:17
10. Friends And Enemies (Film Version) • 3:23
11. Montage – Running With George • 4:48
12. The Top Of The World (Film Version) • 3:37
13. George Reveals Herself • 1:17
14. The Car Chase (Fifty Miles Of Desert) • 3:21
15. Hemlock's Bonus • 2:10
16. The Eiger (Film Version) • 1:53
17. Hotel Bellevue • 3:00
18. Anna On The Stairs • 1:44
19. Leading The Climb • 2:46
20. The First Sunset • 1:37
21. Sunrise • 0:44
22. Falling And Swinging • 4:42
23. The Icy Ascent (Film Version) • 4:13
24. Down The Ice Face • 2:15
25. Freytag Onto Ice • 2:24
26. Hanging By A Thread • 3:47
27. End Title (From The Motion Picture The Eiger Sanction) • 2:16
Total Disc Time: 75:16
CD 2 • REMASTERED ORIGINAL SOUNDTRACK RECORDING
1. The Eiger Sanction (Main Title) • 2:46
2. Theme From The Eiger Sanction (Flugelhorn Version) • 2:57
3. Fifty Miles Of Desert • 2:54
4. The Icy Ascent • 3:44
5. Friends And Enemies • 3:03
6. The Top Of The World • 3:09
7. Theme From The Eiger Sanction • 2:12
8. Training With George • 2:15
9. Theme From The Eiger Sanction (Hemlock And Jemima) • 2:10
10. George Sets The Pace • 2:42
11. The Microfilm Killing • 2:08
12. Up The Drainpipe • 3:21
13. The Eiger • 2:17
Total Original Soundtrack Album: 36:00
SOURCE MUSIC
14. Dinner With Gem • 2:05
15. Never Quaver • 2:26
16. Leave Me Alone • 3:05
Total Source Music: 7:53
THE EXTRAS
17. Theme From The Eiger Sanction (Love Scene) • 2:20
18. Hemlock Leads The Climb • 3:08
19. Theme From The Eiger Sanction (Reprise) • 3:10
Total Extras: 8:48
Total Disc Time: 52:44
Two-Disc Total Time: 2:08:00
Here is an exclusive sample of the "Main Title"
Here is a preview of the 24-page booklet, which includes liner notes by Jon Burlingame and art design by Kay Marshall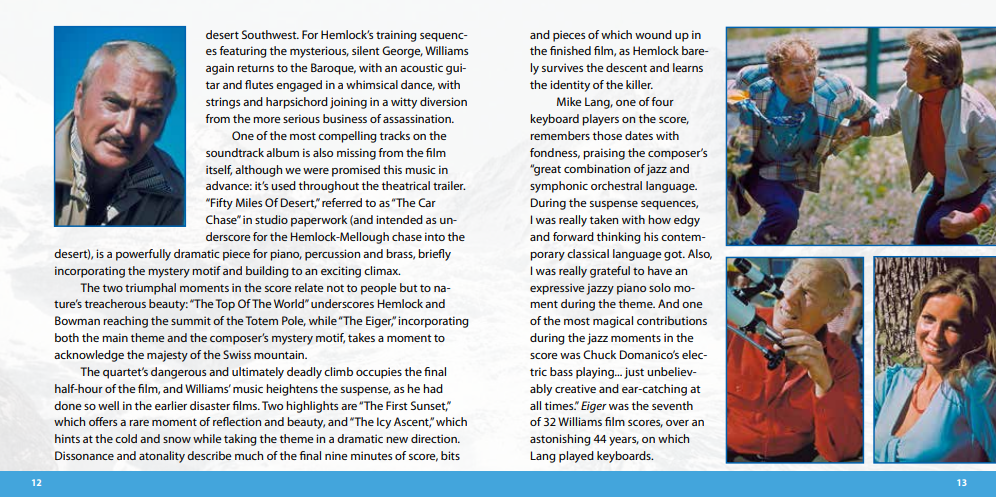 The Eiger Sanction will be available to purchase Tuesday, August 10th, at www.intrada.com