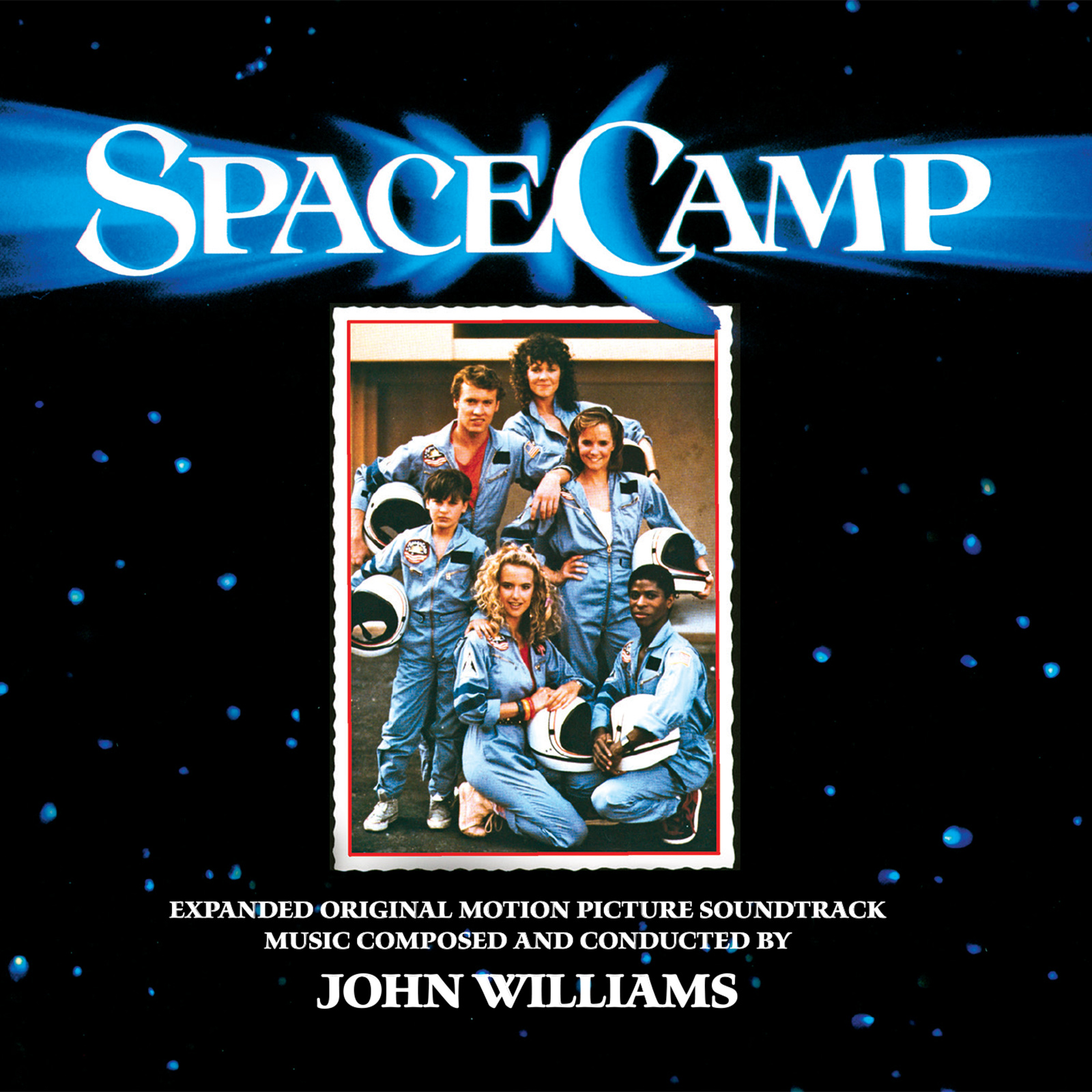 SPACECAMP (2CD)
Expanded Original Motion Picture Soundtrack
Music Composed and Conducted by JOHN WILLIAMS
INTRADA ISC 474
Film Date: 1986
Album Date: 2022
Time: 118:29
Tracks: 37
Retail Price: $30.99
Starts shipping 5/16/2022
Official announcement:
In composing the music, I've tried to express the exhilaration of this adventure in an orchestral idiom that would be direct and accessible… speaking directly to the "heart" of the matter. — John Williams
Intrada, in cooperation with ABC and Sony Music Entertainment, presents the long-sought expansion of John Williams' glorious score to 1986 feature film SpaceCamp. Williams' approach was to focus on the magic and mystery of space and the emotions surrounding the adventure of orbital flight. While strong conclusions to film scores are a rarity these days, Williams brings the adventure to a close with not one, but two thundering endings ("Home Again" and "SpaceCamp"). Interestingly, the beautiful, soaring style he brought to SpaceCamp is a style he carried over into the following years' Witches of Eastwick (the largely unused ballroom sequence) and parts of Empire of the Sun, before moving on stylistically. The original RCA program (issued twice by Intrada) was fairly comprehensive, save a handful of missing cues, the most striking omission being the "Arriving At Daedalus" cue, featuring a thrilling fanfare, distinct from any other part of the score.
For this release, producer Mike Matessino built the complete score program from Armin Steiner's original three-track film mixes, featuring a breathtaking and sweeping clarity to the score. This is featured on disc 1, along with three extras. Disc 2 presents the original RCA program as mixed for record by Len Engel from a newly mastered hi-res transfer of the 1/4″ album master. Matessino also wrote the detailed liner notes within.
The film fits in with many other summer adventures of the 1980s, putting kids at the center and heart of the story. Here, a talking experimental robot instructs NASA computers to turn a shuttle engine test into a launch that will send teenaged astronaut trainees into space. Together they must get past their angst and work together to return home safely.
— Roger Feigelson
---
From Intrada's website:
Wow! Exhilarating John Williams soundtrack gets expanded release! A lot of hands former and past have been attached to this 1986 space travel adventure: ABC, RCA, Sony, 20th Century Fox, Disney all have some relationship to film or score… and Intrada, in 2-CD set fully-expanded and remastered from recently unearthed original 3-track mixes made by Armin Steiner at the original sessions.
New stereo audio, mastered by Mike Matessino, is superb! Harry Winer directs splendid cast of young stars Lea Thompson, Kelly Preston, Tate Donovan, Larry B. Scott, really young Joaquin Phoenix with grownups Kate Capshaw, Tom Skerritt working to keep them alive as they find themselves accidentally launched deep into outer space during an astronaut training program.
John Williams comes off his recently celebrated 1984 Olympic Fanfare music with his first score drawing on that rousing vernacular with powerful orchestral crescendoes for young astronaut challenges of limited air pressure, zero gravity, insufficient oxygen, re-entry dangers and whatnot. Wonders of space, mysteries of exploration are also captured in rich musical portrait which is equal parts the soaring E.T., the flourishing Star Wars and harmonious Howard Hanson.
When inexperienced crew pulls together as team, accomplishes incredible return to earth, Williams unleashes one of his most powerful fortissimo finales of his amazing career, then tops it further with exuberant end credit music packed with rhythmic excitement. One of this legendary composer's musical triumphs for sure! Real-life tragedy of January 1986 Space Shuttle Challenger disaster brought insurmountable challenge for film itself at the box office.
Short-lived original RCA album of highlights was the last John Williams score not receiving a CD at time of release. Subsequent 1992 release from Japan is followed by Intrada CD in 2010 and reissue in 2014. Now entire score appears with first-ever release of masterful and exciting "Arriving at Daedalus" sequence, yearning "I Can't Reach It", moving "Jinx Commits", more.
Second disc preserves that classic original album as well. Flipper-style cover art, informative notes from Matessino, handsome package design from Kay Marshall wrap everything up in nice bow. "It Started As A Dream… It Became A Fantastic Adventure" was an advertising tagline of the day. It describes the long journey to get this definitive presentation of John Williams music available at last! John Williams composes, conducts Hollywood Studio Symphony. Intrada Special Collection 2-CD set available while quantities and interest remain!
— Douglass Fake
---
TRACK LIST
CD 1 THE FILM SCORE
01. Main Title (3:10)
02. The Jinx Connection* (0:31)
03. Friends Forever (2:23)
04. Training Montage (2:07)
05. The Computer Room (1:55)
06. Jinx Commits* (1:19)
07. The Shuttle (5:10)
08. In Orbit (3:19)
09. Insufficient Oxygen (3:25)
10. Arriving At Daedalus And Morse Code* (2:09)
11. Viewing Daedalus (2:50)
12. I Can't Reach It* (1:51)
13. Max Finds Courage (2:24)
14. Max Breaks Loose (2:25)
15. Rudy Comes Through* (1:38)
16. Andie Is Stranded (4:13)
17. White Sands (Film Version) (3:41)
18. Re-Entry (4:00)
19. Home Again (3:34)
20. SpaceCamp (4:12)
Total Score Time: 56:43
THE EXTRAS
21. Main Title (Film Version)* (3:14)
22. White Sands [Album Edit] (6:57)
23. Home Again (Short Version) (2:44)
Total Extras: 13:05
Total Disc Time: 69:53
*previously unreleased
CD 2 ORIGINAL SOUNDTRACK ALBUM
01. Main Title (3:08)
02. Training Montage (2:02)
03. The Shuttle (5:05)
04. The Computer Room (1:56)
05. Friends Forever (2:22)
06. In Orbit (3:15)
07. White Sands (6:55)
08. SpaceCamp (4:09)
09. Viewing Daedalus (2:48)
10. Max Breaks Loose (2:23)
11. Andie Is Stranded (4:11)
12. Max Finds Courage (2:22)
13. Re-Entry (3:57)
14. Home Again (3:33)
Total Time: 48:36
Samples and order link at Intrada Records