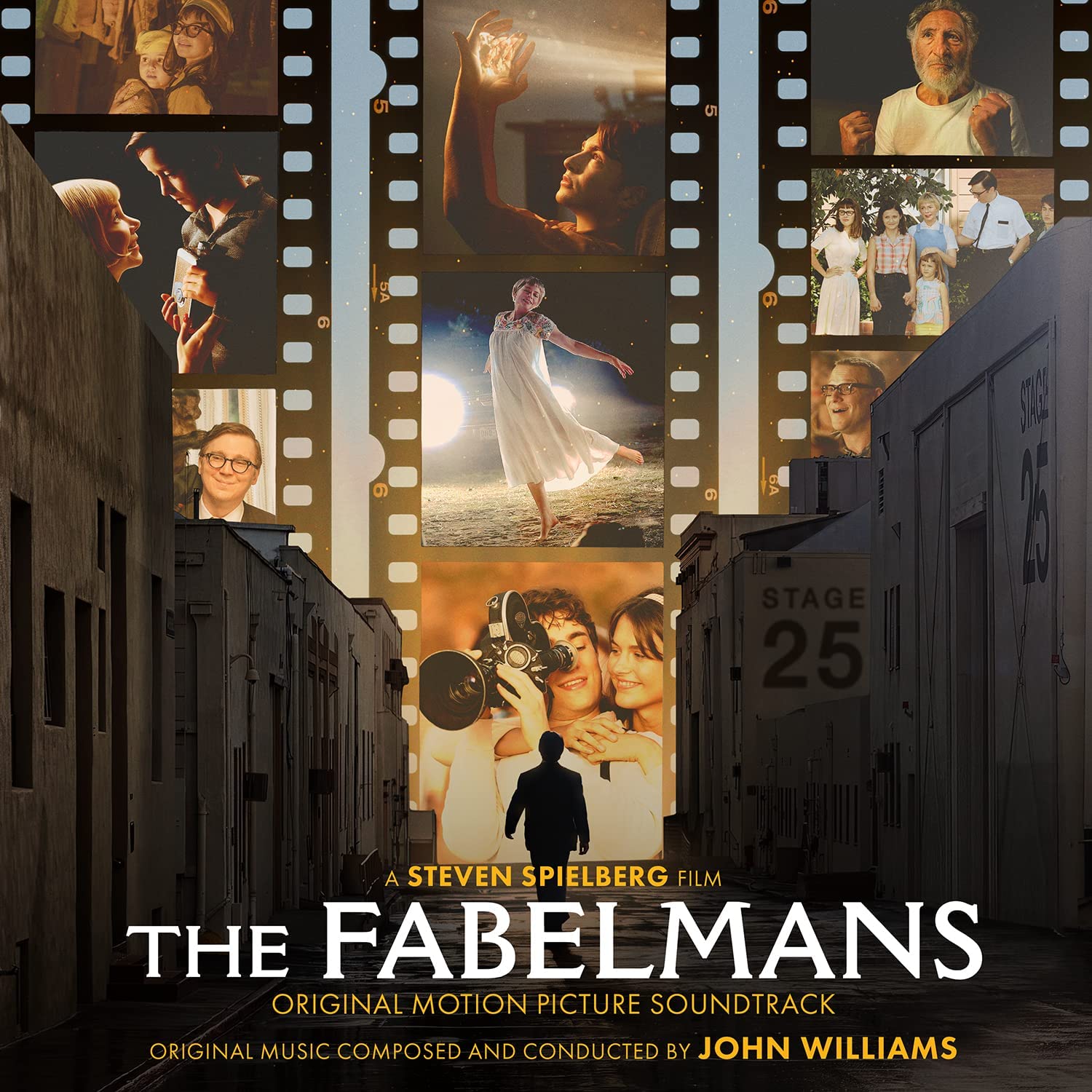 THE FABELMANS
ORIGINAL MOTION PICTURE SOUNDTRACK TO THE STEVEN SPIELBERG FILM
BY JOHN WILLIAMS
AVAILABLE EVERYWHERE NOW FROM SONY MUSIC MASTERWORKS
NEW YORK, NY (November 11, 2022) – Sony Music Masterworks today releases THE FABELMANS (ORIGINAL MOTION PICTURE SOUNDTRACK) by five-time Academy Award® winner JOHN WILLIAMS. Available everywhere now, the album features an original musical score composed by Williams for director Steven Spielberg's deeply personal cinematic memory of the forces, and family, that shaped his life and career. The soundtrack marks the latest collaboration between Spielberg and Williams, whose longstanding creative partnership spans nearly 50 years and 30 films. From E.T., Jaws and Jurassic Park to Schindler's List, Lincoln and Saving Private Ryan, Williams and Spielberg's collaborations have produced some of the most iconic and well-recognized music in film history. The Fabelmans is available in select theaters now and will expand to theaters everywhere on November 23.
"The Fabelmans marks the 50th year of John reshaping my stories through his music – this time for the most personal film I have ever made," STEVEN SPIELBERG says. "John knew my parents well and loved introducing them to the orchestra during our scoring sessions, which made my Dad so proud, and left my Mom beaming. He wrote this score as a gift to them and, when he first previewed it for me on his Steinway, I knew he had made this his most personal gift to me as well. Thank you, Maestro."
The score was deeply meaningful for Williams, too. "Composing the score for The Fabelmans was a particular joy for me, given the personal nature of the film and its depiction of characters who seem to be so closely associated with Steven Spielberg's own childhood and family," JOHN WILLIAMS says. "Over many years, I knew and greatly admired Steven's parents, and I was always very impressed by his mother Leah's musical talent. This is a truly special film, so lovingly directed by Steven and featuring a touching and very personal screenplay by Steven and the always-brilliant Tony Kushner. I'm honored to have played a small part in the making of this film."
ABOUT THE FABELMANS
A deeply personal portrait of a 20th century American childhood, Steven Spielberg's The Fabelmans is a cinematic memory of the forces, and family, that shaped the filmmaker's life and career. A universal coming-of-age story about an isolated young man's pursuit of his dreams, the film is an exploration of love, artistic ambition, sacrifice and the moments of discovery that allow us to see the truth about ourselves, and our parents, with clarity and compassion.
Sammy Fabelman (Gabriel LaBelle; The Predator, American Gigolo series) is devoted to filmmaking, an interest that is celebrated and championed by his artistic mother, Mitzi (four-time Academy Award® nominee Michelle Williams). Sammy's successful, scientific father, Burt (Paul Dano; The Batman, There Will Be Blood), supports Sammy's work, but views it as an unserious hobby.
Over the years, Sammy has become the de facto documentarian of his family's adventures, as well as the director of his increasingly elaborate amateur film productions starring his sisters and friends. By 16, Sammy is both the primary observer and archivist of his family story, but when his family moves west, Sammy discovers a heartbreaking truth about his mother that will redefine their relationship and alter the future for himself and his entire family.
The Fabelmans also stars Seth Rogen (Steve Jobs, The Disaster Artist) as Bennie Loewy, Burt Fabelman's best friend and honorary "uncle" to the Fabelman kids, and Academy Award® nominee Judd Hirsch (Uncut Gems, Ordinary People) as Sammy's mesmerizing great uncle, Boris.
The ensemble cast includes Oscar® nominee Jeannie Berlin (The Heartbreak Kid, Inherent Vice) as Sammy's paternal grandmother, Hadassah Fabelman; Julia Butters (Once Upon a Time in Hollywood, 13 Hours) as Sammy's sister Reggie; Robin Bartlett (Moonstruck, Lean on Me) as Sammy's maternal grandmother Tina Schildkraut and Keeley Karsten (Hunters, Evil Lives Here) as Sammy's sister Natalie.
The Fabelmans is directed by Steven Spielberg and written by Spielberg and Pulitzer Prize-winning playwright Tony Kushner (Angels in America; Caroline, or Change), who has earned Oscar® nominations for his screenplays for Spielberg's Lincoln and Munich. The film is produced by three-time Oscar® nominee Kristie Macosko Krieger p.g.a. (West Side Story, The Post), Steven Spielberg p.g.a. and Tony Kushner p.g.a. The executive producers are Carla Raij (co-producer West Side Story, unit production manager The Irishman) and Josh McLaglen (Free Guy, Logan).
CONNECT WITH THE FABELMANS
WEBSITE | TRAILER | FACEBOOK | INSTAGRAM | TWITTER
###
Sony Music Masterworks comprises Masterworks, Sony Classical, Milan Records, XXIM Records and Masterworks Broadway imprints. For email updates and information please visit https://lnk.to/sonysoundtracks.
###
THE FABELMANS (2022)
Original Music Composed and Conducted by JOHN WILLIAMS
Piano solos performed by Joanne Pearce Martin
TRACK LIST
01. The Fabelmans (2:13)
(John Williams)
02. Mitzi's Dance (2:05)
(John Williams)
03. Sonatina in A Minor, Op. 88 No. 3: III. Allegro burlesco (1:51)
(Friedrich Kuhlau)
04. Midnight Call (2:23)
(John Williams)
05. Reverie (1:44)
(John Williams)
06. Mother and Son (2:28)
(John Williams)
07. Sonatina in C Major, Op. 36 No. 3: Spiritoso (1:58)
(Muzio Clementi)
08. Reflections (2:02)
(John Williams)
09. Concerto in D Minor, BWV 974: II. Adagio (3:46)
(Johann Sebastian Bach)
10. New House (2:28)
(John Williams)
11. The Letter (2:08)
(John Williams)
12. The Journey Begins (6:08)
Includes excerpt from Sonata No. 48 in C Major, HOB. XVI: 35: I. Allegro con brio
(John Williams/Joseph Haydn)
Total Time: 31:14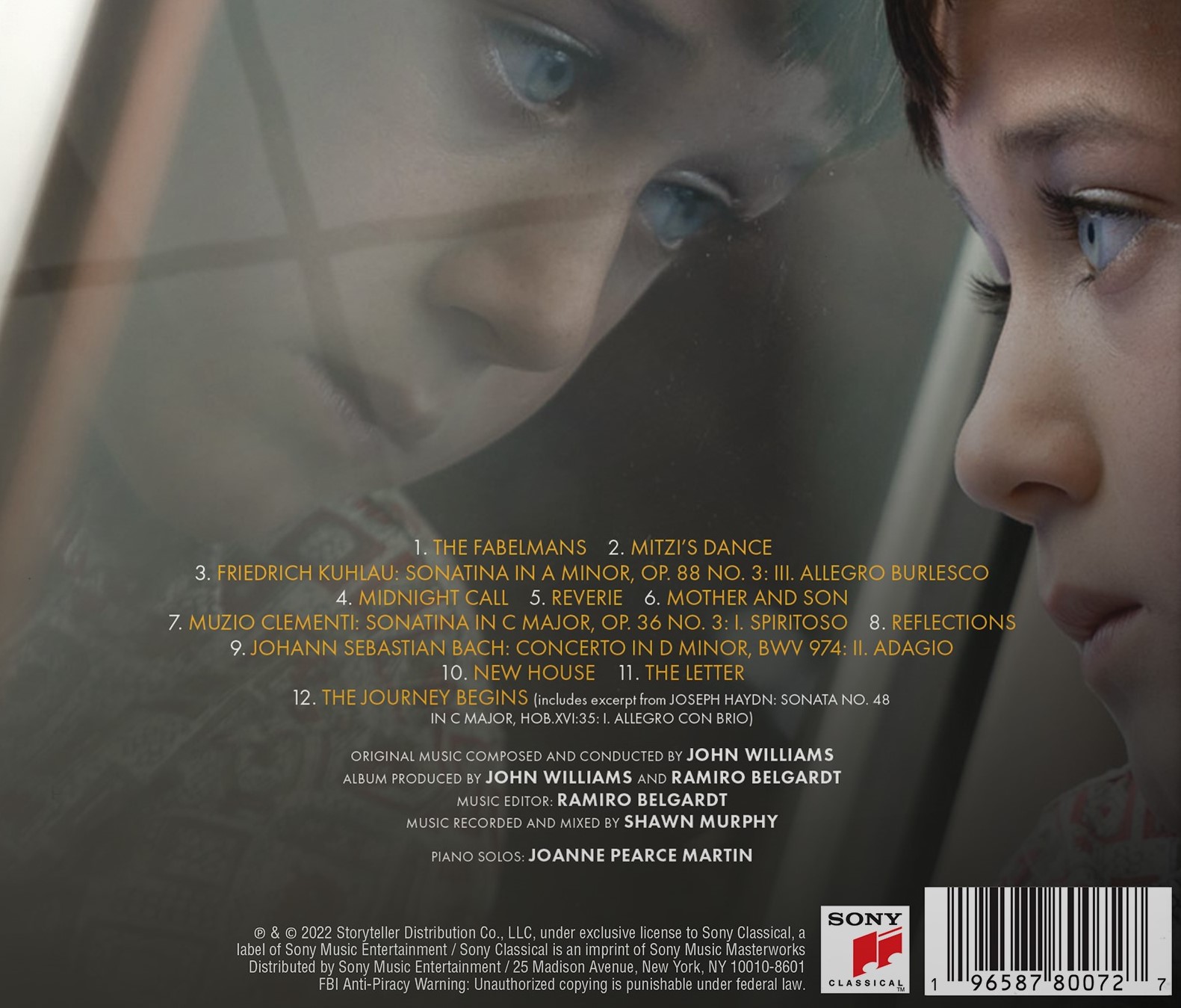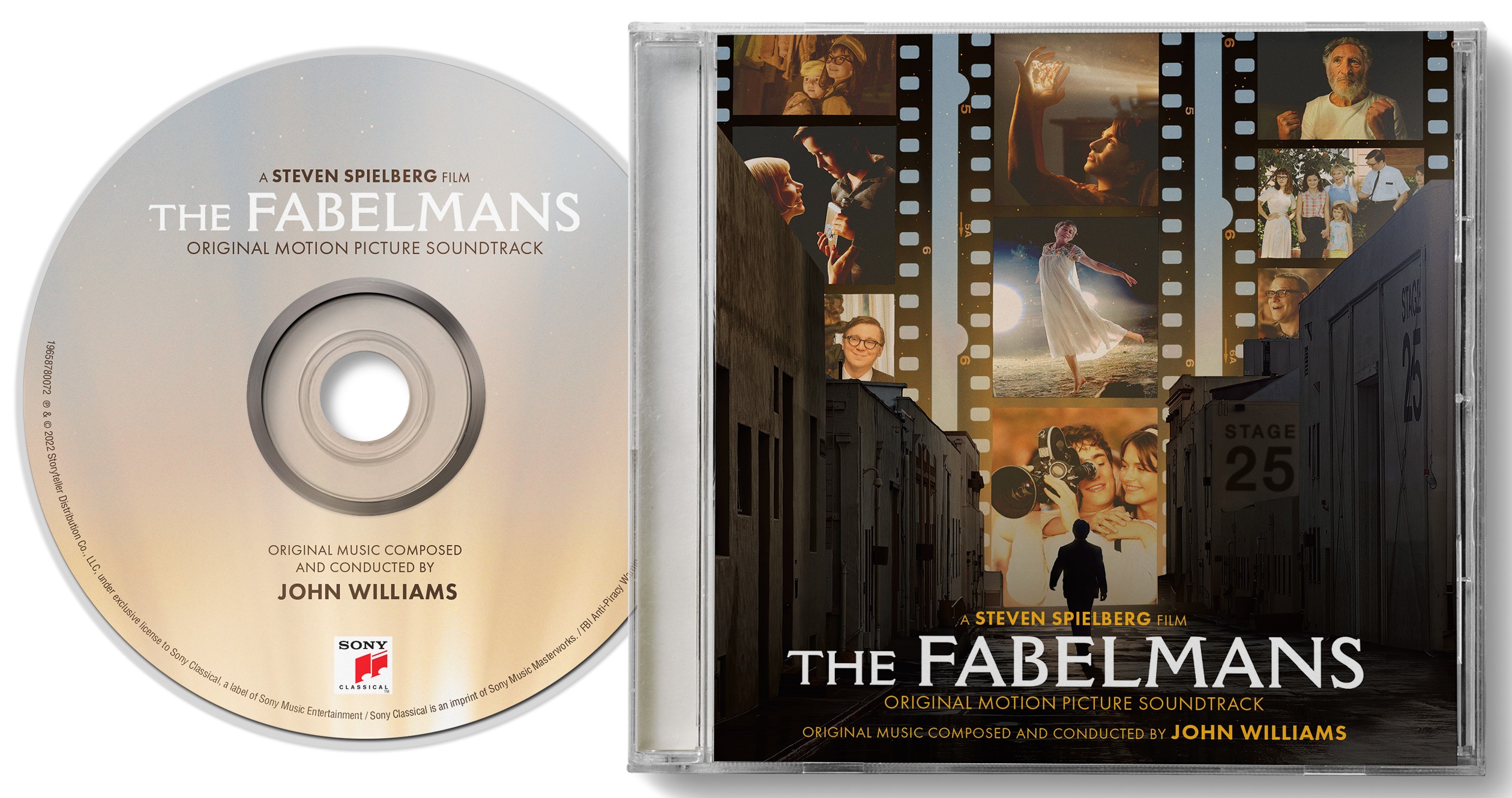 VIDEO:
The Fabelmans behind the scenes B-roll – Watch John Williams perform an excerpt from Brahms' 'Piano Concerto No. 2′ at the recording sessions for the score (5' into the video)