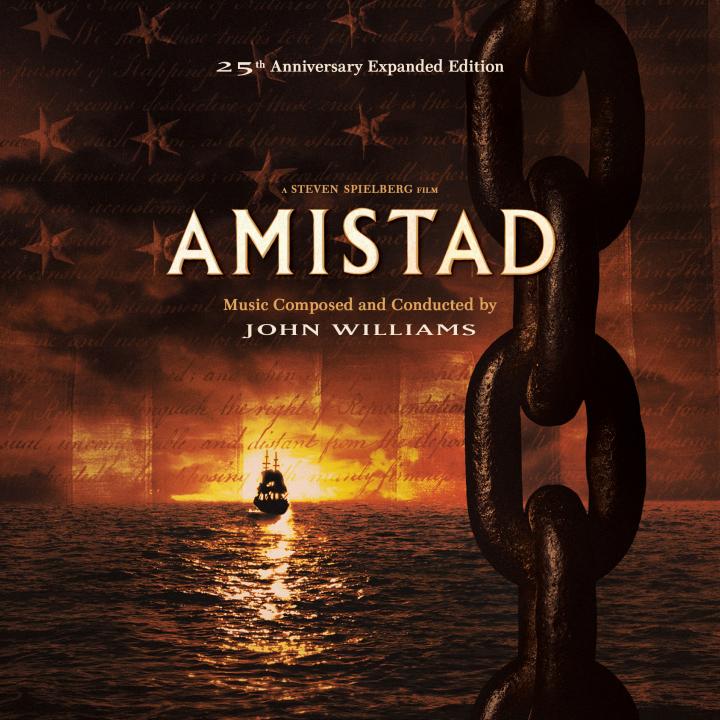 AMISTAD: 25th ANNIVERSARY EXPANDED LIMITED EDITION (2-CD SET)
LLLCD 1612
Music by John Williams
Limited Edition of 5000 Units
RETAIL PRICE: $29.98
NOW AVAILABLE AT LALALANDRECORDS.COM (INCLUDES SAMPLES)

In celebration of John Williams' 90th birthday and the 25th Anniversary of the acclaimed feature film AMISTAD, La-La Land Records, Paramount Pictures, DreamWorks Pictures and Geffen Records present AMISTAD, a special 2-CD remastered and expanded release of Academy Award-Winning composer John Williams' (E.T., SCHINDLER'S LIST, SAVING PRIVATE RYAN) original motion picture score to the renowned 1997 big-screen historical drama directed by Steven Spielberg and starring Morgan Freeman, Anthony Hopkins and Djimon Hounsou. Maestro Williams' masterwork encompasses the depths and heights of human experience, unleashing unforgettable moments of anguish and uplift as it supports the film's true chronicling of the 1839 African slave ship revolt abord the La Amistad and its subsequent landmark U.S. court case.
A breathtaking fusion of orchestral Americana with African percussion rhythms and vocal chanting, this important John Williams score finally gets a definitive release with this deluxe 2-CD presentation, meticulously produced, edited and mastered by Mike Matessino, in consultation with the composer and director.
Remastered in high resolution from studio master elements, Disc One and Disc Two of this program features the film Score Presentation, which expands the original 1997 soundtrack album by almost double its length, including cues not used in the film. The score presentation is followed on Disc Two by 50 minutes of bonus tracks including source music, concert arrangements, and alternates – some of which offer completely different approaches than the film versions. The exclusive, in-depth liner notes are by writer Jeff Bond, with the packaging's elegant design by Jim Titus. This is a limited edition release of 5000 units.
TRACK LISTING
SCORE PRESENTATION 1:45:04
1 Introduction And Retribution 4:40
2 July 4, 1839 4:04
3 Steering East 1:27
4 The Capture 5:00
5 Introducing John Quincy Adams 5:15
6 Meeting Of The Minds 3:58
7 Counsel Meets Client 1:36
8 The Ship Remembers 5:32
9 Visiting Adams 1:32
10 What Is Their Story? 3:44
11 Learning To Count 1:57
12 Tale Of The Lion's Tooth 5:48
13 The Capture Of Cinqué 4:03
14 The Crossing 4:41
15 Tales Of Horror 7:40
16 Discovering The Bible 5:05
17 Prisoners' Song 1:33
18 The Letter To Massachusetts 2:09
19 Cinqué's Legal Mind 2:26
20 African Violet 5:33
Disc One Time: 78:10
DISC 2
SCORE PRESENTATION CONT'D
1 Adams' Address To The Court 7:21
2 Adams' Summation (Film Version) 3:01
3 The Verdict 5:10
4 Liberation Of Lomboko: Dry Your Tears, Afrika 2:17
5 Going Home 2:05
6 Dry Your Tears, Afrika (Reprise) 3:37
7 The Long Road To Justice 3:19
ADDITIONAL MUSIC 49:53
8 Cinqué's Theme 4:13
9 Introduction (Alternate) 1:12
10 The Capture (Alternate) 5:02
11 Harbor Tavern 3:05
12 Cinqué's Theme (Solo Flute) 2:07
13 Meeting Of The Minds (Instrumental Version) 3:45
14 The Ship Remembers (Alternate) 5:26
15 What Is Their Story? (Alternate) 3:33
16 The Crossing (Alternate) 4:23
17 Tales Of Horror (Alternate Excerpt) 3:19
18 Discovering The Bible (Alternate) 5:11
19 Cinqué's Memories Of Home 2:39
20 Going Home (Alternate) 2:06
21 Dry Your Tears, Afrika (Alternate) 3:35
Disc Two Time: 76:50
Total 2-Disc Time: 2:35:00
This is a CD format release.