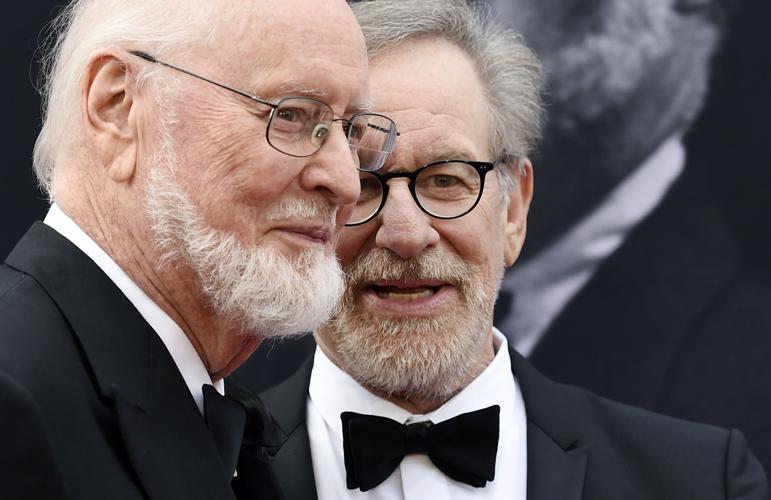 John Williams Documentary in the Works from Steven Spielberg, Imagine
John Williams, the legendary screen composer behind some of the most recognized movie themes of all time, is now the subject of a feature-length documentary, with his long-time collaborator Steven Spielberg among those spearheading the project.
Amblin Television, Imagine Documentaries and Nedland Media are in the very early stages of production on the documentary that is being directed by Laurent Bouzereau. Bouzereau is a long-time director of "making of" and behind-the-scenes featurettes, producing a several hundred of them since the 1990s, including dozens for Spielberg movies.
Spielberg is executive producing along with Brian Grazer, Ron Howard, Darryl Frank, Justin Falvey, Justin Wilkes, Sara Bernstein and Meredith Kaulfers.
Williams is the most recognized and accomplished composer alive and perhaps the most influential in movie history, writing scores for such films as Star Wars, Raiders of the Lost Ark, Superman, Jaws and Harry Potter. And it's his unique 50-year relationship with Spielberg that is remarkable in an industry that resists longevity and eager to chase the next big (and usually young) thing.
Williams, now 90, was expected to retire after finishing Indiana Jones and the Dial of Destiny, being directed by James Mangold. But at a talk with Spielberg on stage earlier this month, Williams surprised his friend saying that he no longer planned on retiring after the next Indiana Jones film. A visibly emotional Spielberg remarked he better figure out what film he was doing next, then.
Spielberg went on to sum up their 50-year relationship as like an ideal marriage. "I don't think we've ever had a disagreement," he said, adding with a chuckle, "I mean, what am I going to do? Sit down and write the music myself?"
Full article at The Hollywood Reporter
Spielberg on Making a Film about John Williams:
During a recent promotional interview for The Fabelmans, director Steven Spielberg revealed to Virgin Radio that he's "making a documentary on John Williams' life":
Q: "You've told the story of your life. Is there anyone in your career that you've worked with whose story you'd like to tell next? Maybe even John Williams' story?"
A: "We're actually making a documentary on John Williams' life. So that's gonna be in the documentary form. But, you know, I'm very eclectic. When you look back at all my films, except for the sequels, they're all pretty different one from the next. And that really keeps me interested. I couldn't make the same kind of movies stylistically over and over again. If I had to do that, I'd go into radio."