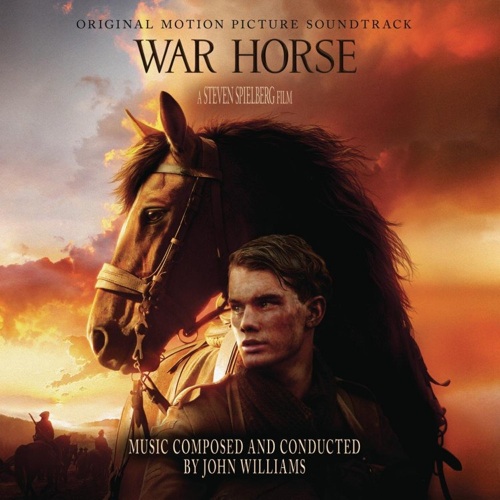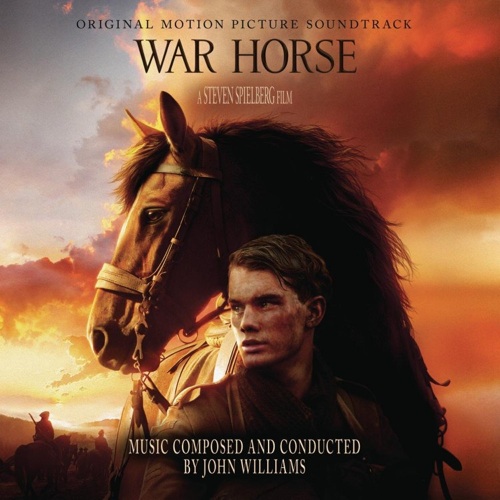 War Horse: First Impressions
by Jason LeBlanc
What a terrific year for film score fans!  The year has already brought us many great new scores (Super 8, Priest, Captain America, and The Adventures of Tintin), and for fans of John Williams in particular, many great catalog releases (Not With My Wife You Don't, 1941, Midway, and Nightwatch).  And now we have another new Williams score to end the year – War Horse, the 24th big screen collaboration between Steven Spielberg and John Williams.
While The Adventures of Tintin is a lighthearted adventure romp with a score that bounces from idea to idea throughout – comedy, mystery, action/adventure, exotic locations, villainy, and friendship – War Horse is a dramatic film, and the score is likewise more focused and direct in its ideas.  The two different approaches seems perfectly suited to the films they score from what I can tell (having not seen either), and the fact that one man wrote both around the same time is a remarkable feat – and that both films and scores come out around the same time is a gift to us all.
The War Horse Original Soundtrack is absolutely wonderful from beginning to end.  I couldn't even tell you what my favorite tracks are, as each time through I have new favorites!  Likewise, I couldn't tell you what my favorite theme is, because they are all outstanding.  In between the themes, it seems like every track have fantastic memorable melodies that are good enough to be a full theme in another score, except they don't turn up again.  Really, this isn't a score about individual tracks or moments – The entire CD is fantastic from first note to last.
The score is both classic John Williams and completely new and fresh John Williams at the same time.  What I mean by that is, there is not a single moment that reminds me of any particular existing score, but the entire score IS John Williams.  It's a JOHN WILLIAMS SCORE through and through – you feel it in every note throughout.   It's somehow both the best of Williams and a new John Williams at the same time… a remarkable achievement.
As I haven't seen the film and have stayed away from learning about the plot (having watched each trailer only once), what follows is a completely spoiler-free preview of what the CD sounds like:
The beginning of the album (tracks 1-6) is positive in nature….  We get Celtic atmosphere-setting music, bouncing playful music giving an air of lighthearted comedic moments, suspenseful moments of anticipation, and delightful flute and oboe solos.   But most of all we get warm, tender music exemplifying bonding and friendship that builds throughout the section, climaxing in way only Williams can do in track 6, a highlight of the album.
The middle of album (tracks 7-13) offers a strong contrast to the beginning.  The orchestration gets much more sparse as there is an air of separation, desperation, and desertion.  Also in this section is war music, including action settings as well as tragic ones.  Just about all the themes from the beginning of the album are gone from this section of the album, further adding to the feeling of estrangement and unfriendly times.
The end of the album (tracks 14-16) mark a return to the themes from the beginning and offer some of the most beautiful music John Williams has ever composed.  The returning themes seem somehow fuller and more enriched than before, as if the period apart from them has made them stronger.  Track 15 in particular features a marvelous piano solo that a highlight of the album and film scoring in general.  Track 16 is a wonderful suite of themes from the score, perfectly summing up the warmer aspects of the score in an 8 minute suite that never once outstays its welcome or feels redundant.
War Horse is a phenomenal score that has held up to repeated listens.  I have simply run out of adjectives to describe how good it is and how it makes me feel.  Every time the CD ends I immediately want to start it again.  This is film composing at its absolute finest.
Soundclips for the War Horse soundtrack can be heard on our War Horse Soundtrack page.
Jason LeBlanc can be reached in our forums.