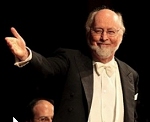 Reviews and pictures from the John Williams concert in Columbus on September 26, 2007
CONCERT PROGRAM
The Cowboys Overture

Excerpts from Close Encounters of the Third Kind

Suite from Harry Potter

Adventures on Earth from E.T. The Extra Terrestrial

-Intermission-

Monsters, Beauties and Heroes

Opening Chase from Indiana Jones and the Last Crusade

Theme from Schindler's List

Suite from Star Wars

Sayuri's Theme from Memoirs of a Geisha

The Olympic Spirit 1988 Summer Olympics

The Raiders' March from Raiders of the Lost Ark
Comments by Robert D. Mahan:
"Monsters, Beauties and Heroes" featured a screen with various movie villains, beauties and heroes with arrangements of various pieces of music. Jaws and Superman themes were all too briefly played here, among others.
The Opening Chase from Indiana Jones and the Last Crusade segment featured Mr. Williams showing us the clip from the film first without music, hilariously describing the aspects of scoring a piece of film and then, of course, the same clip was played with the music.
The concert was excellent, in my opinion.