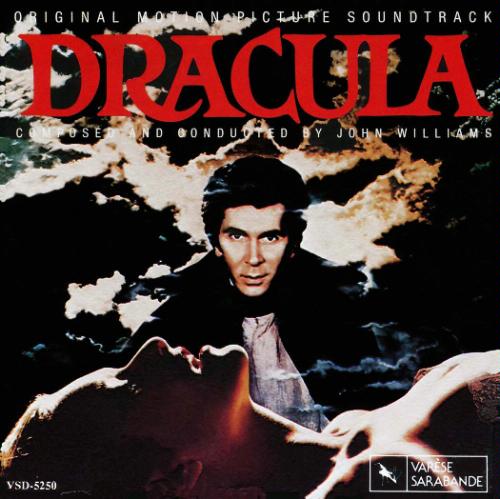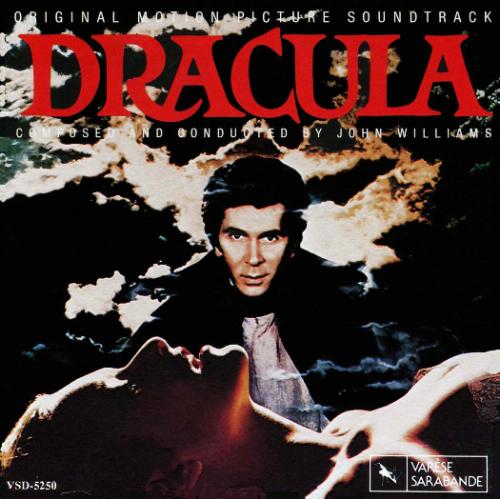 Review by Ken S.
I just watched John Badham's 1979 Dracula for the umpteenth time – and actually, finally I was able to enjoy the adaptation and not compare its stupidity to the original masterpiece by Bram Stoker… But I also watched the movie with my ears more open than ever before, and I simply can't help but wonder why John Williams himself produced such a poor album of such an excellent score. The fans of The Fury score would be indeed surprised to hear Williams' Dracula in its complete, authentic form – because even I myself became this evening astonished of how much great "Fury-astic" music this Dracula score includes.
Another quite amazing thing about the actual score is that the main theme, which seems to be reprised again and again on the MCA "soundtrack" album, is not reprised in such dull ways on the actual score. As I have defended this Williams score before, I say it again that there are amazing amount of different variations on the main theme which do not appear on the MCA "soundtrack" – plus there is an incredible amount of tiny cues and more significant themes, some aggressive, some merely hypnotic, and almost all of them are absent from the album. Most peculiar is that these other significant themes get only one presentation on the album while the main theme is reprised over and over again…
So, the result is that John Williams' rerecorded Dracula album is actually the opposite of The Fury rerecording, being a rather poor excuse for a representation of all the glorious music in the film itself (- it should be remembered that the original score of Dracula was indeed performed by The London Symphony Orchestra, while The Fury wasn't).
Williams' Dracula really deserves to be released as an original and complete score on CD, with a nice remastered sound.
For anyone who's interested, here is a sequencing of the complete Williams Dracula score, (most titles by myself). You can rediscover some of the actual power of the score by resequencing the MCA album tracks (Varese rerelease) as indicated…
01. Main Title & Storm Sequence (Track 1)
02. Meeting in the Cave (Dracula & Mina) (Track 7)
03. Bat Attack (Part 1) (Track 8a)
04. Dracula Introduction
05. Source music: "La Cumparsita" (composed by Gerardo Hernan Matos Rodriguez)
06. For Mina (1st variation)
07. Source music: "Tales from the Vienna Woods" (composed by Johann Strauss II – opus 325)
08. Wallcrawler I / Dracula & Mina
09. Dracula & Renfield / Morning Sun (a most happy theme in the great Williams tradition)
10. For Mina (2nd variation)
11. Drive to Carfax Abbey (happy theme reprise)
12. Dracula & Harker / Harker Sees the Bat
13. For Mina (Final Version) (Track 9)
14. Lucy's Arrival at Carfax Abbey
15. The Dinner (source music): Sicilienne from "Pelleas et Melisande" suite (composed by Gabriel Faure – opus 80)
16. Mina Through the Window (Abducting Annie's Child)
17. Dracula's Kiss / The Book
18. Dracula's Horse / Visiting Mina's Grave
19. The White Horse
20. Night Journeys (Intro) / Love Scene (Tracks 5 & 6)
21. Encountering the Undead Mina (Bat Attack Part 2) (Track 8b)
22. Van Helsing Encounters Dracula
23. A Graveyard Operation / Lucy's Escape
24. To Carfax Abbey / Encountering Dracula
25. Jonathan & Lucy (The Night Visitor) (Track 2)
26. Wolf Approaches / Wallcrawler II
27. The Abduction of Lucy (the movie version features a chilling chorus) (Track 4)
28. To Scarborough (Track 3)
29. Dracula's Death (Track 10)
30. End Titles (Track 11)
…It would be marvelous to hear all this on a remastered CD !
Chronological CD sequence:
1 – 7 – 8 – 9 – 5 – 6 – 2 – 4 – 3 – 10 – 11
(Additional information by 'Damien II')