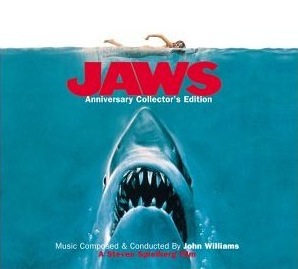 Review by Maurizio Caschetto
This is the original recording Williams made for the movie. The original Jaws CD was a re-recording, suite-oriented album with some great arrangements made for a separate, coherent listening experience.
Considering this fact, I can say that this new album is absolutely fantastic and enjoying as the old one. It's a great listening experience. If you're accostumed with the movie, when you will listen to this new CD you will relive frame by frame, note by note the magnificent Spielberg film. It has a great "narrative" feel, almost like a symphonic poem.
The playing and the tempos of most of the cues are different, in many ways, from the original 1975 album presentation. For example, 'The Shark Cage Fugue' (i.e.: 'Preparing the Cage') is considerably shorter. The same for 'Out of Sea' and 'Promenade' (now retitled 'Montage'). These are the only cues that, for me, are inferior in comparison with their great counterpart in the original album.
There are even cues not used in the movie itself. Particularly impressive is 'Shark Attack'. A brutal, energetic piece, a variation on the well-known shark motif. Wow.
This new Jaws CD is revelatory. It shines and irradiates this classic score with new light. I've been so accostumed with the original album in all these years that listening to this CD is, at first, a little bit strange but when you're in, it's great. Wht is considerably impressive is how ferocious and energic is Williams' conducting style. This is aggressive, uncompromised Williams. The orchestration is spare but really thick. You can hear every nuance Williams gave to his music. There are a lot of new things now you can hear. Pay particular attention to 'Father and Son', one of the most beautiful unreleased pieces of this new CD.
The track listing isn't in chronological order. Some of the cues have been combined in the same track, so you have lenghtier timings.
Jaws is one of my favorite Williams scores. This new CD is really good. It is a great listening experience. For those accostumed with the film and the music it will be a thrilling listen.
Chronological CD sequence:
1 – 2 – 3 – 8 – 6 – 7 – 9 – 10 – 11 – 12 – 13 – 14 – 15 – 16 – 17 – 4 – 18 – 5 – 19 – 20