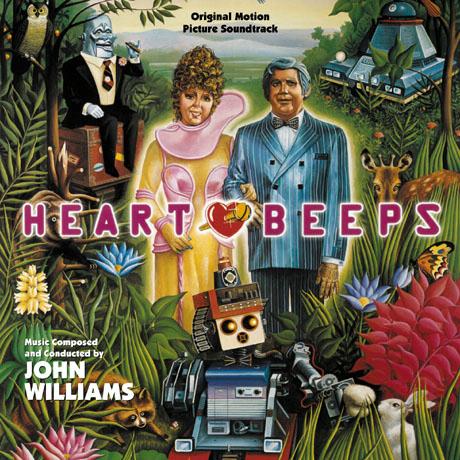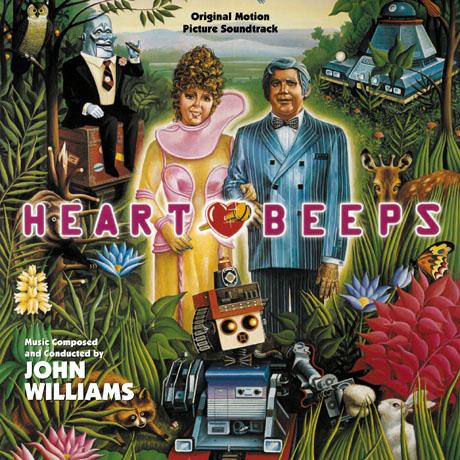 Review by Amer Zahid
One of the great scores to come from composer John Williams from his golden writing marathon is from the late 1970's to mid 1980s' during which he rendered such classics as The Star Wars films, Close Encounters, Superman, Raiders and E.T. In between he scored a "small" film called Heartbeeps during 1981 for Universal, which unfortunately, sank and stank at the Box Office and was blasted into oblivion by bigger and better films of its time. These unfortunate conditions negated the chances of Williams highly thematic and semi orchestral score as a soundtrack album. Williams involvement to this film was a by product of his previous collaboration with producer Julia Philips who was the producer for Close Encounters of the Third Kind. While, the film bombed, it was a shame that the score did not get the respect it deserves. Until just recently, that is!
Finally on 2001, Varèse Sarabande had gone ahead and resurrected this small and almost forgotten gem as part of their revitalized Varèse Sarabande CD Club. Indeed, after some 20 years of the films release the CD finally addresses the missing link in John Williams post Star Wars discography! Heartbeeps is an odd film about two domestic robots Val & Aqua meeting and falling in love and going on an adventure spree. It's the same old fashioned kitsch one would expect from a Disney production aimed at the 'kids-only' crowd which was freshly ignited by the recent success of George Lucas' Star Wars saga. The film stars Andy Kaufman and Bernadette Peters in this fish out of water story. In addition to its historical importance, this score is surely to surprise (or shock) The full fledge symphonic loving John Williams fans as it's an instant departure from that category. The score is heavily orchestrated with electronics and synthesizers and yet manages to infuse the orchestra well. Kudos to Williams orchestrator Herbert Spencer for this unusual feat! Here we have John Williams trying to brave new frontiers in full Jerry Goldsmith mode, and he does an admirable job!
The score has wonderful lush themes and many highlights which will keep you smiling. Don't forget, this was written during Williams' golden period so there are great number of distinct motives and characterization. If you have to compare this score to Williams' other robot film from the 21st century then one should note that this is just the opposite of what he did with Spielberg's' A.I. The themes are obnoxiously "cute" and very lyrical! There is a healthy use of chorus (ala – the awe inspiring wonderment scenes of "Close Encounters of the Third Kind") in "Thunderstorm" supported by a french horn. "Beautiful, Isn't it" introduces an almost ethereal and shimmering ambiance like texture – an avant garde approach recalling the serenity of "Fortress of Solitude"- from Superman and accompanies when the two robots are admiring and contemplating the sunset.
In "Sneaking Out", we are introduced to a mischief motive supported by sneaking and thumping pizzicato with a rather odd 1980's video game like odd sound effects. But, spirited woodwinds and wonderful soaring melody – The main theme on synthesizer takes the music on a more brighter path with a futuristic disco beat in the background which doesn't ruin the setting at all. While, "Crimebuster" is a wonderful dramatic but menacing theme for the evil robot. It is almost like a march in the same vein as Lex Luthor's theme from Superman. The music reaches an orchestral crescendo with the brass giving the orchestra a nice work out. The theme is reprised numerous times when the Crimebuster robot is in pursuit of the missing robots and it almost works in the same warning manner as the Jaws theme was for the shark.
The "Love Theme" is a stirring romantic piece of music scored exclusively for winds and strings and is the big highlight of the score. It is modulated in many of the tracks and is a warm piece of music and instantly likable, warm and noble. For "Phil is Born", there are playful jaunty woodwinds and strings giving way to an 'E.Tesque' like thematic development which is actually more closer to Williams cheerful music from Jaws 2! The same theme is given a fresh appeal in "Come Phil" and in "The Junkyard", and the theme for the robot' offspring is a mini interlude full of frolic and fun. Interestingly, for a fun filled film there really isn't much hyper active mickey mousing techniques as one would expect in a typical Williams score, but, these strong themes do help develop the emotional connection of these robots.
The "End Credits" being a ravish presentation of all the themes of the score, specially the "love theme", which are performed so lushly on cellos. It's a great highlight and I strongly recommend listening to this track first than anything else – It will make you smile! The infusion of electronics imitating the pizzicato is an enjoyable gimmick to look out for. This track is the best track and it's only here that the "Main Theme" gets a full rendition.
Despite the score's limited orchestral palette and dated sound the score has a distinct Williams 80's sound to it and makes for a wonderful listen throughout. The four themes are given various lush presentation and modulations that keep the music fresh. So, no matter how many times you listen to it you keep coming back to the music. It grows on you and lingers on way after it's all over.
Thanks to Robert Townsend for preserving this often demanded score and giving it a brand new life. The liner notes are very well written and detail the background of the film and story. Unfortunately, the CD is printed as a "Limited Collector's Edition of 3000 copies", so, it is most likely that it will sell out soon. Therefore, it is highly recommended especially for John Williams completists and for those who find modern day film scores lacking of 'melodic' material. This one is a small gem of a score and worth a look at, for the sake of old nostalgic Williams fun.