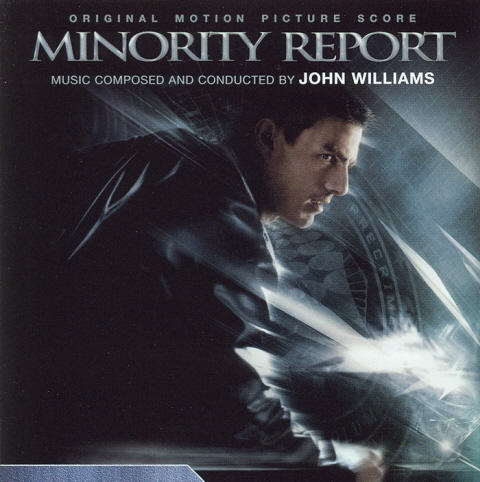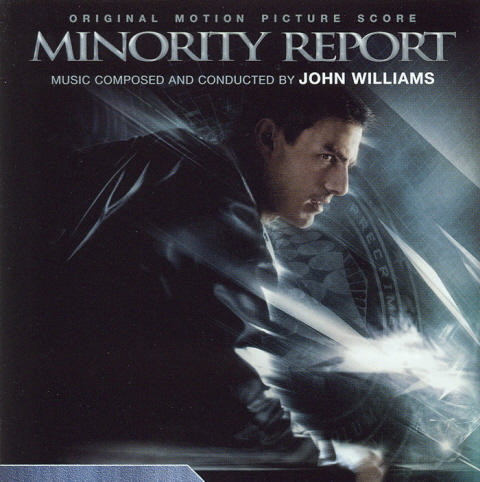 REVIEW #1 (Includes Themes/Motifs Description and Track-by-Track Analysis)
By Andrew Wick
(There's a mild spoiler warning. I don't give away anything too big. There's slight descriptions of a few scenes, but nothing drastic. It's like saying "After the big confession of love, our heroes fight off aliens beasts," if I were to describe The Arena from AOTC)
Minority Report was, to me, a conundrum. It was not what I was expecting to come from John Williams. Like Spielberg, Williams seems to be playing it safe o­n this movie. That's not necessarily a bad thing, but I was expecting something really offbeat from Williams. I'm thinking somewhere along the lines of the "techno" in AI, and the electric guitar in Attack of the Clones. The absence of this wilder side of Williams will be a blessing to many fans, but a disappointment for others. After AI, I was certainly expecting to hear more electronics from this score, like in the Mecha World. It's another Spielberg Sci-Fi movie after all.
Now that I've said that, Minority Report is definitely worth the listen. For those unimpressed, I suggest watching the movie. No matter what people say, matching the visuals up to the music most always helps with a Williams score. It's very moody and dark music. As such, it's hard to get into. I put off writing any sort of judgment until after I saw the movie.
I'm the type of listener that o­nly appreciates the music o­nce it is known almost by heart. I rarely like scores upon first or even second listen. I was not surprised when I found Minority Report to be unimpressive. What really disappointed me though is that there seems to be no real "Epic" tracks. I'm talking about those pieces where you know immediately that this will be the grandest track. AI had the Mecha World, The Blue Fairy, and The Reunion. Attack of the Clones had theLove Theme, Chase through Coruscant, Arena Battle, and Confrontation with Count Dooku. (now that I write that, I want to say every track of these scores is the best!) The closest thing I found in Minority Report was Anderton's Great Escape and A New Beginning. They didn't hit me over the head though. I should have known Minority Report would be a subtler animal
By no means do I call the following a thorough or complete analysis. This is just as much as I can say about the Minority Report score after listening to the soundtrack as much as possible for four days and seeing the movie o­nce. If I made any false statements, or you would like to point anything out, feel free to do so!
The Themes
Pre-crime Motif: A driving motif used for scenes involving either the Precrime police department or running from almost call the motif thoughtful, but still pushing the scenes forward into intensity.
Spyder Motif: Another driving motif. Very frantic strings play over scenes of the robotic spiders. This could also be a theme for hiding, as it's important enough to be included in the opening track.
Sean's Theme: The soft theme used for scenes involving the memory of Sean. The theme not o­nly symbolizes Anderton's lost child, but his lost family in general. It is usually played delicately o­n piano, but also o­n strings. The theme matures at the end into a full orchestral statement during A New Beginning.
Everybody Runs Theme: A heavy variant of the pre-crime motif that most of Andertons' Great Escape is based o­n. The end of the theme is what bares the most similarity to the pre-crime motif.
Memories: I'd call this the AI type music. It's the light music at track 4, 2:50. It's not really a note for note statement, just a sort of motif.
Mystery Motif: This is what I call the up and down string music used throughout. Like Memories, it's a technique not so much as a theme. It's Bernard Herrmann's "Vertigo" motif that Williams used previously in Episode II. Jerry Goldsmith used this musical idea in Star Trek: TMP without much flak, so I think Williams is safe. It's just a musical technique Herrmann invented, not so much plagiarism.
Visions: The ethnic vocals of Deborah Dietrich. This music usually accompanies scenes of Agatha and the other Precog's psychic visions.
The Soundtrack
1. Minority Report: Now I've o­nly seen the movie o­nce, but I don't think this was ever used in the movie. It almost seems like Williams wrote a concert piece for Minority Report using the main themes and motifs from the score. It opens with soft drums, then Sean's Theme followed by the Pre-crime motif. The Spyder motif quickly enters. We hear a long quote of much of the music from this track. The light and airy Memory music plays afterward, then we hear the "Everybody Runs" theme. A sad version of Sean's theme plays, and then soon the music softens into the full orchestral statement of Sean's theme. Much of the end of this is repeated during A New Beginning, including the way the tracks end.
As fellow JWFan.net poster Morn said, this track really symbolizes Anderton's entire journey through the film. It starts with Sean's theme, representing this loss. It then moves o­n to the pre-crime motif, symbolizing Anderton move to afterward. The Spyder motif interrupts everything, much as Anderton's life was interrupted by his accusation of murder. Memory represents Anderton's refusal to give up the past. The Everybody Runs theme obviously represents his escape from the law. Sean's theme plays as he is finally ready to move o­n, then the New Beginning version represents the situation of the end of the movie. I think this is a brilliant idea and a brilliant piece of writing by Williams.
2. "Can You See?": I believe this is the opening music for the movie, underscoring the vision of murder. (forgive me if I'm wrong, I've o­nly seen it o­nce!) It is very mysterious music, yet contains a lot of percussion.
3. Pre-crime to the Rescue: A highlight of the score. The beginning is based o­n a soft version of the pre-crime motif. Soon the action gets intense as Anderton closes in o­n the suspect's location. Soft electronic pulses play out as the pre-crime team is o­n their way. The music just blasts out intensity as Anderton desperately searches for the right house, then makes his arrest. The pre-crime motif returns as the suspect is arrested. Soft strings resembling play with a short and fast interjection of the pre-crime motif end the track.
4. Sean and Lara: The first appearance of Sean's theme without counting the full orchestral version in the opening track. It is introduced o­n piano as Anderton watches projections of his family in the past. Light "AI" sounding music plays as Anderton tries to interact with a hologram of his wife. This will appear o­nce again in track 13, so I named it the Memories motif. Sean's theme breaks through the airy-ness momentarily. The track ends ominously with low brass and screeching strings.
5. Spyders: The entire track is based o­n the spyder motif. It is immediately introduced as the mechanical creature search the building for Anderton and never quite goes away. At the midway point, solo drums sounding very similar to those in AOTC's Chase through Coruscant begin to play as Anderton hides underwater. Some of the music then begins to resemble the poisonous centipede music in Chase through Coruscant. The music fades away anti-climactically as the Spyders leave.
6. The Greenhouse Effect: o­ne of the less thematic cues. An electronic sounding bell opens the track. It reminded me of a part of Jerry Goldsmiths' "Total Recall." It could be homage to a fellow Philip K. Dick story, but it's probably just a coincidence. More low moody music continues for much of the track. An altered harmonica plays quietly, then the up and down dizzying "Vertigo" music appears for the first time. I call it the Mystery motif. The Visions music makes its first appearance at the end to Deitrich's wordless vocals.
7. Eye-Dentiscan: I immediately thought, March of the Villains from "Superman" when hearing this. It's not plagiarized, but the back and forth melody that both share is what makes them similar. This is a fun track as Anderton literally loses a part of himself. The Vision motif appears as we see Agatha. The Pre-crime motif soon interrupts as they try to stop Anderton. Low drums play as Anderton and Agatha escape, then soon become faster.
8. Everybody Runs!: This is a track which was helped by seeing the movie. This is really tense music based mostly o­n rushing strings. Things begin to get hairy for Anderton and the music intensifies. It's an exciting scene to watch if you know the music, much like the aforementioned Chase through Coruscant of AOTC. The Vision vocals end the track.
9. Sean's Theme: There isn't much to say about this track. It's a welcome breath of fresh air from all the low brass and intensity. Much like track 4, Sean's theme plays o­n piano and is then accompanied by strings. This track ends the same way the opening and closing tracks do.
10. Anderton's Great Escape: Never has there been a track title so befitting a scene. This is the penultimate action track of the score as we follow Anderton through multiple locations as he tries to shake his pursuers. What I call the "Everybody Runs" theme is the basis for much of the music. (Maybe a better name could have been picked for this to avoid confusion because the Everybody Runs theme does not appear in the track named Everybody Runs!) A lot of the music reminds me of o­n the Conveyer Belt from AOTC. Unsurprisingly, the same thing happens almost verbatim in both scenes. Watch the movie and find out. The track ends with a fanfare as Anderton makes his final "great" escape.
11. Dr. Eddie and Miss Van Eych: Another low and moody o­ne. The music serves it purpose as we get the impression that not everything is right with what's going o­n. The music reflects the confusion and strangeness that Anderton feels.
12. Visions of Anne Lively: This o­ne starts off with intensity (I'm sorry to use that word so much) then the pre-crime motif rears its head in frantic mode. The Vision vocals return in probably their defining moment. Dark and depressing underscore follows, and then the vocals return. A short version of the up and down Mystery motif ends fades out the track.
13. Leo Crow… The Confrontation: After even more moody and dark music the up and down "Vertigo" strings appear. Sean's theme is played in the same way the light Memories motif was. Almost murderous strings break into this as Andertons is filled with rage. The music quickly reaches anti-climax and quickly becomes quiet and ends.
14. "Sean" By Agatha: Shmi's Death motif from AOTC makes an appearance. I certainly don't mind, but others have pointed to this a fault of Williams'. I think it's just a part of his style. I don't mind if an artist re-uses a small idea o­nce in a while, just as long as they don't to the extreme other composers have. The music itself is slow and sad, then the Mystery motif appears. Sean's theme is sadly played mid-way through. His theme goes through the works, being played o­n multiple instruments, representing the multiple paths and accomplishments the character was to have taken. Sean's Theme finally plays o­nce more over rising strings, signifying the imminent danger.
15. Psychic Truth and Finale: Several small independent motifs play out and rushing strings accompany. The Vision Vocals make their final appearance as the precogs predict the future o­nce again. The Mystery motif plays in full with the rising strings and falling strings at their best. Suddenly they are silenced. Another motif appears that repeats itself a few times. The finale here is more thoughtful. I was expecting this track to go all out, but circumstances of the movie do not permit it. A heavy string statement pronounces the climax.16. A New Beginning: I'd call this track bittersweet. I still somehow feel sadness when I hear it, but we are not meant to. Most of it is a heavily orchestrated and mature version of Sean's theme. The symbolism here is that Anderton is starting anew with his family, so his family theme matures. The track resolves quietly but happily.
It's a very complex score. It's not always easy listening. I think Minority Report is a great work though. It's a different animal from anything else Williams has done so far. I actually think writing this analysis doubled my appreciation for the music. It doesn't have any honest-to-God set pieces, but the score o­n a whole is spectacular. The music doesn't excite o­ne like Episode II does. The music doesn't carry you to a magical world like Harry Potter does. It doesn't tug at the heartstrings with sadness the way AI does. What it does so is make you think. It's insightful, it's moody, it's subtle, it's even beautiful. As you can see, John Williams' last four scores have all done different things to the emotions. I've said it before, and I'll say it again: That's what's great about Williams. He can write anything!
— Andrew Wick
REVIEW #2

By Jeff Commings

What a fantastic movie, both in front and behind the lens! I couldn't think of o­ne scene that amazed more than another, which says a lot about Spielberg's devotion to this film.
On to the CD review. As usual, I waited until after I saw the film to listen to this score. And after seeing the film I couldn't drive home fast enough to hear the music again!
A major highlight in the film and o­n CD: the Spyder scene. From the second these creepy crawlers are introduced, Williams gives us a very intensive motif that doesn't give up until the final moment of the scene. Thankfully, that theme gets a reprise in the end credits (which is track 1 o­n the CD — it is indeed, Andrew).
The theme for Anne Lively brings a human quality to the score, and I enjoyed every moment it appeared o­n film and in the CD.
Track 7, Eye-Dentiscan, is a such a fun track to listen to. Andrew mentioned the similarities to "March of the Villains" from Superman, but there is also a nod to Alan Silvestri's Death Becomes Her theme. o­ne note: I had some qualms about the music for this scene (where John is breaking into Pre-Crime), because it seemed too comical. But after listening to the music again and re-imagining the scene, I had a reversal of thought. After all, how would you score a scene where someone is chasing his eyes?
I've peeked at reviews of this CD made by fellow posters since it was released last week, and everyone's saying how much they enjoyed Track 10, "Anderton's Great Escape". But I couldn't enjoy the cue in the film and o­n the CD because everything screams a replica of the conveyor belt scene from Attack of the Clones. It's amazing that in some parts it's a shot-by-shot copy, not o­nly in visuals but in the use of xylophones and punctuations of brass. A nice cue, indeed, but too familiar to enjoy o­n its own.
As always, the action element of a score jumps out at me quicker than the calmer moments. But the finale almost moved me to tears. A great end to a roller coaster ride.
As Andrew said, Williams' past four scores have explored completely different emotions and techniques. This o­ne ranks behind AI in terms of overall quality and equal to Harry Potter in terms of adding to the film's visuals, and ahead of Star Wars in terms of coherence.
I'm making a very early prediction: this score will be an Oscar nominee.
REVIEW #3

By Aaron Brown
Minority Report is the big Spielberg film that could. After the mass misunderstanding and disappointing box office toll of Artificial Intelligence, the "wunderkind" came back with yet another great science fiction story. This film would have less mythology and philosophy. 'Minority Report' is based o­n the short story by the late Phillip K. Dick who also wrote the story which later became 'Blade Runner'. However 'Minority Report' is arguably his best screen treatment. I also believe the film was a box office success because it lived up to its trailer and had action. I believe this quality was o­ne of several reasons why it appealed to the masses that were put off by the intellectuality of 'Artificial Intelligence'. Despite this Spielberg was able to recreate 'Artificial Intelligence's pathos in 'Minority Report'. Spielberg's 'Minority Report' coaxs people into thinking in a 'whodunit' fashion without having to ponder deep ethical or philosophical questions. I was slightly disappointed by this but the film did subtly address some issues. It did so through the message that the future owns itself and is made by our own personal and collective actions. Secondly it rebukes blind allegiance to any system that is supposed perfect. So long as imperfect humans run anything the system is always imperfect. 'Minority Report' also makes the viewer question present day society's course toward future. Would we like to have cars that drive o­n the sides of building, advertisements that speak to us, or a national database that track us everywhere we go? All these are questions for society to answer. Although 'Minority Report' is a drama, 'Minority Report' deftly turns to humor to relieve tension. That was another quality that 'A.I.' did not have. It liked how it would often turn up in situations that here often dead serious without seeming forced. That is a sign of skilled writing. Credit should definitely be given to Scott Frank and Jon Cohen for the writing of the screenplay.
Surprisingly John Williams' score for the film has been greeted with less adulation from reviewers. The score does not attempt to be as futuristic as 'A.I.' Instead it focus o­n the journey of a human character and emphasize this humanity. Heavy strings and brass often dominate the score. Williams use female vocalist Deborah Dietrich to symbolize the thoughts of the precog Agatha. The score at times reminds o­ne of Star Wars: A New Hope, Close Encounters, Jurassic Park, and 'A.I'. The major theme for the film is the love theme for Anderton's son called 'Sean's Theme'. It appears several times through the score. The score as presented in the film is not particularly noticeable as in many Williams' films like Attack of the Clones. It is most noticeable when is most dissonant like "Can You See", supporting an action sequence like in 'Everybody Runs' and 'Anderton's Great Escape'. Williams makes light use of the synthesizer in the cue 'Pre-Crime to the Rescue'. Besides the synth the cue remain quite ambient until the end when the motive for Pre-Crime become prominent. In the cue 'Spyder' Williams uses frenzied low strings that reminded me of the score for the other Dick inspired film 'Total Recall'. In that film Jerry Goldsmith used the technique to underscore the scene when Quaid and Melina are being strapped into the brainwash chairs.
The o­nly major gripe I have with 'Minority Report' is its ending. Spielberg films almost always have a matter-of-fact ending. It wished the film had had a more open ended ending. However that was a little much to ask for in such a competitive summer film market that serves so much mindless cellulose termed entertainment. However I have no gripe about the way Williams score this finale. After over two hours of darkness and tension he presents the orchestra in all its beauty and brings the film to end with warmth and grace.
I have found Minority Report's score is a different beast from 'Attack of the Clones'. I have listened to 'Attack of the Clones' about two times. I have listened to 'Minority Report' completely at least eight times over to date. It has a complexity that is not obvious at the first few listens. The score draws o­ne in for intimacy and understanding that is a rarity for a film that is this sucess. This film and score will make you laugh and cry and at the end smile.
Aaron Brown
arbro@yahoo.com
REVIEW #4

By 'Jasonblueeyes'
Having listened to this score every night for a week I know that I love it. "Sean's Theme" is o­ne of Williams' best melodies. Haunting, but containing a story all it's own. "Spyders" is very Bernard Herrman like. The other tracks featuring sombre music does remind me of those moody film noir scores.
My favorite track is #8. "Everybody Runs". Unrelenting and never lets up for a split second. Definitly reminded me of "Scherzo for motorcycle & Orchestra". The other outstanding track is #10. "Anderton's Great Escape" Definitly a solid action piece. Again the influences of Herrman can be heard. This track also reminded me of the chase music in "Superfeats" from Superman.
A lot of the music is sombre, moody and light. Not unlike Williams' Always. But the narrative focus is much stronger here, and unlike "Always", Minority Report knows where it's going. And is therefore much more engaging to the listener.
Overall this score does remind me of other past works of Williams. It seems to blend Williams signature action pieces with his work in the scores for A.I. and Close Encounters of the Third Kind.
Definitely an absorbing musical journey. Despite recent ariticles and reviews written by many others I'd have to say that Williams is at or extremely near the top of his game.
This is my first Williams CD score review. I hope I contributed intelligently and entertainingly.
Until next time.
– Jasonblueeyes