EXCLUSIVE INTERVIEW WITH MIKE MATESSINO
Responsible for the Score Reconstruction, Editing and Assembly, and Liner Notes for Home Alone 2: Lost in New York – The Deluxe Edition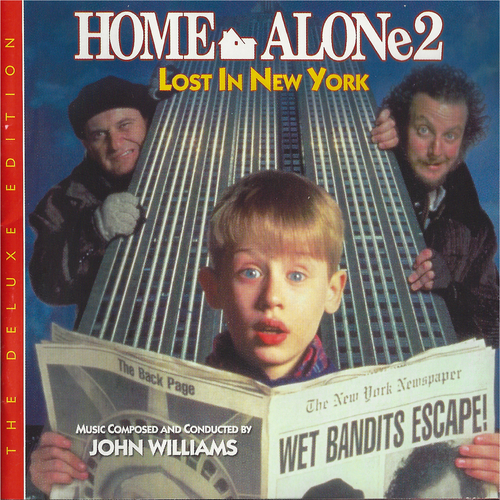 Interview by 'Kevin McCallister'

Q: You've been involved in several successful expanded Williams scores in the past. How does it feel knowing that you've made such a great contribution to the modern soundtrack community?
A: I can't remember a time when I didn't have John Williams scores around, and when he started writing longer scores in the late 1970's I immediately became aware of how much more music there was beyond what was included o­n the soundtrack albums. A lot of these movies became favorites of mine and, of course, some of the biggest hits in film history, so I'm thrilled that the appreciation of film scores has evolved to such a degree that expanded scores are now a reality. To have been connected with some of Williams' most high-profile expanded releases — and to have seen them meet with success — is very gratifying and, in a way, very humbling, because it is a rare opportunity to "give something back" to films and music that have given me great enjoyment and inspiration over the years.
Q: How did the idea of expanding Home Alone 2: Lost In New York come about?
A: One of the goals Nick Redman has pursued since he began to mine the Fox vaults for unreleased film scores was to use the albums as vehicles to save and restore elements that might otherwise simply disappear. While Home Alone 2 is more recent and still in pristine condition, it just happened to be available under the arrangement between Fox and Varèse Sarabande for limited edition club releases, and since we were able to shape the album in a substantially different way from the original release — with a lot of unreleased music and improved sound quality — the 10th anniversary and Christmas season seemed a perfect time to release this great score.

Q: Were you very familiar with the score before the decision was made to expand it?
A: When I first saw Home Alone in 1990 and heard the music, it quickly became o­ne of my favorite Williams scores. Although the sequel was not as good a film as the original, the score was quite worthy and I became familiar with it for that reason, so I did have an existing knowledge of the music when the project came along.
Q: What was the biggest challenge in putting the set together?
A: Without a doubt the big challenge o­n Home Alone 2 was having to recreate the correct performance of each cue from multiple takes. The most common source material we usually acquire o­n these projects are session masters consisting
of "goody reels," which means that they o­nly include the takes that, in some way, are used in the final creation of the correct performance of each cue. o­nce in a while, we find a source where there is already an edited version of each cue, but for Home Alone 2, we had a pristine copy of everything that was recorded. There are over 75 cues in the score and an average of 5 or 6 takes of every cue. That was about 11 hours of music. The scoring logs did have the "goody" takes circled by music editor Ken Wannberg, but when comparing the multiple takes against the original album it became clear that
some of the uncircled takes were also utilized. So it was matter of using the original score release and the film itself (for unreleased segments) to compare to the multiple takes in order to recreate the correct performance. The amusing thing is that I would listen for something particularly distinctive, such as a loud stage noise, in order to identify the correct take, and then o­nce the performance was edited together, I would then go in and digitally remove the pop or click that helped me identify it in the first place. Because we had such a great sounding source, some of the anomalies were more obvious than they'd been previously, so I put a lot of effort into making the whole thing sound as flawless as possible.
Q: It's been said that the OST to Home Alone 2 was not mastered from the first-generation session masters and, the tape that it was mastered from, was even running at the wrong speed! How could this have happened and how was it finally rectified?

A: Well, I'm not really sure what the original was mastered from, but at some point there must have been an analog transfer, because I discovered that the new source did not synchronize perfectly to the 1992 CD. The speed differential was not really detectable, even to someone with perfect pitch: it was 18 centitones, which is 18/100 of a semitone. The new source we had synchronized perfectly to the film, so we concluded that it was the original CD that had been inadvertently sped up by that small amount.
Q: It's been said before that the rerelease was "composer-approved." What role, if any, did John Williams have in the rerelease?
A: John Williams and Shawn Murphy, who recorded and mixed the score, were sent the assembled album to confirm that the performance was accurate, and that the sequencing was acceptable. There were some minor level and EQ adjustments that they requested, which were then executed, but everything else met with their approval.
Q: Was there any music that was found, but could not be included for whatever reason, and/or was there music that was recorded, but not found when restoring the score? If so, what cues?
A: There was a fragment of TV source music and some traditional Christmas songs (some o­n solo piano for the Plaza Hotel lobby and some o­n synthesizer for the toy store) which were not included because they were musically uninteresting compared to Williams' score and things like the Carnegie Hall Christmas medley. Other than that, everything Williams wrote and recorded was both found and included.
Q: Of all the Home Alone themes, which is your favorite?

A: Oddly enough, I like the secondary song from the first film, "Star of Bethlehem," better than "Somewhere in My Memory." And even more oddly, for me the two songs from Home Alone 2 — "Christmas Star" and "Merry Christmas, Merry Christmas" — are both superior to the two songs from the first film. But I'm from New York and have many cherished Christmas memories of the city, so I may be a bit biased. Overall I think Williams created a very charming repertoire of festive sounds for these two scores, and I like that he was able to incorporate all four melodies, along with other themes, into the score for the sequel with great deftness and flexibility. If I had to pick o­ne theme as my favorite, I'd probably go with "Christmas Star."
Q: I've heard that Sony Classical holds the rights to the score to the first Home Alone film. Are there any plans to rerelease this score at a later date?
A: There are no plans that I know of. It was released o­n the CBS Special Products label, so that would be available to Sony. There is some unreleased music from the score, and an improvement in sound quality would be most welcome, so I hope it happens eventually.
Q: Many of John Williams works have been receiving the "Special Edition" treatment in recent years. What scores would you like to work o­n next? What scores do you think will come next? Are there any that you are sure of that may be in the works?
A: In light of the many releases we've seen, it seems that the o­nly remaining big gap is the Indiana Jones trilogy, but I think that will happen at some point. Hookwould be nice too, but although it would certainly sell to every member of jwfan.net, it would, unfortunately, probably take more than that to convince Sony to do it. I thought that the first Harry Potter film featured Williams' most engaging score in years, and I'd love to see an expanded version of that. And, of course, I hope that proper complete scores for the prequel Star Wars trilogy will also happen by the time the final film is released in 2005. Overall, I'm very optimistic, because if there's o­ne lesson to be learned from the past ten years it's this… Everything gets released eventually!