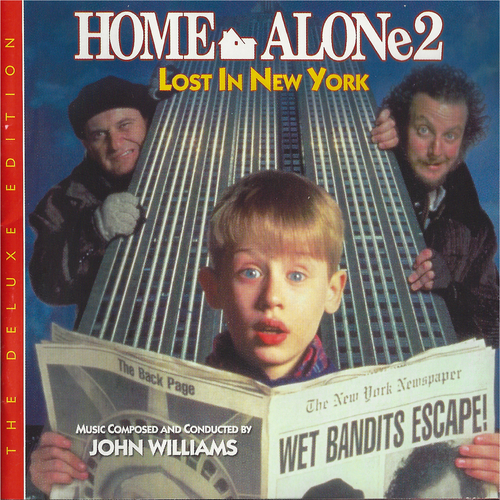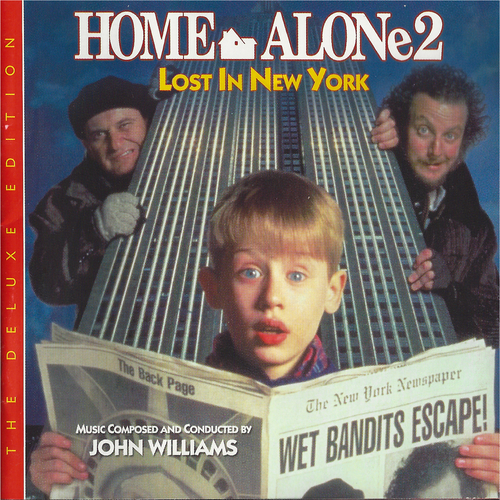 Review by 'Kevin McCallister'
Ever since I first heard it, I've always considered the soundtrack to Home Alone 2 to be one of John Williams' most underrated scores. The original Home Alonewas a massive success and, along with its soundtrack, beacame one of the most successful Christmas films of our time. For that film, it had been the first time Williams had ever tried his hand at writing Christmas music, and the results went above and beyond what any Williams enthusiast could expect. It was only natural that if a sequel was to happen, John Williams would be the man for the job to score it.
Now we have the soundtrack to Home Alone 2. The OST ran for about 62 minutes in length, which provided a wealth of material from the score. However, like most other Williams OSTs, there were cues that were out of order, pasted together, edited down, and some were not included at all. Unlike the first film, there was also much more music left off the soundtrack, totally nearly 30 minutes of unreleased material that could be heard in the film itself. All that has now been taken care of, as Varese Sarabande's new edition of Home Alone 2 included 37 minutes of previously unavailable music. So what is the result? Simply, one of the finest releases a Williams score has had yet.
The unreleased material is a real treasure here. The burglar theme is expanded upon much more this time around, and occurs much more frequently in the score. Also, we get the complete "Arrival In New York" (quite possibly my favorite unreleased cue from the score). Also Kevin's own theme is used much more dominantly, which Williams probably did to show Kevin's growing independence. Even more interesting is the "Holiday Flight" alternate, which is a jazz piece Williams originally wanted to use for the airplane rush scene a la "Banning Back Home" in Hook. Another bonus is the orchestra version of "Merry Christmas, Merry Christmas," which is found at the end of disc 2 along with concert versions for all of the other Williams Christmas carols in the score.
I suppose it is understandable why many people consider Home Alone 2 to have been a "cut and paste job" for Williams. The choice of tracks on the original album left off far too many good (and original) cues. There are times when the music does sound very much like certain cues from the first film, but these moments are few and far between on this new edition. There is more than enough new material here so that the score stands apart from the original.
A booklet for the soundtrack is included, with still photos and liner notes by Michael Mattesino (Superman, Star Wars Trilogy expanded releases). The booklet contains a wealth of information about the score and the film. However, Matessino takes a different route than he has in the past. While he writes seriously about the score, there are moments where he cracks jokes about the movie, and there are even quotes from the film included in the notes themselves. I don't particularly mind this, it just felt a little different. I suppose Mattesino felt that since it IS a comedy and a Christmas film, that the notes be a bit more light hearted than some of his other projects in the past. Regardless, the notes are very well done and are a welcome addition to the set.
Are there any problems with the release? Not really. The one I have is almost not even worth mentioning, but I will make note of it. There is a fragment of unreleased music from "Kevin's Booby Traps." It occurs just when Harry switches on a light and before we cut to Marv under the bookshelf of paint. It's very trivial (maybe about 6 seconds in length), similar to the absence of the opening note of "Super Crime Fighter" on Superman. It was probably just one of those sinpets of music that was just lost. One could make the argument that the music was actually tracked from the first film (the same fragment of music appears in the first score, when Marv tries to break the McCallister's door with his crowbar), but this however, is doubtful. Still, it's really nothing to get uptight about.
Last, but not least, I have to note that there is a definite improvement of sound quality on this release. The music sounds clear and crisp on every cue. It was revealed that when the OST was being mastered, the music itself was mastered at the wrong speed, but it was difficult to detect. While it is difficult to notice, I could tell that some cues from the OST sounded a bit more fluent on this release. Another great job with the restoration.
The soundtrack to Home Alone 2 had a lot of problems when it was first released. Now, all of those problems have been solved and the result is a wonderful Christmas (and Williams) score. Varese's new 2-CD set has everything we could ask for on a Williams soundtrack and more. I recommend this album to all John Williams and Home Alone fans out there. It's fantastic!
Rating: ***** out of *****