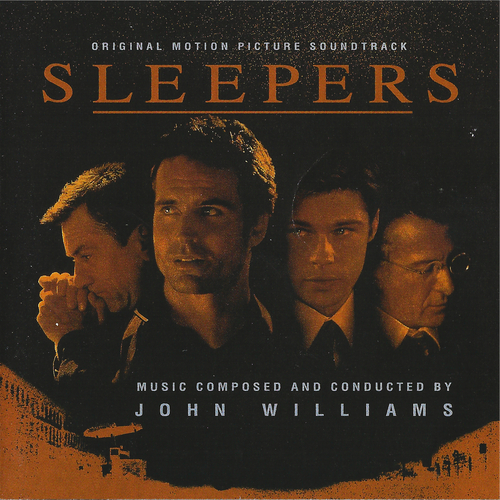 Review by 'Mahler 3'
Sleepers is a fantastic score on many different levels. Williams captures the organic feel of Brooklyn using the electronic bass and percussion with piano exceptionally well. The computerised voice effects are used to tremendous effect during the Wilkinson Prison sequences, exemplifying the inner turmoil the boys had to experience during their ordeal.
Hell's Kitchen is certainly the highlight of the score as it has the atypical Williams concert structure, but the score as a whole is definitely one of his best! Anyone fortunate enough to see him in 1998 at the Barbican with the LSO will remember the latter stated cue being the first encore piece, a wonderful surprise that was!
The Football Game has a slight Moriconne feel to it, but is ultimately stamped with some excellent Williams brass flourishes. The Trip To Wilkinson has a driving menacing bass line that hints at the future.
Saying The Rosary is a masterful cue, that works even better with the film. I remember when I first got the score back in '96, thinking that the latter stated cue was very original and different for Williams as it had an almost Monestary-like tone. Father Bobby's Decision displays yet another genius scene of scoring, as De Niro is being told what truly happenned to the boys in prison, the dialogue fades – the camera slowly zooms in and Williams score takes full control whilst De Niro's facial expression tells us a great deal but is enhanced by the driving strings, french horn and flute.
Ultimately it is the Reunion theme that truly captures the heart and tragedy of the story. This heartrending 9 note motif leaves us feeling very sentimental for the boys (& girl) as it accompanies shots of their childhood innocence together. James Thatcher's always stunning horn solos are at their best here, with a glorious top C being reached as part of the closing statement of the reunion/finale cue.
I think this is a good lesson is scoring a dramatic film and is a highly recommended score to any Williams, or orchestral music fan.
The Philips album features great sound quality (the ever-reliable Shawn Murphy), about 56 minutes of score (almost complete) and is not terribly hard to find.