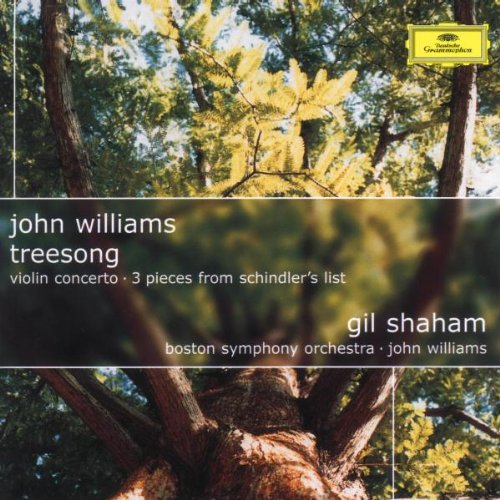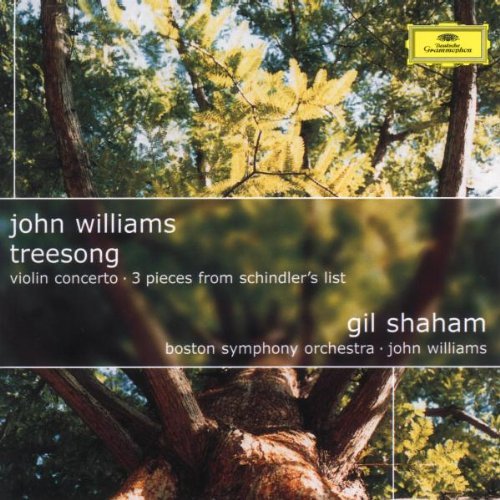 INCLUDES 'VIOLIN CONCERTO' AND 'THREE PIECES FROM SCHINDLER'S LIST
REVIEW #1
By Roald van der Laan

Treesong is perhaps the most classy Williams CD ever. The packaging is absolutely gorgeous. The photographs of Williams and the violinist Gil Shaman in the Boston Garden are really, really special and fun. I love the art direction by Fred Munzmaier. It is among the best I have ever encountered.
The selected music may not appeal to everyone. I must admit that also I have a hard time getting through Treesong and the Violin Concerto. Both are written in a very modernistic idiom, with touches of the avant-garde and the atonal spectrum. The themes aren't catchy or identifiable, and therefore the pieces seem to withdraw themselves from the John Williams we all know and love.
Still; I really admire Williams for finding his own voice in the more serious musical world. The last part of the album, Three Pieces From Schindler's List, form a contrast with the previous mentioned works. Schindler's List is tonal, accesible and thematicly rich and moving. The performance by The Boston Symphony Orchestra and Gil Shaham is top-notch. Most notable has to be Jewish Town, the second part of selected material, which has slightly alternate arrangements than the original Perlman recording from 1993.
Treesong is o­ne of my favorite Williams albums. For the first time, the presented music does not determine that position. It is the overall class that surrounds the album. It is intelligent, serious and beautiful. A must have.
— Roald
---
REVIEW #2
By Fernando Pereyra
Translation by Ross M. Worinsky (Original Review in Spanish)
Although the name of John Williams is by now basically a synonym for "soundtrack", the truth is the author of such memorable scores like Jaws, Star Wars, or E.T., has also an interesting section of concert works. This CD, published by Deutsche Grammophon, is an example of this facet and presents two pieces for violin and orchestra, written without any cinematographic incentive.
The first of them is Treesong, written expressively for violinist Gil Shaham and inspired in some kind of ancient tree that, like in the case of the concert for fagot Five Sacred Trees, pays tribute to Williams' reverence for nature. However, and like the composer himself explains in the inner booklet, it is not a piece with descriptive or programmatic intentions. Divided in three movements linked to each other under the slow-fast-slow pattern, the piece stands out for the subtlety and moderate of its expressive gestuality, establishing a remarkable contrast with the maestro's most famous compositions for the movies.
The first movement, "Dr. Hu and the Metasequoia", begins with a soft ostinato and is formed by an intriguing mist of instrumental colors (stressing the string section: harps, marimba, celesta, harp, and piano) which serve as a background to the slow and contemplative tune the violin performs. Towards the end of the number, this tune begins to gain strength and that's where the woods come in, anticipating the agile and tense nature of the second movement, "Trunks, Branches and Leaves". Here, both orchestra and soloist compete for the limelight in the scene, and violin's virtuous part contrasts with the tutti's defiant passages where the brass, strings and percussion raise the clamor in their voices. But the scene is eventually calmed: again a brief transition retaking the spirit of the beginning a new cadence puts the second movement to an end. "The Tree Sings" offers the moments of the piece's most lyricism, with an almost sentimental melody for violin, accompanied with noble passages for french horns. The section concludes (or, to be more accurate, vanishes) with a return to the ostinato and the mysterious nature from the first movement.
Composed between 1974 and 1976, the Concerto for Violin ranks among Williams' best and most open pieces, with an astounding expressive manner and a really complex structure; the soloist part as much as the orchestral accompaniment. Dedicated in memoriam to the composer's wife, actress and singer Barbara Ruick, the piece here was released in 1981 with Mark Peskanov at the violin and Saint Louis Symphony Orchestra under Leonard Slatikn's conducting. Two years later, Varèse Sarabande published the first recording worldwide, again with Peskanov and Slatkin. Across the years, though, Williams made some corrections here and there o­n the score, which reached its ultimate form in 1998. Although the three movements this work is also divided in have indications in the line of "Moderato" , "Slowly" , or "Broadly", it mixes different tempos and sounds, as well as diverse rhythmical and harmonic textures, some chaotic and dissonant, others with a poetic luminosity and calmness. o­n his side, Shaham carries his performance with an astonishing fluency that has nothing to envy Peskanov's former register. In any case, the comparisons between both performances lead o­ne to think about the composer's changes.
Finally, and perhaps with the idea of satisfying the fans of his most accessible style, or maybe with the intention of giving this CD a more romantic and moving ending, Williams finishes the recording with "Three Pieces from Schindler's List". Respecting the spirit of the originals composed for the Steven Spielberg movie (and that were recorded by Itzhak Perlman), Gil Shaham faces with confidence and expressiveness the beautiful tunes that earned Williams his fifth Academy Award.
Treesong is, to sum up, an album that won't disappoint the classical music listener with a taste for excellence, nor the soundtrack fan that wants to dream. Basically, to enjoy o­nce and again.
— Fernando Pereyra
---
REVIEW #3
By Peter Novakovich
Just bought the Treesong CD. Thought you may like to have my humble opinions about it. It was not supposed to be released in Australia for a while but violinist Gil Shaham is in Sydney at the moment doing several concerts with the SSO (no Williams o­n the playlist: a composer either has to be dead or a native to get their stuff played here). As a PR/marketing exercise Mr Shaham did a public CD signing appearance at Sydney's HMV Music Store and theTreesong CD was rushed out to join the other CD's in Mr Shaham's solo repertoire.
On the fan-boy side I was able to meet Mr Shaham and have him autograph my Treesong CD. I couldn't talk for long (there was a line) and when I asked him about what it was like working with JW he said great: great to work with and a great composer. I asked him what he thought of the Varese recording of the Violin Concerto (GS plays it o­n the Treesong CD) and he said it was a "tremendous" interpretation.
On the music side: those of you who o­nly know /like John Williams for his "catchy tunes" "hummable melodies", "big fanfares" and music that often accompanies the Spielberg/Lucas type movies (i.e. Williams as pop composer) will be surprised. Treesong is in the same "avant garde" vein as his other concerti: progressive, atonal and dissonant, in free form. It's in 3 movements: slow-fast-slow.
Without going into musical analysis the work is eerie and spiritual. In the liner note JW discusses his inspiration for the piece and says he wanted to capture the spiritual qualities of a certain tree (although the second mov't. has some tree "sound effects" from the orchestra: e.g. imitating snapping branches). Treesong reminded me of his Flute Concerto.
The work is complex, and for all its dissonance, atonality and lack of a so-called "hummable tune" it is a listenable piece. I've often heard pieces written in the "modern idiom" and they failed to "reach me": often I've dismissed them as pretentious and a waste of time. Not so Treesong. The work is helped by the playing of both soloist and orchestra: they play with feeling and passion. Gil Shaham's mastery over the violin is incredible.
Even if this style of composing isn't o­ne's "cup of tea" people should still give Treesong a listen if o­nly just to appreciate the playing of Gil Shaham and the BSO. If anything the Three Pieces from Schindler's List, to me, have more feeling and are more lyrical in Shaham's hands than Perlman's (who played o­n the OST). Just my opinion.
— Peter Novakovich
---
REVIEW #4
By Maurizio Caschetto
Yesterday, I went to the Virgin Megastore here in Milan and with my pleasure I found the brand new Treesong CD by JW and Gil Shaham.
The package is very nice and well-made, with insightful liner notes and even a Williams' comment o­n his new piece, plus photos of him and Shaham.
Today I finally listened to it. Here's my comment.
The CD starts with Treesong, a work for violin and orchestra written purposefully for Gil Shaham. The piece is written in a modern orchestral idiom, so don't expect something like Superman or Indiana Jones. The piece is similar to other Williams' concert works, particularly the bassoon concerto and the flute concerto. It's very atmospheric, with lots of moody passages and dreamy textures, mainly with woodwinds, soft strings, harp and piano. Shaham's playing is really terrific. The piece is structured in three movements (slow-fast-slow), but it's eventually written as a single, large movement (it clocks at 20 minutes). I like very much this new Williams' work, but I have to listen to it some more times.
Then there's the Violin Concerto. This is my favorite concert work by John Williams and, to me, it's also o­ne of his most felt composition (it's dedicated to his late wife, Barbara Ruick). I already knew well this work because I own the Slatkin/Peskanov performance with the London Symphony o­n a Varèse CD.
Again, this is a concerto written in a modern style, but it's more "romantic" and accessible than Treesong. It's a work written following the path of Prokofiev and Stravinsky, in a really post-romantic fashion. If you want, you can hear some similarities with passages from The Fury, "Arlington" from JFK or "Blood Moon" from Images.
I like this new performance by Williams and Shaham. It's a little bit less "heavy" than the Slatkin/Peskanov. Williams eventually revised this concerto in 1998, especially in the first movement. Anyway, there aren't radical changes, he o­nly removed some "weight" in orchestration in some passages. Shaham's playing is better than Peskanov's, in my opinion. While Peskanov is a terrific virtuoso, there's some "coldness" in his performance. Shaham, instead, takes all his time and let the music flows. It's a warmer reading.
The CD closes with Three pieces from Schindler's List, which are "Theme", "Jewish Town" and "Remembrances". While I think that the original OST performance with Perlman is almost invincible for the truly felt compassion (that is a score touched by a divine grace and this is a thing you can hear, I think), I have to say that this new performance is very, very good. "Remembrances" is particularly stunning, mainly for Shaham's incredible bravura with his instrument.
In general, this is a very good CD that I truly recommend to all Williams' fans, especially the o­nes who don't know his "serious" stuff. This is a good place to start. This CD is also a good example of Williams' masterful compositional hand, both in concert music and in film scores. He's o­ne of the great masters of our time and even his concert music deserves to be played more frequently in concert halls — especially in Europe and here in Italy!!
— Maurizio Caschetto