"JOHN WILLIAMS: MAESTRO OF THE MOVIES"
August 26 & 27, 2011, Hollywood Bowl, CA
The Los Angeles Philharmonic Orchestra conducted by JOHN WILLIAMS
James Taylor, special guest narrator
CONCERT PROGRAM
– 'The Star-Spangled Banner'
– 'Tribute to the Film Composer'
– 'Salute to the Hollywood Western'
– Suite from The Reivers, featuring James Taylor as narrator
– 'Sweet Baby James' (Performed by James Taylor)
INTERMISSION
– 'Monsters, Beauties and Heroes'
– 'Indy's Very First Adventure' from Indiana Jones and the Last Crusade
– 'Hedwig's Theme' from Harry Potter
– Love Theme from Cinema Paradiso
– 'The Asteroid Field' from The Empire Strikes Back
– 'Princess Leia's Theme' from Star Wars]
– Main Theme from Star Wars
ENCORES:
– 'The Imperial March' from The Empire Strikes Back
– 'The Flying Theme' from E.T. The Extra-Terrestrial
– 'The Raiders March' from Indiana Jones
EXTERNAL REVIEWS
VIDEOS
JWFAN REVIEW
IN CONCERT WITH JOHN WILLIAMS
By Steve Vertlieb
As the late evening sun softly left the sky on Saturday night, August 27th, the packed house at The Hollywood Bowl began growing restless. A sense of cumlative excitement within the crowd had become palpable and, as the stadium lights dimmed, enthusiastic applause filled the dark amphitheater. From the shadows a solitary figure in a white dinner jacked strode across the stage toward the podium, and the crowd began to cheer. John Williams, the internationally beloved composer, mounted the podium and lifted his magical baton and, with that much anticipated gesture, the Summer, 2011 motion picture music concert under the stars had begun.
To open the festivities, Maestro Williams led The Los Angeles Philharmonic Orchestra in a medly of classic film themes by a variety of musicians including the romantic prelude for Alfred Hitchcock's "Spellbound" by Oscar winning composer Miklos Rozsa. This enticing "Tribute To The Film Composer" was directly followed by a "Salute To The Hollywood Western" which included a spirited rendition of the composer's own overture from "The Cowboys," followed by John Dunbar's Theme from "Dances With Wolves" by the late John Barry and Alfred Newman's magnificent main title music from "How The West Was Won."
Next on the program was a performance of Maestro Williams' suite from "The Reivers," accompanied by singer James Taylor offering live narration with the music. Actor Morgan Freeman had originally been scheduled to perform the narration but, due to apparent scheduling conflicts, was replaced by Taylor. The suite was, nonetheless, lovingly enacted and received.
There followed an intermission, after which John Williams took to The Hollywood Bowl stage once more to introduce the second half of the much anticipated program. "Monsters, Beauties, and Heroes" began the next segment, which included excerpts from "King Kong" by Max Steiner, "Jaws" by the conductor, "Casablanca" (once again by Steiner), "An Affair To Remember" by Hugo Friedhofer, "The Adventures Of Robin Hood" by Erich Wolfgang Korngold, and "Superman" by Maestro Williams.
There followed a fascinating lecture by John Williams on the mechanics of motion picture scoring in which he explained the story behind The Circus Train Chase sequence from "Indiana Jones And The Last Crusade." The scene was projected first without musical accompaniment, during which Maestro Williams personally narrated the visually unfolding scenario. Once completed, the sequence began once more…only this time with Williams' full bodied score, performed live on stage, enriching the unspooling screen action.
The concert continued with a performance of John Williams score for youthful witchery, embodied by "Hedwig's Theme" from Harry Potter And The Sorcerer's Stone." This delightful extract was followed by Ennio Morricone's theme from "Cinema Paradiso," as arranged by Angela Morley, featuring Bing Wang on solo violin.
The concert kicked into high gear…or warp speed…at this juncture as the wildly appreciative capacity filled crowd at The Bowl received the gift it had waited so patiently for. Thousands of light sabers lit the California sky in nearly spiritual unison as Maestro Williams began conducting a rhapsodic suite from "Star Wars," comprising "The Asteroid Field," "Princess Leia's Theme," and the thrilling main title from the classic George Lucas science fiction extravaganza.
Several encores ensued, including a performance of "Sweet Baby James," written and performed by solo artist James Taylor, as well as the pulse pounding theme from Steven Spielberg's "Raiders Of The Lost Ark." There began a delightful rendering of "Darth Vader's Theme" from " Star Wars," during which each and every light saber in the amphitheater pulsed perfectly synchronous to the conductor's baton for every beat and nuance of the popular theme. Then came, perhaps, the most beloved of John Williams cherished scores…the "Flying" sequence from Spielberg's fantasy gem, "E.T."
As the program concluded amidst cheers from the audience, and calls for additional encores, Maestro Williams lovingly tilted his head against the palm of his hands, indicating that it was time for everyone to retire to the warmth and security of their own soft and personal pillows. With that simple gesture, he departed the stage for the last time this season.
The lights of the giant arena were lit brightly once more, and thousands of happy fans began the slow descent to the street. My brother Erwin and I began our descent, as well, but we had another destination in mind as we climbed slowly down to the stage area of the massive Hollywood Bowl. As guests of composer Miklos Rozsa's daughter, Juliet, we were among a decidedly privileged few who held back stage passes to the dressing rooms, as well as access to their respective artists. As we were ushered beyond the stage door off to the left side of the stage and into the inner belly of the auditorium complex, a crowd of some ten or fifteen people waited patiently in line for an opportunity to speak with the man we'd each come to see. At the farthest end of the receiving line I could see John Williams smiling and speaking pleasantly with his visitors. As I approached the front of the line he looked up, pointed his finger at me and grinned. "I remember you," he said. I reminded him that we had spoken last year under the same circumstances surrounding this audience, and that I had just been recovering from major open heart surgery when first we met. He showed concern for my health last year, and expressed similar concern this night, as well. I assured him that I was well, and said that it was a thrill to be able to speak with him personally once more.
As we spoke for several moments I offered him a copy of a magazine that I'd brought him from my home in Philadelphia. It was a copy of Midnight Marquee Magazine which included my feature length article about the relationship between composer Bernard Herrmann and his most celebrated collaborator, Alfred Hitchcock…"Herrmann And Hitchcock" The Torn Curtain." The Maestro seemed most intrigued as he paged through the magazine's contents and said "This looks very interesting. I'll look forward to reading it." He noticed that I had signed an inscription to him on the inside front cover, and said "Thank you for inscribing it to me." Rather self consciously, I said "It's my pleasure, Maestro." I then handed him an imported L.P. of his score for "Jane Eyre," and asked if he would be kind enough to sign it to composer Eugene Zador's son, Les, and his wife, Ania. Williams said that he'd be happy to do that for them, and sat down at his dressing table to autograph the album jacket.
After he finished signing the record cover, I asked him if he'd ever considered performing his score for Irwin Allen's "The Towering Inferno" in concert. He thought a moment and said "Hmmm, no I hadn't, but that's an interesting idea." I told him how much I had loved this particular score and that I felt it would make a terrific suite for a live concert performance.
As others were still waiting to speak with him, my brother and I told him once again how much we have loved his wonderful music for the past fifty years. I squeezed his arm as we were leaving, and said "God Bless, Maestro." He responded "And you, as well." It was the end of another magical evening beneath the stars in Hollywood, and a dream now fully realized to speak with my life long hero for yet a second, joyous, memorable time.
……..Steve Vertlieb
BACKSTAGE PICTURES
 John Williams and Steve Vertlieb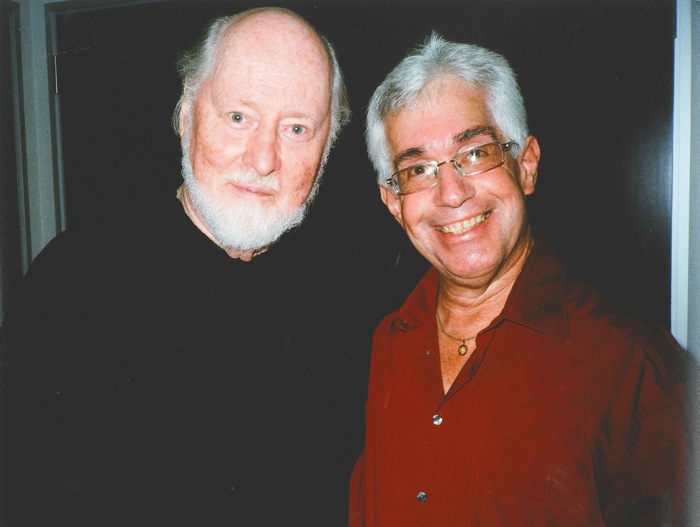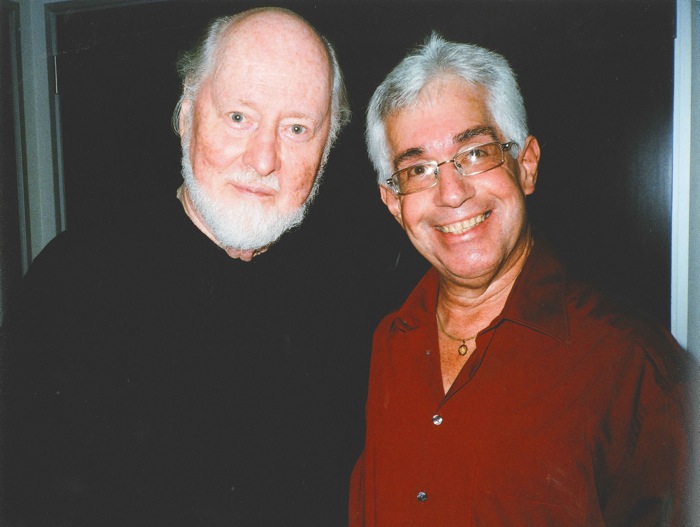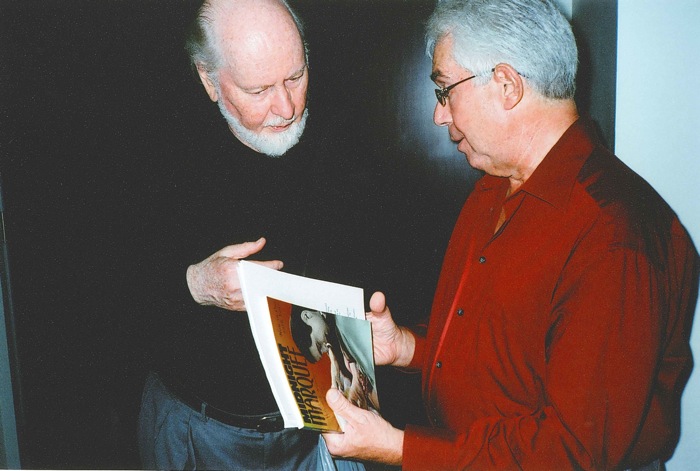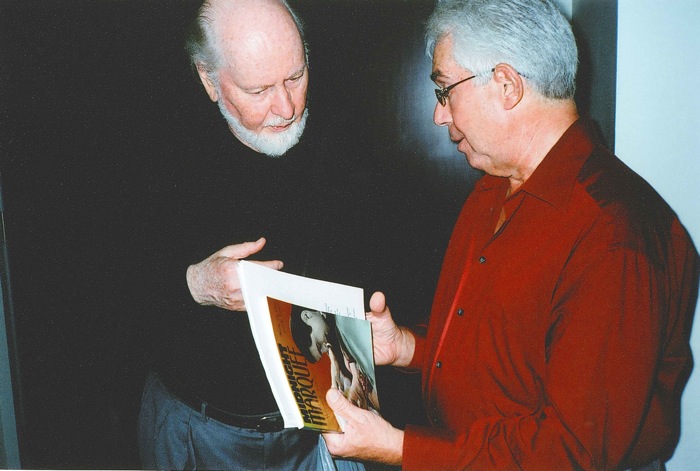 Steve with composer Lee Holdridge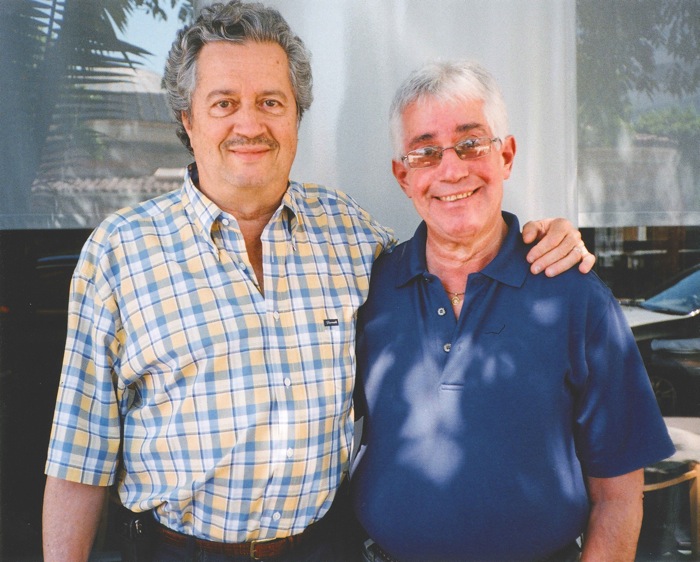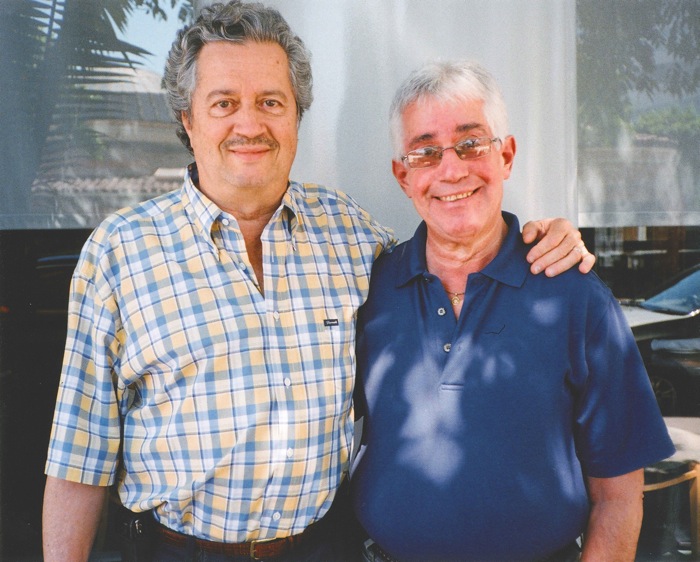 Steve with writer Ray Bradbury