Listen to 30 second samples of every track on the Lincoln soundtrack album! – UPDATED with links to more samples and "first listens" of the latest John Williams score!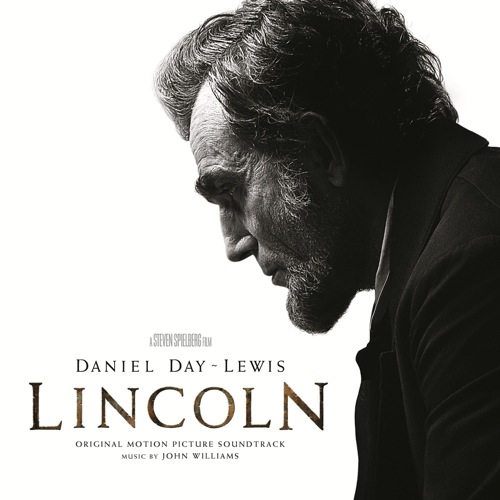 UPDATE: EXTERNAL LINKS FEATURING SOUND CLIPS AND EXCERPTS OF THE SOUNDTRACK
 JWFAN SAMPLES
LINCOLN
Music Composed and Conducted by JOHN WILLIAMS
01. The People's House (03:41)
02. The Purpose of the Amendment (03:06)
03. Getting Out the Vote (02:48)
04. The American Process (03:56)
05. The Blue and Grey (02:59)
06. "With Malice Toward None" (01:50)
07. Call to Muster and Battle Cry Of Freedom (02:17)
08. The Southern Delegation and the Dream (04:43)
09. Father and Son (01:42)
10. The Race to the House * (02:41)
11. Equality Under the Law (03:11)
12. Freedom's Call (06:06)
13. Elegy (02:34)
14. Remembering Willie (01:51)
15. Appomattox, April 9, 1865 (02:36)
16. The Peterson House and Finale (11:00)
17. "With Malice Toward None" (Piano Solo) (01:31)
TOTAL TIME: 58:32
* Contains excerpts arranged and performed by Jim Taylor, traditional
Performer: Chicago Symphony Orchestra / Chicago Symphony Chorus
Violin: Robert Chen
Trumpet: Christopher Martin
Clarinet: Stephen Williamson
Bassoon: David McGill
Horn: Daniel Gingrich
Piano: Randy Kerber
Producer: John Williams
Editor: Ramiro Belgardt / Robert Wolff
Recording Engineer: Shawn Murphy
Mixing Engineer: Shawn Murphy
Engineer: Brad Cobb
Contractor: Sandy De Crescent
Preparer: Jo Ann Kane Music Service
Mastering Engineer: Patricia Sullivan
Release Date: Tuesday November 6th 2012.
Label: Sony Classical
Pre-order links
PRESS RELEASE:
Original Motion Picture Soundtrack Of "Lincoln" Available On November 6, 2012
MUSIC BY JOHN WILLIAMS FOR STEVEN SPIELBERG'S DRAMA
NEW YORK, Oct. 19, 2012 — /PRNewswire/ — Sony Music is pleased to announce the release of the Original Motion Picture Soundtrack ofLincoln, a magnificent new score written by John Williams, the doyen of Hollywood composers, for a major new film by Steven Spielberg.
Steven Spielberg directs two-time Academy Award® winner Daniel Day-Lewis in "Lincoln," a revealing drama that focuses on the 16th President's tumultuous final months in office. In a nation divided by war and the strong winds of change, Lincoln pursues a course of action designed to end the war, unite the country and abolish slavery. With the moral courage and fierce determination to succeed, his choices during this critical moment will change the fate of generations to come.
Starring Daniel Day-Lewis, Sally Field, David Strathairn, Joseph Gordon-Levitt, James Spader, Hal Holbrook and Tommy Lee Jones, "Lincoln" is produced by Steven Spielberg and Kathleen Kennedy, with a screenplay by Tony Kushner, based in part on the book "Team of Rivals: The Political Genius of Abraham Lincoln" by Doris Kearns Goodwin. The DreamWorks Pictures/Twentieth Century Fox/Reliance Entertainment film, in association with Participant Media, releases in U.S. theaters exclusively on November 9, 2012, with expansion on November 16, 2012
Lincoln is the latest product of John Williams' historic, 40-year collaboration with Steven Spielberg, during which he's composed the music for all but one of the director's feature films. A legend among movie composers, Williams has written some of the best-known scores in film history in a career that began more than five decades ago. His work includes the music for all of the Star Wars and Indiana Jones films, the first three Harry Potter films, Jaws, Superman, E.T. The Extra-terrestrial, Schindler's List, Close Encounters of the Third Kind, Memoirs of a Geisha, and Jurassic Park. Williams has won five Academy Awards, four Golden Globe Awards, seven BAFTA Awards and no fewer than 21 Grammy Awards – a breathtaking lifetime's achievement. His total of 47 Academy Award nominations makes him the Academy's most-nominated living person and has been exceeded only by Walt Disney.  Williams also has written numerous acclaimed works for the concert hall, and serves as Conductor Laureate of the Boston Pops Orchestra and Artist in Residence at Tanglewood.
No-one is better suited than Williams to provide a score for a film that depicts such momentous and historic events. His full orchestral range can be heard in tracks such as "The People's House", in which woodwinds and violins create a pensive, purposeful atmosphere, and "The Purpose of the Amendment", where a measured symphonic opening swells to grandeur amidst trumpet calls.  "With Malice Toward None" presents a hopeful theme with its serene strings, and the sombre side of events finds expression in "The Blue and Grey" with its contemplative solo piano theme.
The score was performed by the renowned Chicago Symphony Orchestra and Chicago Symphony Chorus, with solos by a number of the orchestra's distinguished principal players, including concert-master Robert Chen and principal trumpet Christopher Martin. The original motion picture soundtrack of Lincoln, which Sony Classical will release on November 6, is sure to be treasured not only by those who are moved by Spielberg's masterful film, but also by the many fans of John Williams' stirring and memorable music.
Source: SONY MUSIC