"JOHN WILLIAMS IN CONCERT"
December 7 & 8, 2012, Copley Symphony Hall, San Diego, CA
The San Diego Symphony Orchestra conducted by JOHN WILLIAMS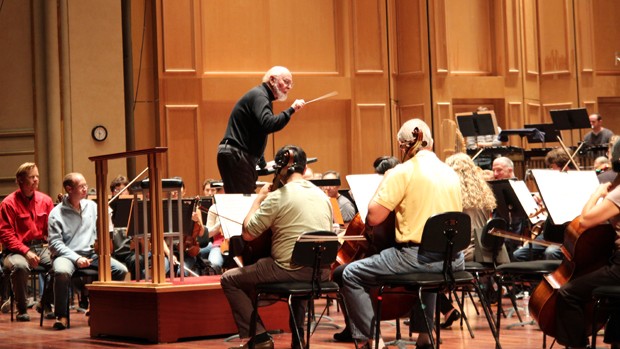 CONCERT PROGRAM
Excerpts from Close Encounters of the Third Kind
Cello Concerto
Elegy for Cello and Orchestra
Intermission
Of Grace and Majestry (A Hymn to New England)
Suite from Far and Away
Three Selections from Harry Potter
Theme from Schindler's List
Adventures on Earth from E.T. The Extra-Terrestrial
Encores
With Malice Toward None from Lincoln
The Raiders March from Raiders of the Lost Ark
Star Wars Main Theme from Star Wars
The Imperial March from The Empire Strikes Back
VIDEOS
EXTERNAL REVIEWS
JWFAN REVIEWS
Concert review by wanner251 (original post)
OK, I finally have some time to write down a few thoughts on the concert. I attended Saturday night's performance (Dec. 8th), but preceded with the Gala dinner. The dinner was really quite nice, and the tables were labeled with each hit film scored by our beloved maestro. I was at the Harry Potter table, and there were also tables for Star Wars, Jaws, Jurassic Park, and E.T.  All the hits, all the time! I happened to sit next to the Chief Operating Officer of the San Diego Symphony. We had quite a nice conversation about music and its role emotionally. While he could not seem to admit directly that he was a fan of John Williams' music, he did assert that he longs for a by-gone age of film music by greats such as Bernard Herrmann and Alex North. When I told him that John Williams had scored Hitchcock's last film, The Family Plot, he didn't believe me at first. He checked his sources (iPhone), and suddenly was quite interested in my viewpoints. Funny thing. That was when he asked me if I had ever met John Williams. "No," I said, "I have never even imagined that such a thing would even be possible." He then asked me if I would like to after the concert…. Hmmm… meet my biggest idol of all time? Nah, I'll pass… kidding of course, I readily accepted. That was a wonderfully personal experience that I won't share here.
As for the concert, it absolutely opened beautifully! Close Encounters was stunning, nearly perfect! I really thought the Cello Concerto was fantastic, as I had never heard it live before. Moser, the soloist, I thought had some definite skill, but it seemed as though he hadn't taken on the concept of the piece, but instead focused on the technical wizardry of it. It seemed like he was busy trying to be amazing the whole time, but he really could have paced himself better. His interpretation seemed a bit anticlimactic because of this.
Elegy for Cello was a different story. Moser clearly had a conceptual handle on this one. Beautiful.
During intermission, I attended a short party, where the CEO of the Symphony felt he needed to assure everyone that the second half of the concert would be much "easier on the ears". What an odd thing to say to your own benefactors. Incidentally, I found out that the program itself was completely John Williams' idea, and that he had explicitly insisted that he be able to perform the Cello Concerto. This was in exchange for completely donating his time. What a nice man!
The second half of the concert was a really great program! I was especially excited for Adventures on Earth, as I had heard the entire cue to screen at the Hollywood Bowl. Here was a chance to hear the concert version! The real shining star ended up being the Far & Away Suite, a rare treat, and a very underrated score. I enjoyed every minute of that. The Harry Potter selections were really great as well, especially the middle one, which featured only the woodwinds. This, I think rivaled the Far & Away Suite for my favorite part of the concert! I do agree that the Theme to Schindler's List was quite rushed, although I thought it was rushed all the way to the end, instead of just in the beginning.
Despite all of this wonderful music, the entire second half was plagued by a problem that I just could not get over. The execution in the brass section, namely the trumpets, was like a ball and chain. It seemed that anything requiring the trumpets to stay on task at what would be a brisker tempo was just too much for them, as pieces had a tendency to slow to a crawl. This was especially true for Adventures on Earth, as well as for the Raiders' March and even the two Star Wars pieces in the encore. I am aware that there is a delay between the front and rear of the orchestra, but the tempos actually suffered quite a bit. Personally, I thought the french horns were spot on. I was sitting in the grand tier, which is a pretty decent place to hear, so I'm told. When I went backstage later, I wanted to find the trumpet players and slap them all. Maestro's tempo, not yours!
The concert arrangement of "Malice Toward None" from Lincoln was really well done, and a perfect first encore. I enjoyed the principal cellist's playing even more than Moser's from the previous half. I cannot seem to remember what was different about this arrangement vs. the film score, as I am not completely familiar with Lincoln yet. Rest assured, it seemed much more tightly woven into a package, as concert arrangements often do.
When the concert was over, I went backstage to meet John Williams. I won't talk about what happened, as that is personal. However, I can tell you all that although he was very tired from the performance, he seems to be in very good shape, and just as thoughtful as ever. He definitely doesn't seem like someone who just celebrated his 80th birthday. So, here's to many more scores from our most beloved, the best of the best!
Concert review by 'Jamesyboy' (original post)
It was a fantastic concert! The set list was the same as above except for the addition of an encore from cellist Johannes Moser,which I recognized, but for the life of me couldn't place. The orchestra sounded great except for a couple of spots where the brass had some minor issues. I think Williams is finally showing his age a little bit. He had to be helped (albeit minor) on and off the podium.
There were a few attendees that frustrated me a little bit. Apparently, so the story goes, that during the intermission, someone was really giving the San Diego Symphony CEO an earful about why was Williams playing this "weird cello music" and not his popular stuff. Just craziness. The Concerto sounded awesome and Moser did a fantastic job.
The highlight for me was the Far & Away suite. I've always had a soft spot for that score and consider it one of his most underrated scores. So to hear it live and that he included it was spectacular. Even the "popular" pieces that we've all heard a million times over sounded amazing live. The Lincoln piece could bring tears to your eyes and the principle cellist performed the opening marvelously. I'm sorry I am unable to call out any differences between last nights arrangement and the album, for I was truly living in the musical moment. Even the principle violinist did a fantastic job on Schindler's List, even though it felt a tad bit rushed in the beginning, nothing major though.
A great once-in-a-lifetime event for me and my 16-year-old son (who also thought it was pretty awesome. His first live orchestral performance). I kept wondering though, as I was standing in the lobby waiting to be let in, which of the attendees standing around me were fellow JWFan members. Hmmm…