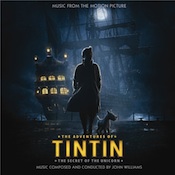 Sony Classical will release the soundtrack for The Adventures of Tintin starting Monday, October 24, coinciding with the release of the film in many European countries. The label has just confirmed that the album will contain 18 tracks. 30-second samples of each track can be heard on this page.
The score might be released in the US at a later date, since the movie won't be released in North America until December 23.
The album can now be pre-ordered as an IMPORT from Amazon.com (starts shipping on November 1). Visit the JWFan page for The Adventures of Tintin for a full list of Amazon pre-order links.