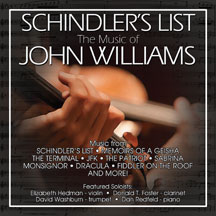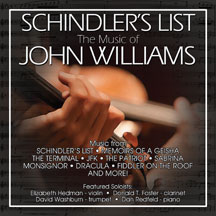 On April 7, BSX Records will release 'Schindler's List: The Film Music Of John Williams', a 12-track compilation featuring classic Williams themes arranged for chamber ensemble.
The album includes music from Schindlers List, The Terminal, Memoirs of a Geisha, JFK, The Patriot, Sabrina, Monsignor, and Dracula.
Order this album on Amazon.com
SCHLINDER'S LIST: THE FILM MUSIC OF JOHN WILLIAMS
Classic themes by John Williams arranged for chamber ensemble
John Williams is the all time, best selling composer of film music. With this release, BSX Records takes the beauty of Williams' work and strips it down to the bare essentials. Fans of Williams' music will enjoy hearing these themes in small chamber ensemble by Pianist Dan Redfeld, Violinist Elizabeth Hedman along with David Washburn and Donald T Foster. This is part of BSX's series of chamber and solo piano arrangements of film music's titans.
TRACK LISTING
THREE PIECES FROM SCHINDLER'S LIST
Elizabeth Hedman, violin • Dan Redfeld, piano
Arranged by John Williams
1. Theme from Schindler's List (4:39)
2. Jewish Town (Krakow Ghetto – Winter '41) (4:51)
3. Remembrances (5:45)
4. THE TERMINAL: Viktor's Tale (4:02)
Donald T. Foster, clarinet • Dan Redfeld, piano
Arranged by John Williams
5. MEMOIRS OF A GEISHA:
The Chairman's Waltz (2:43)
Elizabeth Hedman, violin • Dan Redfeld, piano
Arranged by Dan Redfeld after the original by John Williams
6. Tango (Por Una Cabeza) (4:22)
Elizabeth Hedman, violin • Dan Redfeld, piano
Music by Carlos Gardel, Lyrics by Alfredo Le Pera
Arranged by John Williams
7. JFK: Main Theme (5:36)
David Washburn, trumpet • Dan Redfeld, piano
Arranged by Dan Redfeld
8. THE PATRIOT: Main Theme (4:20)
Elizabeth Hedman, violin • Dan Redfeld, piano
Arranged by Dan Redfeld
9. SABRINA: Main Theme (5:43)
Elizabeth Hedman, violin • Dan Redfeld, piano
Arranged by John Williams
10. MONSIGNOR: Main Theme (2:35)
David Washburn, trumpet • Dan Redfeld, piano
Arranged by Dan Redfeld
11. DRACULA: End Credit (3:55)
Elizabeth Hedman, violin • Dan Redfeld, piano
Arranged by Dan Redfeld
12. FIDDLER ON THE ROOF (4:30)
Elizabeth Hedman, violin • Dan Redfeld, piano
Music by Jerry Bock, Lyrics by Sheldon Harnick
Adaptation, arrangement & violin cadenzas by John Williams
13. A.I. – ARTIFICIAL INTELLIGENCE:
Where Dreams are Born (4:33)
Karen Hogle Brown, soprano • Dan Redfeld, piano
Arranged by Dan Redfeld
Total Time: 58:55