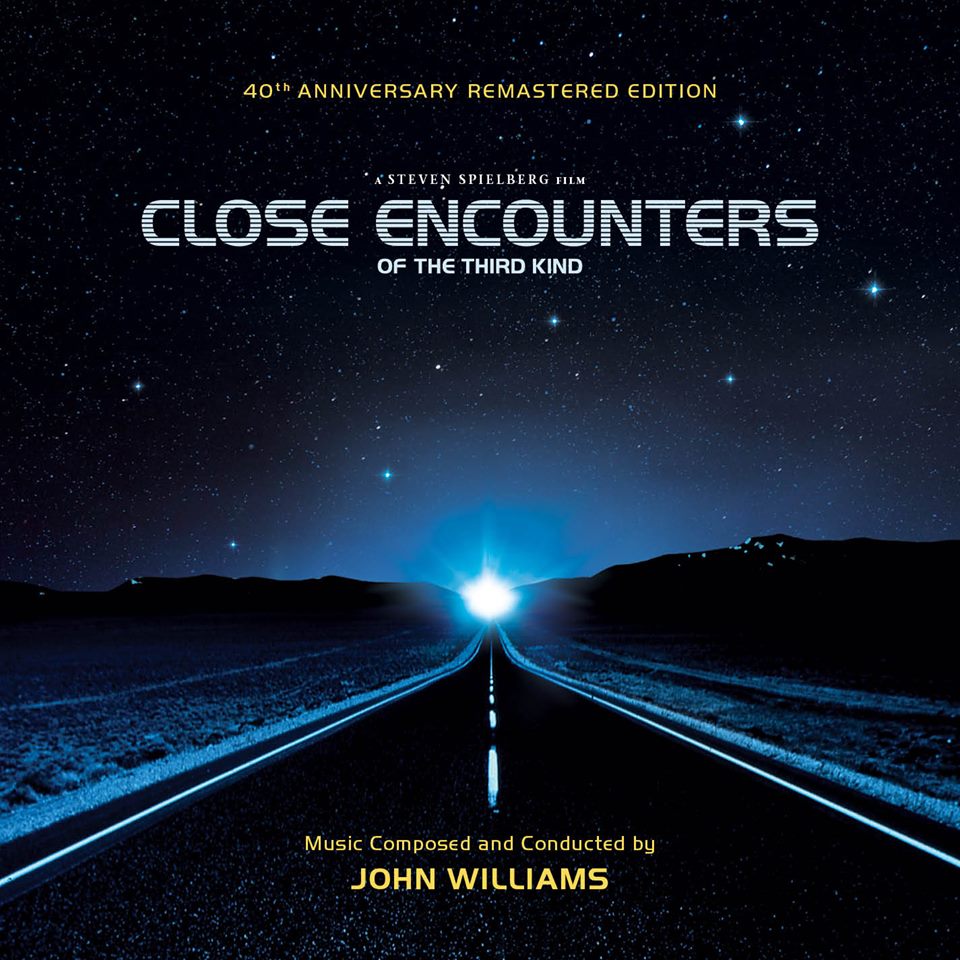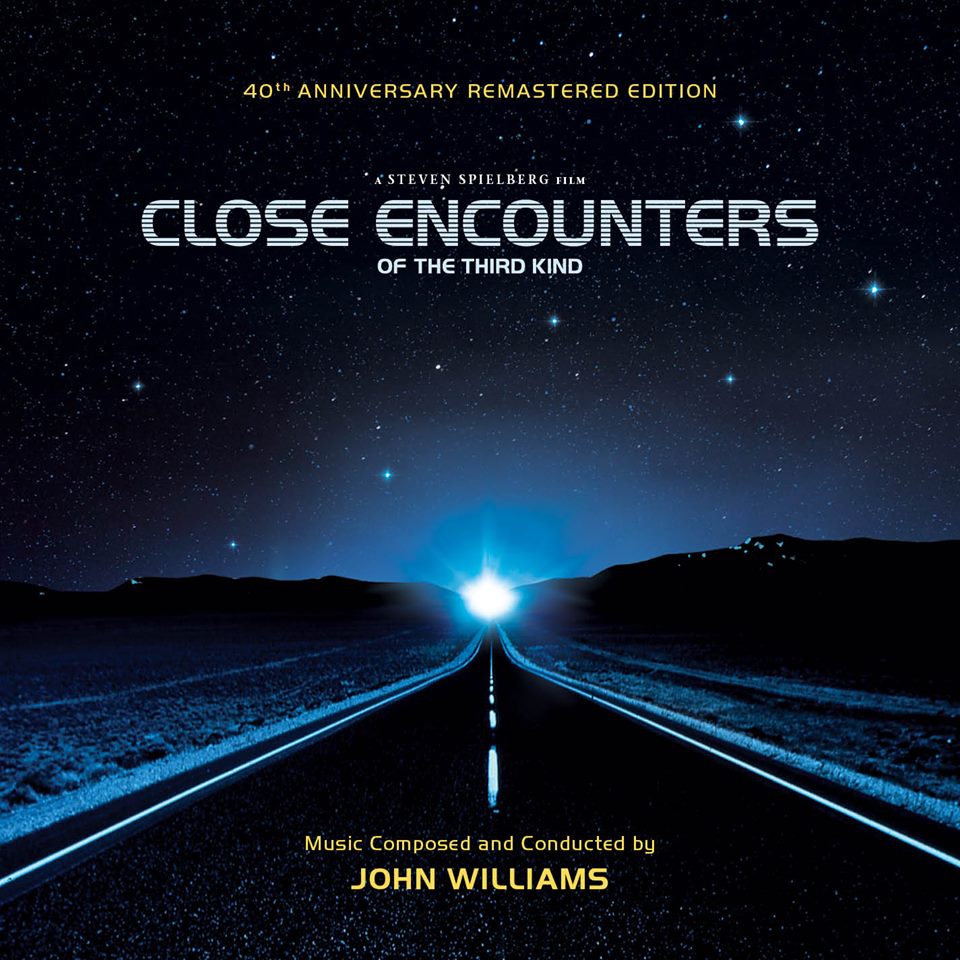 CLOSE ENCOUNTERS OF THE THIRD KIND: 40th ANNIVERSARY REMASTERED EDITION
(2-CD SET) LLLCD 1433
Music by John Williams
Limited Edition of 5000 Units
RETAIL PRICE: $29.98
Now available at LaLaLandRecords.com.
La-La Land Records, Sony Music and Columbia Pictures present CLOSE ENCOUNTERS OF THE THIRD KIND: 40th ANNIVERSARY REMASTERED LIMITED EDITION, a special 2-CD set featuring a newly restored and remastered presentation of Academy Award-Winning composer John Williams' (JAWS, STAR WARS, SCHINDLER'S LIST) original motion picture score to the 1977 landmark feature film CLOSE ENCOUNTERS OF THE THIRD KIND, directed by Steven Spielberg and starring Richard Dreyfuss and Teri Garr. Maestro Williams' score personifies this classic film's boundless wonder – searching through, and communicating with, the deep expanses of space as it also explores the unknowable mysteries of the human soul.
This deluxe 2-CD edition, meticulously produced, mixed and mastered by Mike Matessino, in consultation with the composer and director, was inspired by the discovery that Williams had originally planned the soundtrack as a 75-minute double LP. Disc One of this presentation takes its lead from that initial intent, expanding and organizing the score as a grand symphony contained on a single disc. Disc Two offers an equally fresh experience of the score, comprised of discrete versions of cues, alternates and selections not heard on Disc One, plus many of the 1977 album tracks, as well as previously unreleased source music recorded for the film. Matessino's exclusive liner notes explore this iconic, majestic score, while Jim Titus' art design handsomely recalls all those joyous feelings generated by one of the greatest science fiction film experiences of all time. This is a limited edition release of 5000 units.
TRACK LISTING:
DISC 1 – EXPANDED SOUNDTRACK PRESENTATION
01. Main Title and The Vision •• 1:29
02. Navy Planes 2:15
03. Lost Squadron 2:34
04. Trucking 2:09
05. Into the Tunnel and Chasing UFOs 3:56
06. Crescendo Summit 1:25
07. False Alarm and The Helicopter 4:20
08. Barry's Kidnapping 6:22
09. Forming the Mountain 1:58
10. TV Reveals / Across Country 2:53
11. The Mountain 3:36
12. The Cover-up and Base Camp 3:56
13. The Escape 2:20
14. Climbing the Mountain 2:36
15. Outstretched Hands 2:50
16. The Light Show 3:47
17. Barnstorming 4:31
18. The Mothership 4:35
19. The Dialogue 4:28
20. The Returnees 3:58
21. The Appearance of the Visitors + 4:56
22. Contact 3:22
23. End Titles + 4:27
Disc 1 Time: 78:42
DISC 2 – ALTERNATES AND ADDITIONAL MUSIC
01. Main Title •• 1:18
02. Roy's First Encounter 2:44
03. Encounter at Crescendo Summit 1:25
04. Chasing UFOs 1:22
05. Watching the Skies • 1:20
06. Vision Takes Shape • :42
07. Another Vision • :42
08. False Alarm 1:45
09. The Abduction of Barry 4:36
10. The Cover-up 2:31
11. TV Reveals 1:52
12. Roy and Jillian on the Road 1:20
13. I Can't Believe It's Real 3:25
14. Across the Fields 1:20
15. Stars and Trucks :49
16. Who Are You People? 1:38
17. The Escape (Alternate) 2:41
18. Climbing Devils Tower 2:11
19. Dark Side of the Moon • 1:34
20. The Approach • 4:32
21. Night Siege 6:27
22. The Conversation 2:23
23. Inside •+ 2:34
24. Contact (Alternate) • 2:51
25. Eleventh Commandment • 2:00
26. TV Western • 1:06
27. Lava Flow • 1:47
28. The Five Tones • 2:25
29. Advance Scout Greeting • 2:58
30. The Dialogue (Early Version) • 3:12
31. Resolution and End Title 6:55
Disc 2 Time: 74:26
Total 2-CD Time: 2:33:08
• Previously unreleased
•• Contains previously unreleased material
+ Contains "When You Wish Upon a Star"
(interpolated), written by Ned Washington and
Leigh Harline, published by Bourne Co. (ASCAP).
Used with permission. All Rights Reserved.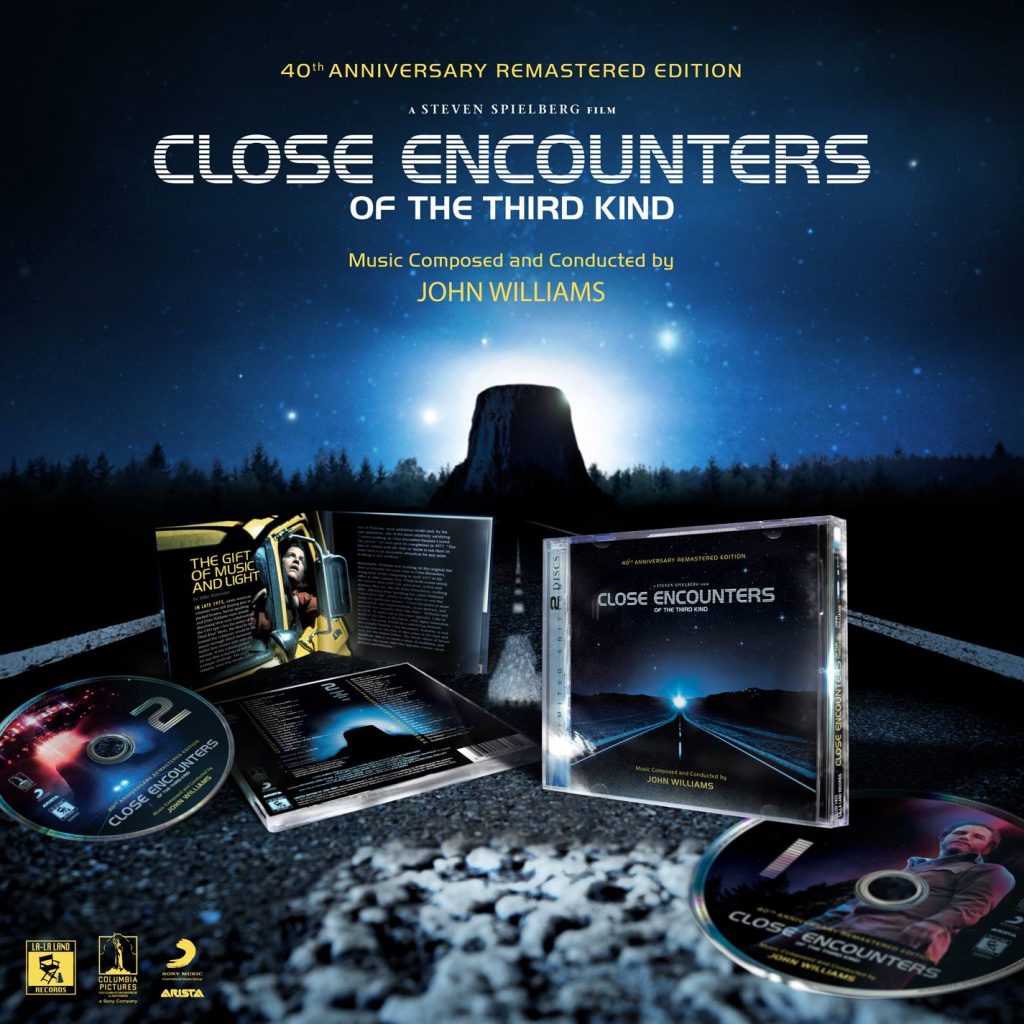 A short review by Jason LeBlanc (original forum post)
The presentation might look weird at first glance, but it's brilliant to listen to.
It's a similar situation to ET, where the complete score was too long to fit on one disc, and the shortest cues appear on disc 2 instead.  The first disc is only non-chronological in the first half; Once they escape and make their way up Devil's Tower it's all straightforward.  All the cue combinations on disc one were how Williams wanted the music presented back in 1977 for his planned 2LP set and really improve the listening experience by replacing abrupt endings with segues to music that fits perfectly in tone.
Disc 2 is like an alternate presentation of the score again, starting at the beginning and ending at the end, and including many alternate takes of what you hear on disc 1, plus much of the same music that was combined with something else on disc 1 now in their own track so one can easily make their own C&C playlists if desired, as well as some of the tracks from the final 1LP, too… and all the source music!
It's really best to not worry about all that stuff though, and just put in disc 1 and press play, and then put in disc 2 and press play.  Both are great listening experiences, and you should really experience this masterpiece of a score that way at least once to see what Williams and Matessino have cooked up here.  If it's not to your liking, a Complete & Chronological playlist is super simple to create.
See also:
› Close Encounters of the Third Kind – 40th Anniversary Remastered Edition – Review 1
› Close Encounters of the Third Kind – 40th Anniversary Remastered Edition – Review 2
› Close Encounters of the Third Kind – Complete and Chronological Playlists