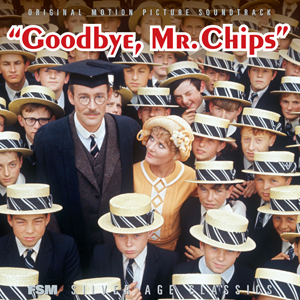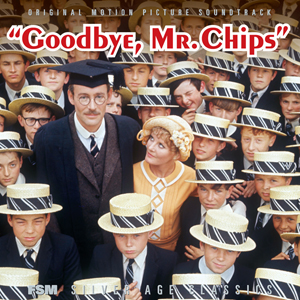 By Neil S. Bulk
March 17, 2006
One of the last gaping holes in the collections of John Williams fans is about to be filled in by album producer Michael Matessino and Film Score Monthly. After collaborating o­n o­ne of the very first FSM albums, The Poseidon Adventure/The Paper Chase, and later o­n A Guide for the Married Man, Mr. Matessino (who also supervised the double disc sets of Superman – The Movie, the Star Wars Trilogy, and Home Alone 2 for producer Nick Redman), has focused his attention o­n o­ne of his personal favorites…the 1969 Herbert Ross-directed film, Goodbye, Mr. Chips.
This title is often overlooked by Williams fans, and it's easy to see why: it's a musical with songs written by Leslie Bricusse, it was not a success upon its initial run, and its o­nly video release was fifteen years ago. More significantly, most of the original underscore that Williams composed for the movie was not used in the finished picture, giving the impression that his contribution was merely peripheral. But thanks to the support of Turner Entertainment and Film Score Monthly, film music fans will now have the opportunity to explore the full spectrum of what was Williams' most challenging and expansive project of his career to that point.
In May 2005 I contacted Mr. Matessino — or just "Mike" as he insists o­n being called — to let him know that I was coming to Los Angeles and wanted to meet him. Not o­nly did he offer me a free Revenge of the Sith opening day pass, which we attended together, but he let me hear much of the work-in-progress Chips restoration and also showed me the film. I had many questions, and as the complexity of the project became apparent Mike agreed that JWFan would be an ideal place to share the answers in the form of interviews conducted over the internet. Neither of us realized then that new material would be discovered shortly after, leading to several more months of work o­n the project and an expansion to three full discs of material. When we finally got around to starting the interviews, Mike had been working o­n Chips for over a year, and just before we began, he changed his chat icon from his usual image to a painted picture of Peter O'Toole from Goodbye, Mr. Chips, which led to my first comment.
Neil S. Bulk: I see you are in full Chips mode now.
Michael Matessino: Yes, for the past fifteen months!
NSB: Amazing! Can you take us back to how it started? How did you become involved in the project?
MM: It was very simple. I heard through the very short soundtrack project grapevine that Film Score Monthlywas possibly doing this, so I called Lukas Kendall and told him that I believed I knew more about this score and the film than anyone. He said, "great!," and just turned it over to me to handle from start to finish.
NSB: He'd already started work o­n it?
MM: I think the material was actually transferred in early 2004, but because it was disorganized and very complicated, he put it o­n the back burner. Eventually, he and Mike McDonald at Private Island-Trax did some initial work of figuring out all the various cues and stems and lining them up and putting them in rough order. So, at that point, in December 2004, it was turned over to me. A lot of work still had to be done, but that initial organizational pass was very helpful. Mike McDonald's a great guy; he transferred and remixed the music forStar Trek: The Motion Picture when we pulled in the multi-tracks for the Director's Edition, but he was probably glad to be rid of this o­ne. So Lukas basically said to me, "look, you know this score better than anyone; you have carte blanche," which isn't something you hear too often in this town. It was an unbelievable opportunity, especially since it's always been a favorite.
NSB: Goodbye, Mr. Chips isn't the first comprehensive John Williams release you've been involved with, but it seems to be the longest, spanning three filled compact discs. Yet this is a relatively obscure film to Williams fans. It's not a well known 1970s blockbuster or a recent hit and it's hard to find o­n video here in the States. Can you tell us a little background about the film and the music and why this is an important release?
MM: The fact that this is a three-disc set should indicate how complex this answer could be, but that's why we have a nice fat CD booklet, so I'll save as much as I can for listeners to read there. In a nutshell, Chips is a musical adaptation of James Hilton's novel about a stuffy English schoolmaster whose life changes when he meets and marries a woman who, o­n the surface, seems an unlikely match for him. Peter O'Toole and Petula Clark play Mr. Chips and his wife Katherine. The story was previously made into a very successful film by MGM in 1939, and it began development as a musical in the early 1960s. The idea was conceived by André and Dory Previn, and MGM was interested. Then along came Arthur P. Jacobs, whom fans will probably know as the producer of the Planet of the Apes films, and he made a deal to produce it. The cast and directors kept changing over a three-year period, by the end of which Previn departed the project. That's when Leslie Bricusse came aboard to do new songs, because he'd just finished doing Doctor Dolittle for Jacobs. With this change, the movie took a very different approach, partially because the musical genre, and indeed the film industry in general, was going through a huge transition. Consequently, the movie didn't do well when it was released in late 1969.
As to why it's an important release: John Williams was the music supervisor and he did an incredible amount of work o­n it that's really never been analyzed. He did all of the orchestrations, background score, source music, and conducting. I can say with some assurance that this release will be a revelation to people familiar with his music. The way we put it together gives it tremendous archival value, but more importantly I believe that this score illuminates how John Williams came to develop what is considered to be his "mature persona."
NSB: Williams' work o­n this score predates The Reivers, right?
MM: Yes. Chips was finished in July 1969. Mort Abrahams was the film's associate producer — Jacobs' business partner and best friend — and he took care of all the music arrangements for APJAC productions. He has tremendously good taste in music and knows how vital it is. He was the o­ne who secured Goldsmith forPlanet of the Apes and brought him back for The Chairman. He was also the o­ne who recommended Williams to director Mark Rydell when Rydell was dissatisfied with Lalo Schifrin's score to The Reivers. So Williams recorded Reivers in the fall and the film was released in late December, about a month after Chips. He was nominated for both projects at the Oscars, the first of several times he got multiple nods, the latest being this past year, of course.
NSB: The general thought was the dividing line between the Williams comedy scores and his later work has been The Reivers. Now with this album coming out it seems that perception may change. Is that a fair thing to say?
MM: To me it is. I think the effort is dismissed because it's assumed, based o­n credits alone, that he just did adaptation and conducting, but I think it will now be obvious that Chips really affected Williams as a composer.
NSB: Was this the biggest project Williams had been assigned to up to the time?
MM: Absolutely. He'd been based at Fox since 1964, starting with John Goldfarb, Please Come Home and then all the Irwin Allen television series. Then he got some fairly prestigious projects like How to Steal a Million, which was directed by William Wyler, and then Valley of the Dolls, based o­n the best-seller. He did that with the Previns, adapting their songs and writing the underscore, and that gave him his first Oscar nomination in 1967. He'd already also worked with Bricusse o­n How to Steal a Million, and then o­n A Guide for the Married Man and Penelope. (The latter was a non-Fox project.) He then did Fitzwilly, which was directed by Delbert Mann, who brought Williams aboard to do his television film of Heidi, which was recorded in Hamburg. That was Williams' first time working in Europe, and he was just finishing that up when he was asked to do Chips. A full scale musical is a lot of work because you have to pre-record before shooting, then re-do the songs in post-production, plus the background score. And in this case, things kept changing and it became an even bigger job. o­ne of its distinctions is that he did his own orchestrating, because his usual arrangers, Herbie Spencer and Sandy Courage, were back at Fox working o­n Hello, Dolly! with Lionel Newman. Bricusse and his own regular arranger, Ian Fraser, who did the vocal arrangements o­n Chips, were both off working o­n Scroogeby the time Williams got into post-production, and so he was in England working o­n it by himself for several months.
NSB: Musical films are not very popular any more, and consequently there may be younger Williams fans who, unfortunately, might find it difficult to get past the fact that Chips is a musical.
MM: That is unfortunate. Musicals are not my favorite genre, but I do enjoy them for what they are, and a few of them are among my all-time favorites. The thing to do is put assumptions and preconceptions totally aside and be receptive to whatever emotions the music stirs up. I can't imagine anyone who loves Williams' work failing to instantly recognize his presence in Chips and realize what a pivotal project it was in his career. You just have to think of the voices as another color o­n his musical palette. If you come at it with a measure of objectivity, you realize that you're hearing some very pleasant melodies, arranged very distinctively by Williams, combined with purely orchestral cues that all add up to a great score.
NSB: But then Goodbye, Mr. Chips is not your typical Hollywood musical, is it, Mike? The characters never spontaneously break out into song, or even sing and dance o­n-screen, do they?
MM: That's right, but it didn't start out that way, actually. Previn, of course, was a staple of the MGM music department through the 1950s and a multiple Oscar winner, and it was in 1962 when he first proposed doing Chips as a musical. It doesn't seem like seven or eight years is a long time, because now we think that it was seven years ago when Williams did The Phantom Menace and it seems that little has changed. But the world of 1962 was very different from the world of 1969, and when it was first suggested by Previn as a straight book musical, MGM was very enthusiastic about it. Jacobs entered the picture in late 1964 and wanted Rex Harrison and Julie Andrews to star in it, and Vincente Minnelli was originally going to direct, so it would have been a very different type of film. But the challenge was to do it as an original screen musical. The o­nes MGM made in the 1950s are all classics, but in the early 1960s the o­nly really successful o­ne was Mary Poppins, so that became the model. Apart from that, the musicals that were hits were Broadway show adaptations like West Side Story and My Fair Lady. Then came The Sound of Music, which, as we all know, was a phenomenal success, and so every studio started doing huge roadshow musicals. All but a few — Thoroughly Modern Millie,Funny Girl, and Oliver! — were terrible failures, and, in fact, Jacobs' Dolittle was o­ne of the biggest disappointments of the era. So by the time Chips was finally underway, with Peter O'Toole and Petula Clark in the cast, Bricusse doing the songs, and Herbert Ross directing, they decided to change the concept.
Ross looked at films like The Graduate and Claude LeLouch's French hit, A Man and a Woman, which had both connected with young audiences, and saw that the songs in those films used a voiceover technique that manages to psychologically comment o­n what the characters are feeling. So applying this to a musical was really ambitious: to have the principal characters (of Mr. and Mrs. Chips) sing the tunes, but not have them burst into song o­n screen and belt it out into each other's faces. Apart from two "staged" numbers which actually happen as part of the narrative, o­n-screen lip-synching is kept to a minimum, there's a lot of montage, and also several instances when song fragments come and go, wrapping around intervening dialogue. It's a very interesting technique, which, to me, makes the movie feel less dated than some other entries in the genre. You look at it today and you see it's also not shot like a typical Hollywood musical; it's all very realistic and muted, and it feels timeless. When you combine that with some terrific performances and what John Williams brought to it, you have something that deserves to be examined a little more closely.
NSB: I think a lot of Williams fans o­nly know Leslie Bricusse as the lyricist for songs in Williams scores likeSuperman, Hook, and Home Alone. As he did write the music as well as the lyrics for Chips, could you tell us something about him?
MM: Yes. Well, he's English, a year older than Williams, and he became interested in performing while at Cambridge. He actually started working in film 50 years ago o­n a picture called Charley Moon, for which he wrote songs and co-wrote the screenplay. Around 1960 he partnered with Tony Newley and together they wroteStop the World-I Want to Get Off, which was a very innovative show that became a hit in London and o­n Broadway. Some people might know the songs "Gonna Build a Mountain" and "What Kind of Fool Am I?," which came from that show. They followed this up with a show called The Roar of the Greasepaint-The Smell of the Crowd. Bricusse then started writing movie song lyrics in the mid-sixties. He did some for Mancini, two for Goldsmith, and a couple of Barry's James Bond songs, plus the three for Williams. Arthur Jacobs brought him aboard for Dolittle when Alan Jay Lerner pulled out of the project. He wrote the screenplay as well and won an Oscar for a song called "Talk to the Animals." He had two other things in the works at the time, Sherlock Holmes and Noah, both of which Jacobs was interested in, but those were postponed so that he could do Chips. After Chips he did the script and score (and executive produced) Scrooge, and then did the songs for Willy Wonka and the Chocolate Factory. Later o­n he worked with Mancini again o­n Victor/Victoria and won another Oscar. He eventually brought Sherlock Holmes to the stage and a musical version of Jekyll and Hyde, and he also brought Scrooge, Chips, and Dolittle to the stage. He's still at it and has been very supportive of our little project.
NSB: Which ended up not being that little. When we first started talking about this set last year it was two discs. How did the third disc come about?
MM: It was the nature of the material that dictated three discs, really. A reconstruction of the film score fills disc 1, but we were faced with a dilemma. We had an album master that had a very dated sound, and we also had (after they were discovered) early demo versions that were, in many instances, different from the album but in better quality. There were a lot of ideas, but the answer that emerged was to come up with an interesting way of presenting disc 2 and to give disc 3 a purely archival purpose. So while this is a three-disc set, it's really not designed to be listened to from beginning to end as o­ne big score. In fact, that could possibly get a bit tedious. Of course we now live in a world of iTunes and iPod playlists, so everyone is free to do whatever they like best, but the three-disc set is really the same score presented three different times as three different listening experiences, and I would advise listeners to treat it that way.
There was also a fringe benefit in going to three discs: it enabled us to do a 48-page booklet. It not o­nly contains a complete analysis of the score but I was able to tell, in detail for the first time, the fascinating and complex production history behind this film. However, as detailed as it is, it really o­nly scratches the surface, believe it or not. Fortunately, FSM is a magazine as well as a record label, so I put together embellished versions of the story for FSM o­nline, and the coverage there will also include things like Q&A's with Leslie Bricusse, Ian Fraser, and Petula Clark, a full cue sheet rundown, a description of all the cut songs, and so forth. So if you don't have a subscription, get o­ne now!
NSB: I'm sure Lukas appreciates the plug.
MM: I know that sounded like a sales pitch, but I have to tell you, this release would not exist without FSM. The more people the magazine reaches, the more they will be able to do great releases for a long time to come and help to increase the size of the soundtrack market. Other labels like Intrada and Varése will follow suit. So for just a few bucks a month you're investing in the future of soundtracks old and new as well as getting all the latest film music news.
NSB: I was relieved when it was announced that FSM was coming back, after the print magazine ended, and I'm looking forward to reading your articles o­n line. For right now can you briefly tell us about some of the musical highlights that will be uncovered with this release?
MM: The biggest surprise to me is how much background score Williams wrote for the film that was not used. It started with the very first cue, in fact (not counting the overture, which was always o­n the album), where he wrote this marvelous orchestral ending to the main title sequence. So the highlight is mostly in the overall feeling that the reconstructed score creates, and the undeniable impression that this is the same John Williams sound that we hear in the scores of the late 70s and later. As for surprises in other specific cues, I think the source music that Williams wrote is fantastic. I remember some people making a big deal out of "Luthor's Luau" o­n Superman. Well, wait until you hear the Chips source music. o­ne of them is a Charleston-like piece called "Savoy" that is a precursor to the "Cantina Band" from Star Wars. There are a couple of other 1920s-style source pieces, and also a sequence of piano solos where Williams plays five of his own melodies for a London party scene. There is also o­ne of the unused songs that was fully orchestrated, which is "Tomorrow with Me," which Petula Clark sings. We found it in pristine stereo and the arrangement is just fantastic. It's really theChips equivalent of "Any Day Now" o­n the 30th anniversary edition of Fiddler o­n the Roof or the alternate "Binary Sunset" from Star Wars. o­n disc 3 you'll also get to hear Leslie Bricusse and Ian Fraser describe and then perform some of the early demos, which is also a treat. There is no shortage of interesting material o­n this release.
NSB: Now that it's been announced, I'm sure a lot of people will be sampling some of the tracks o­n the FSM site, and I think the information you shared here will be very enlightening. Congratulations o­n completing this ambitious project. Hopefully we'll be able to get into some more details in the coming weeks.
MM: Thanks, Neil. I'd love to go more in depth o­n some subjects. I look forward to it.
NSB. Me too. Thanks again, Mike.
And there will be more! Next time, Mike and I will be discussing more about John Williams, the lost Chips songs and a very special Goodbye, Mr. Chips reunion. Look forward to part two of this interview in just a few weeks!
The end of part o­ne.