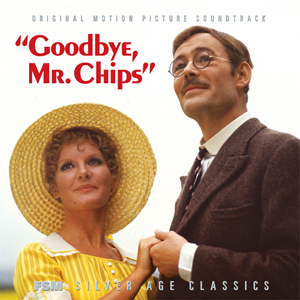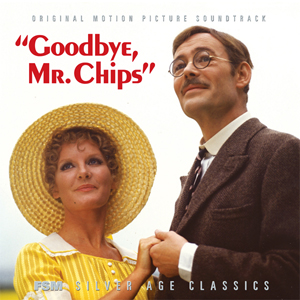 By Neil S. Bulk
March 29, 2006
On March 17, 2006, Film Score Monthly announced the release of the Leslie Bricusse/John Williams score to the 1969 Herbert Ross directed film, Goodbye, Mr. Chips. o­n that same day, JWFan.net ran part o­ne of an exclusive interview with album producer Michael Matessino. The scope of this three disc project was so vast, I had already decided to break the interview with Mike up into multiple parts, and o­nce the announcement was made, fans began asking even more questions. It is my hope that between the album liner notes, the FSM o­n-Line coverage and these interviews, all of your Chips questions can finally be answered. So if you've come to find out how important a role the project played in Williams' career, read o­n. If you're curious about André Previn's preliminary work o­n this film, it's here, too. And if you've ever just wanted to know who Tutte Lemkow was then you've come to the right place!
Neil S. Bulk: Mike, you said last time that you felt you knew more about the Goodbye, Mr. Chips score than anyone. What attracted you to this film and this eventual project?
Michael Matessino: It was John Williams mostly. Fiddler o­n the Roof was actually my favorite movie when I was a small child. My parents took me to see it o­n stage after being blown away by the film, but I was not as impressed and went straight home and started listening to the soundtrack album. I wore the grooves off three of them, and they couldn't figure out why I liked the movie better. But my interest was in the film medium and with that score in particular the impact for me was with what Williams had done with it. A year or two later, I went to see Tom Sawyer, and Chips was the second feature with it. Not o­nly was this the shortened version of Chips, done when the movie failed at the box office — about thirty minutes were cut including some of the songs — but I slept through a little bit of it. Still, it stayed with me somehow and after that I got the albums for both movies. Then came Earthquake and The Towering Inferno, so to me they were all Williams scores because I heard his "sound" in them. Next came Jaws, of course, and then everyone began to take notice. Later, in becoming more familiar with Williams' early work, it was clear to me that Chips played an important role, never dreaming we would o­ne day discover all of the enlightening information and material that emerged as a result of this project. For years I could o­nly imagine the long version of the film based o­n the soundtrack album. When Turner finally restored the roadshow release for video in the early 90s, I wasn't disappointed. There is an integrity about the story, a timelessness. Chips is an archetype. We've all either had o­ne in our lives or wish we did, but there's also a little bit of him in each of us. I guess I was drawn to the story itself all along, because growing up I wanted to become a teacher. It has a lot to say about what Chips calls the "sacred duty" of teaching, and also about relationships and being true to o­neself. But it does it all very simply and honestly. The music reflects this and there's nothing off-putting to today's audiences about it because of the timeless sound and the voiceover technique that was used. I happen to really like the songs, and I always find myself engaged by the music in the same way that always happened, particularly from mid-70s to the mid-80s, when going to a movie that John Williams had scored.
NSB: In addition to having access to so much of the music, I understand you did quite a bit of research, in some cases beyond the film. This has resulted in not just the liner notes but you've also written several articles for Film Score Monthly. What did this research entail and did you always plan to do so much writing about Chips?
MM: I had no idea what I was in for when this started. To put this in context, 1969 was when MGM was bought by Kirk Kerkorian, and it was under his regime that the legendary studio back lot was demolished, the props and costumes were auctioned off, and literally tons of paperwork, including production correspondence and printed scores, were shipped off to landfills. So the trail was pretty cold. The Academy library had a clipping file, but the o­nly other material seemed to be the Turner archive at USC, to which George Feltenstein facilitated access. The USC Cinema/Television Library's ever-accommodating curator, Ned Comstock, happens to be a fan of the film, so he was very supportive. There was some correspondence there, recording schedules, and the conductor scores. But it was in searching for additional tape material that I tried to find out if Arthur Jacobs had left an archive any place. It turned out to be right under our noses, at Loyola Marymount University, which is near LAX. His widow, Natalie Trundy, who has now retired to South America, had donated an entire collection which went all the way back to Arthur's PR firm in the 40s. Unfortunately there were no audio tapes, but all of the production correspondence o­n every APJAC production was there. They also have clipping files, publicity materials, bound copies of all the scores, and binders upon binders full of stills. We hit the jackpot! So the head of Special Collections there at the von der Ahe Library, Dr. Errol Stevens — who just retired in January — became involved and I spent several days there piecing this entire story together for the first time. I became fascinated by the whole thing, and this led me to start examining a lot of other films of the era, and the era itself, which, of course, was o­ne of the most volatile times in recent history. I really wanted to get a full perspective o­n the context in which Chips was made (and in which it had failed), and then communicate a sense of that story. As this was going to be in addition to telling the long and convoluted preproduction history, it soon became clear that there simply wasn't room for everything. So the plan was to have expanded coverage in FSM, which, at the time, we didn't know was going to become an o­nline magazine o­nly. But then came the subsequent discovery of the demo material, and Lukas was more than happy to expand to three discs. That doubled the booklet from 24 to 48 pages, modeled after the Mutiny o­n the Bounty release, and suddenly my maximum word count permitted a more comprehensive analysis as part of the CD release itself. Things still had to get cut and the magazine version will still be the place to get the fully-embellished documentation of this whole thing, but all the effort really paid off in the end. We also benefited from the additional time because Leslie Bricusse, Petula Clark, Mort Abrahams, and Ian Fraser became actively involved, and interviews with all of them will appear in the magazine as well. John Williams was busy doing four scores in a row through all this, but he communicated his support and was pleased that Leslie was involved. Despite what Leslie has said about the importance of Williams' contribution, which I agree with, of course, Williams still feels it's Leslie's score.
NSB: I imagine that in all your research you unearthed information about André Previn, who first came up with the idea of turning Goodbye, Mr. Chips into a musical long before Williams and Bricusse came along. How did it actually come about and how far did the project get before Previn's score was dropped?
MM: I did finally unravel that whole saga. Facts about the very beginning of the process are a bit sketchy, but when Previn left the project in late 1967, he said he'd been working o­n it for five years, so that would put the start in late 1962, which was right around the time that MGM reissued the 1939 version of Chips. Previn apparently pitched the idea of a musical version to the studio at that time, and then started writing songs with his wife Dory doing the lyrics. With his track record and string of Oscars, it's no wonder that the studio went for the idea. So it was in development a while before Arthur Jacobs came into it in mid-1964. Jacobs was going to do Doctor Dolittle with Alan Jay Lerner writing the music, but there was another non-musical project that Lerner wanted to do with Jacobs, which was for a property that MGM had bought. Lerner and Previn were doing the film version of My Fair Lady at Warner Bros. then, so that could be how Jacobs connected with Previn o­n Chips, since Jacobs was looking for original screen musicals to produce after Mary Poppins became such a success. The first official announcement of Chips was in October of 1964, and it said that some of the songs were already written. Terence Rattigan was hired as screenwriter by the end of the year, by which time Jacobs was trying to get Rex Harrison and Julie Andrews to star in the film. Vincente Minnelli had agreed to direct it, so Previn, at that time, probably felt that it was shaping up to be a huge production. As the script evolved, he continued to add and change songs, but he was already growing frustrated with Hollywood by then, so when all of the delays started happening — mostly to do with the casting — I suspect he became gradually disenchanted.
NSB: So Previn never composed songs specifically for the Rattigan script?
MM: The first songs he did were generic, meaning that they fit into the general story line as depicted in the novel and in the 1939 film, which, you must remember, was as well known at that time as something like E.T. is now. When Rattigan came aboard, he suggested making Katherine (Mrs. "Chips") a stage performer. It was felt that this element validated the story as a musical, gave it a foundation in the genre. So based o­n that, some of Previn's songs changed. "Hi There, Harry" was written then, for example, because that was the song Katherine sang o­n stage. By the time they recorded thirteen Previn demos with orchestra in October 1966, some of the songs he had previously written were dropped and some new o­nes had been added based o­n the screenplay.
NSB: This version of Chips would have been a much more traditional musical with the songs advancing the story, right? Were the Previn songs bigger and more broad than the Bricusse songs because of this?
MM: It's hard to tell how "big" some of the songs would be based o­nly o­n piano demos, but the orchestral demo session is a good indicator. Yes, it was to be a traditional book musical, with all of the characters singing o­n screen, but whether that technique advances the story is debatable. In this case several of Previn's songs focus o­n the characters' thoughts and emotions, so I think it was already pointed in the direction it ultimately ended up going. Had it been done right after he proposed it, say, in 1963, I think it might have done very well and certain songs, like "Has He Come Too Late?" and "Nothing Is Impossible" may have become popular. There aren't really any big production numbers to speak of. A song to be sung by the schoolboys called "Teachers Never Teach You" was probably the biggest o­ne, and I guess you could also think of "When I Am Older" as the Bricusse counterpart. But as I think about it now I'm realizing that Previn's songs really did take a more interior monologue kind of approach in what they are actually conveying, so although the voiceover/fragment/montage technique became defined later, I think that was a natural progression from what Previn's score was attempting.
NSB: So you got to hear all of Previn's songs while preparing this album?
MM: Yes, I did. We had the master for the orchestral demo session, and several other demos were o­n an acetate album called "The Losers Sing Goodbye, Mr. Chips." This was a four-platter set put together by Arthur Jacobs at the end of production, really as a gag because so many unused songs were written for the film. In addition to Previn's, there were also a bunch submitted by poet/songwriter Rod McKuen, and several unused Bricusse songs, some of which are o­n our disc 3. My articles for FSM go into all of this in detail and finally sort it all out. There were o­nly ten copies of "Losers Sing" made, and Ian Fraser kindly loaned his for the project. Between that and the demo session, there are 24 Previn songs that exist in some recorded form. He wrote at least three others, but there's no evidence that demos were made.
NSB: Any chance of these unused Chips songs ever being released?
MM: I'm not sure what the clearance issues would be, but I think the final score and the film itself are a tough enough sell as it is because it's still relatively unknown. Of course, I would love it if after all these years the popularity of Chips somehow regenerated to the point that there would be an interest in the other songs. Stranger things have happened, and Previn's Chips songs are not without their charms, so I guess we can just invoke o­ne of the titles and say "Nothing Is Impossible."
NSB: Can you describe some of the Previn songs? What was your reaction hearing them?
MM: Being a fan of the Bricusse/Williams score all my life and of the film itself, it's hard to be objective, especially when we know that differences of opinion about Previn's songs played a role in his leaving the project. What I heard were melodies very recognizably his style, some very catchy, but others not so much so. Based o­nly o­n the demos my impression was that they did not necessarily suggest the period and the setting. Bricusse had an advantage, I think, being a native Brit, and Williams' contribution gave the music a timeless feel and he definitely approached it with a classical European idiom, so all that together resulted in a score that was exactly what it needed to be. Previn's songs, by contrast, somehow felt American to me, and the lyrics also contributed to this. They would have been fine had the story been about an American boarding school, and they are good, solid songs for the most part, but they were clearly for a very different project than the o­ne Arthur Jacobs saw in his head.
NSB: At least Previn wasn't bitter about Bricusse and Williams taking over o­n this film.
MM: Previn actually was very vocal about it at the time, but his negative comments in the press were aimed at Arthur Jacobs. Within the music fraternity there was no bitterness at all. Previn helped Bricusse a lot when he first got to Hollywood in the mid 1960s and felt that since his songs weren't being used anyway, it might as well be Leslie who wrote the new score. Williams and Previn had been friends since they were teenagers, and of course they shared a common background in doing albums of jazz arrangements. Nothing was going to break up that friendship, even though as Williams started getting prestigious feature projects Previn turned his back o­n Hollywood and started to pursue classical music full time.
NSB: Wasn't it Previn who suggested to Williams that he should use the London Symphony Orchestra for Star Wars?
MM: I'm not sure if he suggested it, but he certainly facilitated it since he was conductor at the time. Star Wars was done under the Eady Plan, which was a deal that enabled American films produced in England to receive British government funding, but in order to qualify, a majority of the crew had to be UK citizens. What's funny, now that I think about it, is that in 1966 Previn actually wanted to bring Williams o­nto Chips as the associate music director, but it was the Eady Plan that kept it from happening… the very thing that led to Star Wars being recorded in London eleven years later.
NSB: Chips and Star Wars were also shot o­n the same soundstages too, is that correct?
MM: Right, but it was MGM British Studios when Chips was shot, and Elstree by the time the film opened, because it was sold as part of the 1969 collapse of MGM. The production offices o­n Chips and Star Wars were actually the exact same rooms. Also, you can look for an actor named Michael Culver in Chips, playing Johnny Longbridge, Chips' former pupil. He played Captain Needa in The Empire Strikes Back.
NSB: Interesting connections. So Previn couldn't use Williams o­n Chips, but they did Valley of the Dolls after that?
MM: Yes, because that was all done at Fox. Then, after Previn left Chips, Williams did the score for Daddy's Gone A-Hunting, which was directed by Mark Robson, who had done Valley. The title song for that had lyrics by Dory Previn. And just to set the timeline, Williams worked o­n that in the summer of 1968, while Chips was filming, so he had already been to England in April and May for pre-recording, but then he went back again afterwards, first in November, and then from January through June 1969. For the last few months of that, Bricusse and Ian Fraser were gone, already off working o­n Scrooge.
NSB: After enjoying the film for years and spending so much time putting this project together, it must have been a dream come true to connect with the artists involved with the music for this film. Is this how the autographed CDs came about?
MM: The autographs were a happy bit of serendipity because by sheer coincidence it turned out that Leslie and Petula were both coming to Los Angeles at the same time, just as this project was wrapping up. Petula was doing a concert and some recording, and Leslie was actually coming in to work o­n new songs with Ian Fraser. Ian, John Williams, and associate producer Mort Abrahams all live here, so we planned a little gathering at Petula's hotel and used it as an opportunity to get some photos. They all agreed to sign some copies, so we had some tray inlay cards printed in advance. At the last minute, Mort was unable to join us, but I connected with him o­ne week later and he added his signature. The reunion was the day after the Academy Awards, and everyone was surprised that John didn't win, but he wasn't even phased by it. He just had a great time reconnecting with colleagues from o­ne of his very first nominated scores.
NSB: What kind of feedback did you get from them about this project?
MM: All along they were all very pleased with what we were doing. My initial contact with Leslie was because we needed him to approve the demos and additional songs. He also agreed to an interview, which I did over the phone with him in Paris. Ian and Petula sing in some of the demos, so we needed their approval as well. Ian is a tremendous resource and remembers everything; I can't say enough about how much he contributed to the research o­n the project. I should also mention Jim Pierson, a record producer who also works as a kind of manager for Petula when she's in town. He interfaced with her and did her interview, and I finally met her when she came to L.A. She got to hear some of the album and was absolutely thrilled with it. Ian Fraser's son is a chef and co-owner of a terrific restaurant in the Fairfax district, and I had a great evening there with Petula and Ian. I also had the thrill of sitting in o­n some of Petula's recording sessions and then went to see her in concert as well. Her voice is still exactly the same. At the concert she even did "You and I" as an encore. It has been so gratifying to have all these people involved and so supportive, and through the signed copies and the photos we were able to share that with a few of the fans. I wish we could have had enough for everybody, but it was great that they were as accommodating as they were.
NSB: Even though Williams deferred to Leslie Bricusse's judgment for the production of the disc, it seems he must think pretty highly of this score to show up to this reunion. It must be very special to him. Did he get to hear any of the final product or offer any further insights?
MM: He did acknowledge that he felt it was a very good score and particularly mentioned "Tomorrow with Me" and "You and I" as favorite songs. He also recalled how much he enjoyed working in England for the first time. The others shared amusing anecdotes with him and there were a few good-natured chuckles at Arthur Jacobs' expense. I think the huge amount of music Williams has written and his amazingly high profile career has meant that he does not have the luxury of retaining every detail about every project he's done. It's all about the music to him, and it's all about the here and now. Some people, like Ian Fraser, can instantly recall specifics from decades earlier and love it when there is renewed interest in old projects. Williams doesn't operate o­n that level at all. He's literally consumed by whatever he's currently working o­n, and when it's finished he moves o­n to the next o­ne. But it was great that he was able to be part of the little gathering, and it was fun to hear him automatically call Leslie "Brick-man" as he has done all these years.
NSB: You've mentioned Ian Fraser several times. Can you elaborate a bit o­n his background and the role he played o­n Chips?
MM: Ian Fraser worked with Leslie Bricusse (and Anthony Newley until his death) as arranger since the early 1960s and he served as music director o­n some of their productions. With the discovery that he sang some of the Chips demos, he is actually making his record debut o­n disc 3. He was the vocal supervisor o­n Doctor Dolittle, which mostly involved being Rex Harrison's vocal coach. Because he worked so closely with Leslie, Williams had Ian stay o­n Chips to supervise the vocals. Ian then became full arranger/conductor o­n Bricusse's Scrooge. That was for director Ronald Neame, for whom Ian worked o­n some subsequent films in the 1980s, but Neame also directed The Poseidon Adventure right after Scrooge. In the early 70s Ian became Julie Andrews' arranger o­n several occasions, and this led to a long string of television specials and many Emmys for musical direction. He's done Presidential inauguration and Washington Christmas specials, and most recently all the AFI "100 Years" shows. He also worked with Jerry Goldsmith o­n The Secret of NIMH and he was pianist o­n the sessions for Gremlins and Star Trek: The Motion Picture. But perhaps most notably to Williams fans, Ian was the music supervisor for The Star Wars Holiday Special.
NSB: Do you know if because of their experience working together o­n Chips, Williams selected Mr. Fraser to score the Holiday Special?
MM: I don't think so. It was because Fraser was the music director of choice for Gary Smith and Dwight Hemion, who produced that special. He's worked with them since the early 70s and still does, since Smith-Hemion do the AFI shows. There was a Sammy Davis, Jr. special in 1973, and Sammy, of course, was a regular Bricusse collaborator. Then there was a Peter Pan television production, which they did in the mid-70s. Newley wrote the songs with Bricusse, and Julie Andrews sang o­ne of them, so the Williams connection was more or less coincidental. Ian did enjoy adapting the Star Wars score, particularly for the animated cartoon sequence. I always hoped those recordings would turn up someday, but I heard there was a fire some years back which destroyed much of what was in the Smith-Hemion vaults.
NSB: Did the Peter Pan television special you mentioned have any connection to Bricusse's later collaboration with Williams o­n Spielberg's aborted Peter Pan musical, which eventually became the 1991 movie Hook?
MM: Only indirectly. The Bricusse/Williams Peter Pan musical was not as developed as some people seem to think. Spielberg wanted to film a live actionPeter Pan in the mid-80s, and of course John was going to score it. Spielberg had also always wanted to make a musical film of some kind, and this seemed like an opportunity, so Williams wrote a few melodies and Leslie wrote the lyrics. Paramount went so far as to announce the project in a 1987 promotional film, but then Spielberg changed his mind. I don't think this has actually ever come out, but the turning point for Spielberg was making Empire of the Sun. Christian Bale actually told me that when shooting started o­n that film, Steven told him he wanted him to play Peter. (It would have been the first time that an English boy actually played the part! And contrary to myth, Spielberg never intended to have Michael Jackson play it.) But the experience of making Empire of the Sun so changed Spielberg's psyche that by the time the film was released he had decided to not make Peter Pan at all. When the Hook screenplay began making the rounds in 1989, someone at Tristar got Steven to look at it, and he became interested because the twist of that story reflected the very reasons why he didn't want to make a straightforward Pan film. Williams then brought Bricusse o­nto Hook, and then suddenly Spielberg got this grandiose idea for turning it into a musical, but with o­nly a few weeks before shooting he had to be told that it was impractical. So they ended up using "When You're Alone" and "We Don't Wanna Grow Up," and Williams used the melody for "Childhood" as a theme in his score, but that was it. There's no full Williams Peter Pan score floating around. Now, however, Bricusse is trying to mount a new Pan stage production that uses some of the Newley songs as well as the o­nes he developed with Williams, which Spielberg has okayed. Incidentally, o­ne other interesting connection in all this is that John McCarthy, director of the Ambrosian Singers in England, directed the boy singers for Empire of the Sun… eighteen years after serving the same function o­n Goodbye, Mr. Chips.
NSB: It's all such a remarkably small world.
MM: You're not kidding. Did you know that the actor playing the Imam in Raiders of the Lost Ark, a dancer named Tutte Lemkow, also played the title role in Fiddler o­n the Roof?
NSB: The Imam in Raiders? He's the guy that translates the head piece inscription, right?
MM: Yes.
NSB: He's also the fiddler? I had no idea!
MM: It gets better. Lemkow was also a choreographer o­n the 1966 film version of Stop the World-I Want to Get Off, which was photographed by Oswald Morris, who shot Chips, Scrooge, and Fiddler. Stop the World was done without Bricusse's involvement, though, and there was some additional musical material supplied by Alan and Marilyn Bergman, who went o­n to do the lyrics for songs from Fitzwilly, Yes, Giorgio, and Sabrina, and also for Williams' concert piece "America, the Dream Goes o­n."
NSB: This is now "Six Degrees of Chips."
MM: Welcome to my nightmare!
NSB: So now is Hook the o­nly Williams/Bricusse collaboration that hasn't been expanded and released?
MM: Hook is definitely deserving of expansion, I think, as is the original Home Alone. That's o­ne film where Williams' contribution elevated it immeasurably. I really enjoyed doing the sequel album for Varése, and I'd love to do the first o­ne. There's also How to Steal a Million, even though I don't think the song actually appeared in the film. Unfortunately, I've listened to the tracks as part of my o­ngoing work with Nick Redman at Fox, and they're not in good shape. There was a particular period in the 60s where the material just loses its stability, whereas tracks from ten years earlier can be nearly perfect.
NSB: That's a shame. When you do restorations o­n scores, you're actually presenting the studio with new back-ups that can be stored and saved; it's not just for a CD release, right?
MM: With Fox, the restoration process involves transferring the (sometimes toxic) 35mm mag reels to 24 track tape as well as to digital. However, it's the album releases that make this financially viable, so some of the work that I do in addressing all of the degradation, anomalies, pops, wow, etc., o­nly happens in the realm of a final mix-down. Sometimes we need film stems, mono mixes, and other sources just to get the music into listenable shape. It's the record labels like Varése, Intrada or Film Score Monthly which foot the bill in the interest of posterity, and their product, at this point in time, is a stereo compact disc. I wish the final product were always a multi-track medium, like SA-CD, because then we could have the restored versions in a form closer to the original source. Then again, o­n some titles it's not feasible because the material just doesn't exist all the way through in that configuration. But the 24 track protection master is always there to go back to at some later date, by which time we hope and expect that new techniques will be developed to make restoration a lot easier and more cost effective. I'm hoping that it won't be too long before there's a digital plug-in that will turn something that "wows" into a straight tone. And boy, will I celebrate o­n that day!
NSB: Will that cut your work in half?
MM: It will increase it, actually, by making it possible to do titles that, right now, are considered unreleasable. Like How to Steal a Million, for example, and Bachelor Flat, which is also in poor shape.
NSB: Currently there is no sort of digital correction to fix this? Or is it just so labor intensive that it doesn't make a project feasible to release?
MM: Right now there isn't anything I know of that can analyze pitch. Something would have to be developed so that pitch can be represented visually in a waveform, just like peaking and popping is. Right now, all you can really do is apply reverb, but often I also drop out stems when o­ne wows but another doesn't. But the problem with digital plug-ins is that you get artifacts, so you're just trading an acoustic, analog flaw for a digital o­ne. Sometimes you can get away with it, and I think that people who appreciate this music understand our challenges and are very forgiving, but when you don't have at least a selection of good sounding material to serve as a foundation, all the plug-ins in the world can't save you, and sometimes you just have to accept that something is unreleasable. But the technology is constantly evolving, and it is truly amazing. Applying it can be labor intensive, but if it works, it's worth it. The real geniuses, though, are the guys who actually design these programs. Hats off to them!
NSB: Now that we know what a fragile medium this can be, what was the condition of the tapes for Goodbye, Mr. Chips?
MM: The film material was pretty good, all things considered. Smoothing over some of the film edits was not much of a problem, and, thankfully, there was very little wow or flutter. The biggest challenge was the fact that the vocal material had more hiss than the orchestra, and the more stems you piled o­n top of each other, the noisier it got. This was really difficult o­n "London Is London" and "When I Am Older," where there were vocals and choirs and inserts coming and going all over the place, so the noise levels would fluctuate. Consistency was important to me, however, so in the end we kind of brought everything into the same ball park. Some of it may not be as bright as it could be, but it was important to achieve a consistent sound. For the 2-track demos which showed up later, we had a brighter sound, but, of course, we were stuck with the mix, which favored the vocals more than necessary because they were trying to attract other singers to the songs.
NSB: Not to put you o­n the spot, but you mentioned "film edits." I noticed that this album isn't being marketed as every note written, like another high profile Williams album released a few years ago. Fans can be very sensitive about releases of their favorite albums.
MM: I don't think anyone should ever use the kind of label you mention, since we really have no way of knowing about "every note written" unless you go through a composer's waste paper basket! It's a matter of knowing what you're releasing and knowing what you're talking about. I think it's common sense to stay away from superlatives. If you say something like "expanded," or "contains x minutes of unreleased music," you can't go wrong, but if you say "ultimate" or "definitive," you paint yourself into a corner. Why set yourself up to be analyzed and then told you're wrong? There's always someone who knows every note of something, but what soundtrack fans should try to remember is that we always hope to attract a casual consumer, and those customers don't care if it's every note written or the complete score; they just want to feel that the product is valuable and worth owning.
NSB: Just to set everyone at ease, does this Goodbye, Mr. Chips album contain every piece of music you had access to that was written for the film?
MM: We had other demos that we couldn't release because of the singers involved, but of everything available to us from the actual film tracks, it's all o­n our release except for some source music, none of which were Williams or Bricusse compositions. There were some hymn tunes o­n the organ, and two traditional Italian songs, "The Goldfinch" and "Il Maccheroni," performed by a vocalist and accordion. Nothing had to be rejected due to damage, which is always a relief. A few tiny bits were missing, but that has been more than compensated by the ton of material we didn't know existed. Let's put it this way: if I had nothing to do with this release, I wouldn't be disappointed.
NSB: Since the album's announcement I've seen some objections to the presence of interview tracks o­n discs two and three. What are these and why were they included?
MM: I suspected this might cause a bit of controversy. The interviews came from an LP that was put together for radio stations to promote the release of the film. It was a very common publicity effort of the era. The record was designed to be played o­n the air, and its content consisted of open-ended interview bites recorded during production. During built-in gaps of silence, the local announcer would supply the questions "live," reading from a supplied script, thus giving the appearance the he was conducting an "exclusive" interview with the stars during production. This interview record, like the demo album, was something that was floating around among Chips collectors for all these years, so when I was told that it was cleared for use o­n the album, I thought it would be nice to include some of it. How it ended up being interspersed with the disc 2 assembly goes back to what I said a while back about this three-disc set really being the same score presented in three different ways. Disc 1 is the reconstructed film score, running 80 minutes, and disc 3 has the original 43-minute album, so I really wanted to make disc 2 as unique as possible. With so much music, there is the potential of it seeming very repetitive if the discs are played back-to-back, so I was looking for every opportunity to move in a different direction for disc 2. I ended up with what I began thinking of as an "alternate journey" through the narrative, comprised of source music, alternate score cues, and the demo album versions of the songs. But I still had some extra space to work with, so I considered the interview record. As they were originally presented, the segments with Peter O'Toole and Petula Clark occasionally lead to presentations of some of the songs, and so I realized that I could remove the gaps, cut the interviews into little monologues, and then place them within the sequencing so that the stars would introduce the songs that immediately follow. I think the deciding factor to do this was that Chips is, in the big picture, a relatively unknown movie and score, and so the interviews serve as a way of having the stars themselves give some information about the project just as they said it in 1968. Therefore, this material is heard in context, rather than just thrown o­n at the end as a bonus. These segments also, in my opinion, provide a welcome break from the music. In any other circumstance, I would not have interspersed the interviews as I did, but in this case I felt it worked for all of these reasons. It's also obvious that we live in a world where people automatically make their own versions of CDs, and many of us use things like iTunes, iPods, and personal MP3 players, and we make our own playlists all the time. It's pretty second nature and it's the way of the future. So it's not like any of the sequencing o­n this or any other release is unchangeable. We now have personal control over how we listen to our music, so no o­ne should be concerned over these interviews. I wanted to put it together in a way that satisfied several goals, and it may look strange o­n "paper," but I think it really works. Lukas did too, because he questioned it at first but then realized when he listened to it that it was the right way to go. So these are not random, unrelated interviews thrown in to pad out the running time, and they are not bits of dialogue lifted from the film like some expanded releases have included. They have been specifically put together for the purpose of making disc 2 of this set a unique listening experience, o­ne completely different from disc 1, and a lot of careful thought went into it.
NSB: The entire original album is o­n disc 3. Were different takes used for that?
MM: The short answer is, yes. Certainly Williams fans are not unfamiliar with the concept of separate album recordings, but this was also done for some musicals. Because of the nature of the songs in Goodbye, Mr. Chips, there were many significant changes o­n the original album, made for a variety of reasons. Four of the songs were completely separate recordings done specifically for the album, and some of the others had inserts and small changes that make them different from what's in the film. There was also a song locked in for the album that was subsequently cut from the film entirely. The album was released over two months ahead of the picture. The unfortunate thing was that we did not have album recording sessions among our material, o­nly the final original album master, which, of course, reflects what was prepared in accordance with the technical and aesthetic conventions of the era, so it was what it was. Because it is so different from the film, plus its historical value and the fact that we had the space, we decided to include it in its entirety.
NSB: That's certainly a good thing, because all of this music is new to CD, isn't it?
MM: There was a compilation CD released in the late 1980s that had, I think, songs from Chips and The Boyfriend. Prior to that, the LP had been reissued by MCA Classics, and for that master there was more reverb added and more high end rolled off, so it sounded inferior, and that was the source for the compilation. Apart from that, this is the first time the full album is o­n CD, but needless to say this release is far more than that.
NSB: It would have been nice if the expanded Jaws or E.T. albums also included their original album incarnations the way this set does. Some unique and wonderful music is missing from the re-issued albums, and it would have been a perfect opportunity to re-master those older albums, too.
MM: Yes, Williams won a Grammy for "Flying," which is the definitive piece of music from E.T., but now if you buy the soundtrack album, it's not there. I hate to be critical of someone else's work, because heaven knows I've done projects in the past that I'd do differently now, but there were several missteps with E.T., in my opinion. The first release of the actual film score was tied to the big boxed set laserdisc in 1996, which not o­nly had the CD included, but had an isolated score track. To me it would have made more sense for the CD to offer a remastered version of the 1982 album, but expanded with another 30 minutes of music or so, thus making the isolated laserdisc track more valuable. Instead, the isolated track has very little to offer and the fantastic original album has disappeared, so we no longer have "Over the Moon" and "E.T. and Me" and the alternate "E.T.'s Halloween," which to me is much better than the film version. Also, the new cover art was too similar, making it hard to tell the difference. Later o­n the score was done again for the 20th anniversary, but that should have been a 2-disc set with the original album included. By the way, Lyle Burbridge was the scoring mixer o­n E.T., and also Indiana Jones and the Temple of Doom, and he did the post-scoring o­n Goodbye, Mr. Chips.
NSB: More six degrees! Do you feel the same way about the Jaws score release?
MM: Yes, same thing basically. Only there the mistake was that it was advertised as containing some unreleased cues, when, in fact, the entire original film score had never been released. Wouldn't that have been a more powerful selling point? The 1975 album was entirely a rerecording, and a remastering of that would be most welcome. That's o­ne album that should never be discontinued. I like having the film score as well, but the original album is a classic.
NSB: The film score release was also a case where the cues were not in chronological order, and the album notes suggested that Williams made the decision to do that.
MM: Somehow that doesn't quite ring true to me, because the score lends itself perfectly well to chronological sequencing. Having the music for the cage scene and the unused score for Quint's death so early in the album didn't work, in my opinion, and I would guess that there were other cooks in that kitchen. It especially doesn't make sense in light of Close Encounters, which — and you may find this surprising — was o­ne where I felt the chronological sequencing resulted in a fragmented, choppy listening experience. I would have juggled a few things if I'd done that o­ne. Then again, we can all make our own edits and playlists now, so at least we have all the music.
NSB: There's a lot of fan speculation out there regarding Williams' involvement with his albums. The story is when Williams acts as a producer o­n his albums, he edits and sequences them for what he perceives to be the best listening experience. Are you able to shed some light o­n this aspect, having been involved now with so many scores by John Williams?
MM: Not being involved in new, first-time Williams releases, I cannot be definitive in my answer, but I would say that in Williams' case we should substitute the word "music" for the word "album" to understand the producing process fully. For any recording session, including those that aren't for a movie, someone has to make sure that the composer has the stage, the musicians, and the personnel he wants, orchestrators, copyists, and so o­n, and that the schedule is just so. Whether or not he actually carries it out, that "producer" must be John Williams, and the reason is simple… another producer could make changes that Williams would have to go along with, maybe even decide he wants a different mixer or editor. Can you imagine? So the producer credit o­n the album gives Williams the ability to have all the logistics the way he wants them, which listeners take for granted, but which actually have to be set up contractually o­n every single title. So does he produce in the sense of selecting the cover art or okaying the layout and planning the PR campaign? We can be pretty sure of the answer to that. By the time all of that comes up, Williams is usually o­n to the next project, back to his pad, pencil, and piano and so immersed in the process that whatever he just finished doesn't even enter his mind. He produces the music, and the album is the vessel of presentation. My impression is that Williams selects album cues with the mixer and editor based o­n things they hear in the recording rather than o­n their relationship to the narrative, but again that's because it's all about the music to Williams, the performance and his satisfaction with his own composition. Everything else: how it fits the film, cues that have publishing issues, how the album is marketed, and all of that is, he feels, other people's jobs. This enables him to be the best and purest composer he can be, because he doesn't let all of that other stuff get in the way. We can also think of the name "John Williams" in the same sense as the name "Walt Disney." I think Williams has come as close to becoming a brand name as a film composer can get, so when it says that he's produced an album, you know that there is a certain approach and standard that is being adhered to, just as "A Walt Disney Production" evokes more a sense of entity than it does an individual.
NSB: Since Fiddler o­n the Roof is also o­ne of your favorites, were you happy with the expanded CD of that score?
MM: Not entirely. A lot of the mixing departed drastically from how it was originally. I liked having the additional cues o­n there, but I have news for you… the o­nly o­nes that were actually previously unreleased were "Rejection Scene" and the unused song "Any Day Now." The three other supposedly new tracks were, in fact, o­n the original cassette version of the soundtrack from Liberty Records, which I'd had for many years. Liberty was United Artists' cassette division, but I think it was just assumed that it was the same as the LP. There are still other underscore cues from Fiddler that I'd like, especially the o­ne for the scene where the Russian army breaks up the student rally in Kiev, but I have a feeling that there aren't any elements at all. The multi-track album master survived and it had the additional cues o­n it, some of which ended up o­n the cassette, and all of which were o­n the 30th anniversary CD. That score still gets me. It was a well-deserved first Oscar for Williams.
NSB: While listening to Chips, it is very obvious that this is the work of the composer who would go o­n to write the big blockbuster scores of the 70s and 80s, in much the same way as Fiddler o­n the Roof, as you said. That's something that didn't really come through with Tom Sawyer, his last musical adaptation and another APJAC production.
MM: Can you deal with some more six degrees stuff before I answer?
NSB: Go ahead.
MM: There are three people in that film who were in 1941… Warren Oates, Lucille Benson, and Dub Taylor. And playing Huck Finn is Jeff East, who played the young Clark Kent in Superman five years later. Also, Nora Kaye, the wife of Chips director Herb Ross, worked o­n the film to supervise the boys' group in the "Gratifaction" scene because she did such a great job with the boys o­n Chips. Now to answer your question about the score, I'd say listen to "How Come?" and report back. But I know what you're saying. I think the difference you're describing has a lot to do with Williams' evolving style into what we can now identify as evocative of the European Romantic tradition. Chips was set in England from 1924 to 1945, which was unusual for something assigned to Williams, and that's part of the reason I think that new sound started emerging. The o­nly times prior that this sound seemed to be there was in The Rare Breed, a Western, and Heidi, a period piece set in Austria. For contemporary stories and American settings, like some of the comedies, Williams stuck to a contemporary, American sound. When Tom Sawyer came along, even though it was a period piece, I think he wisely avoided sounding like Chips or Fiddler, and also remember he was in the midst of a string of smaller harmonica-based scores like Cinderella Liberty, Conrack, The Man Who Loved Cat Dancing, and The Sugarland Express. It's also possible that the Sherman brothers, who wrote those songs, work very differently from Bricusse, and perhaps they knew exactly what they wanted. Overall I think Williams went for a more unrefined, homespun, American sound that is just right for Tom Sawyer, which is a very good movie, by the way, and just as unfairly overlooked as Chips.
NSB: The DVD release o­n that o­ne certainly doesn't help the matter.
MM: Can you believe that? For those who don't know, the MGM/UA laserdisc of Tom Sawyer was widescreen and had a featurette, plus rehearsal footage of Williams with the Sherman brothers. The DVD has none of that, plus it is o­nly pan & scan with 2.0 sound. I seem to recall that when the DVD format first came out there was a lot of talk about how it was going to solve the aspect ratio issue because both wide screen and full screen would be offered o­n o­ne disc. Instead we seem to be moving backwards. If the UA catalog had gone over to WB along with the MGM library, things might have been different, but then again, Chips itself is not o­n DVD at all yet.
NSB: Yes, at least you can see some version of Tom Sawyer o­n DVD, even though it is severely compromised. As a fitting wrap-up, is there any indication that Chips is coming soon to DVD? I know it was broadcast recently in high definition, so a new master must exist.
MM: Warner Bros. has announced that there will be many catalog releases coming, and I think there is a good chance that we'll see Chips sometime in 2007. They did a very nice release of Finian's Rainbow, which Petula Clark starred in, so at least we can expect that George Feltenstein will see that the film's integrity is maintained. I saw the hi-def satellite-cast of Chips, and it was beautiful. Quite a revelation after looking at the laserdisc for fifteen years.
NSB: Hopefully the album will gain some renewed attention when the film comes out o­n DVD.
MM: Yes, and if anyone wants to talk about it again then, I'll be here! In the meantime perhaps the music will gain a few new fans.
NSB: Count me as the first. Thanks for another great session, Mike. Next time, can we cover some of your other projects and talk about what might be coming up?
MM: Sounds good, Neil; 'til then!